Social Responsibility
Review of GPHL's 78-day fight against COVID-19

Wuhan, the megacity in central China started lifting outbound travel restrictions from April 8th after 78 days of lockdown to stem the spread of COVID-19. GPHL has gone all out to help control and manage the outbreak over those 78 days.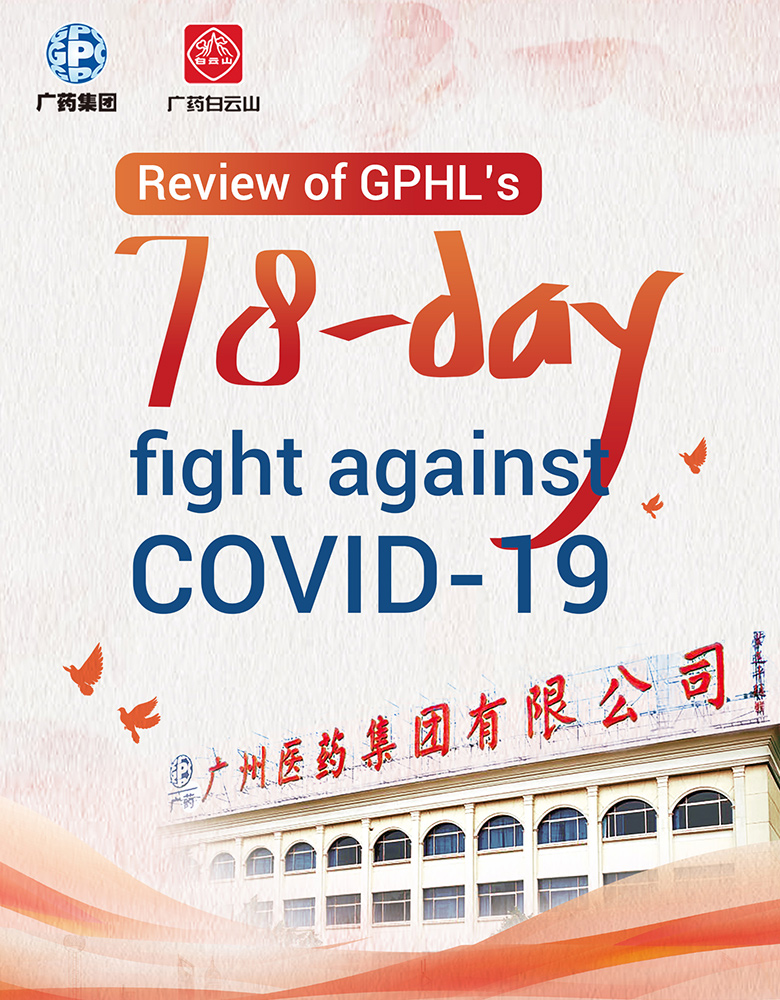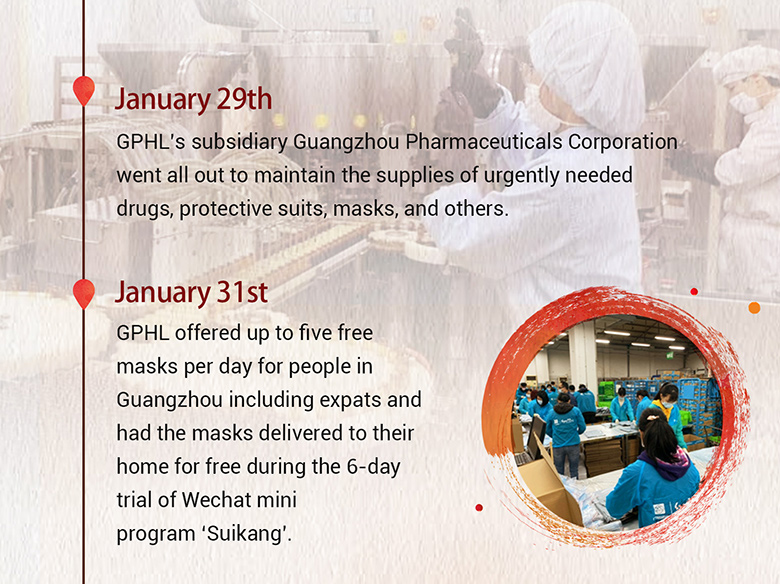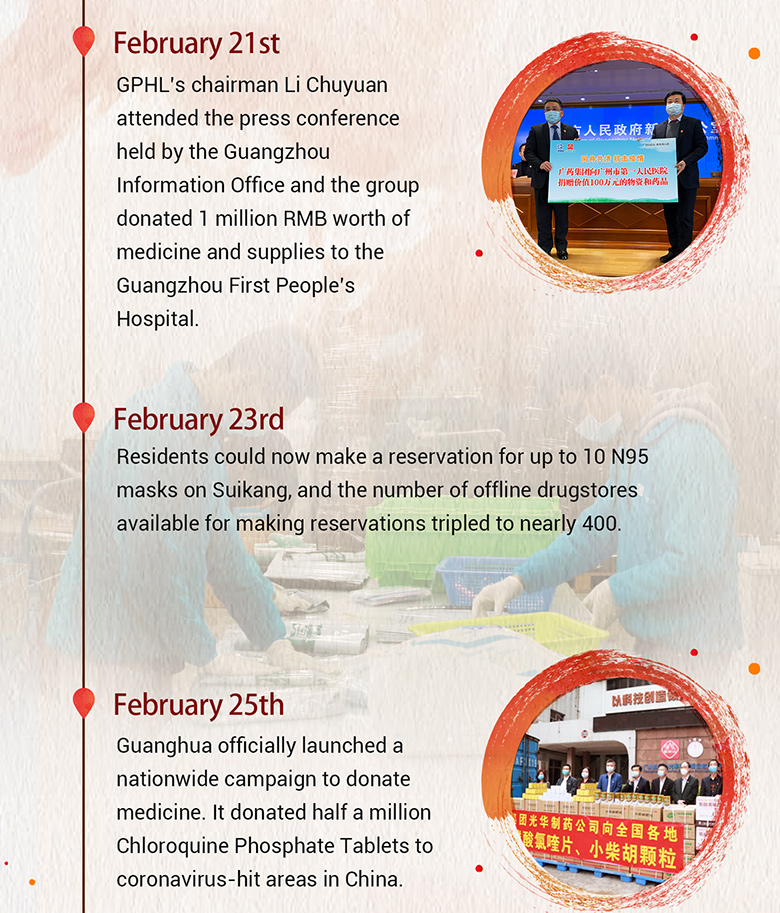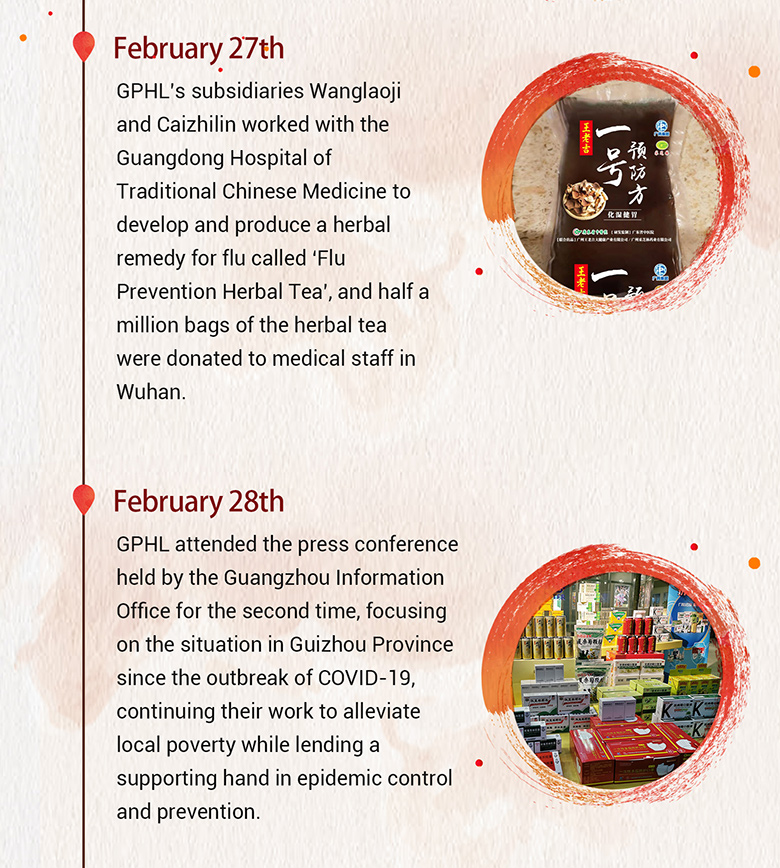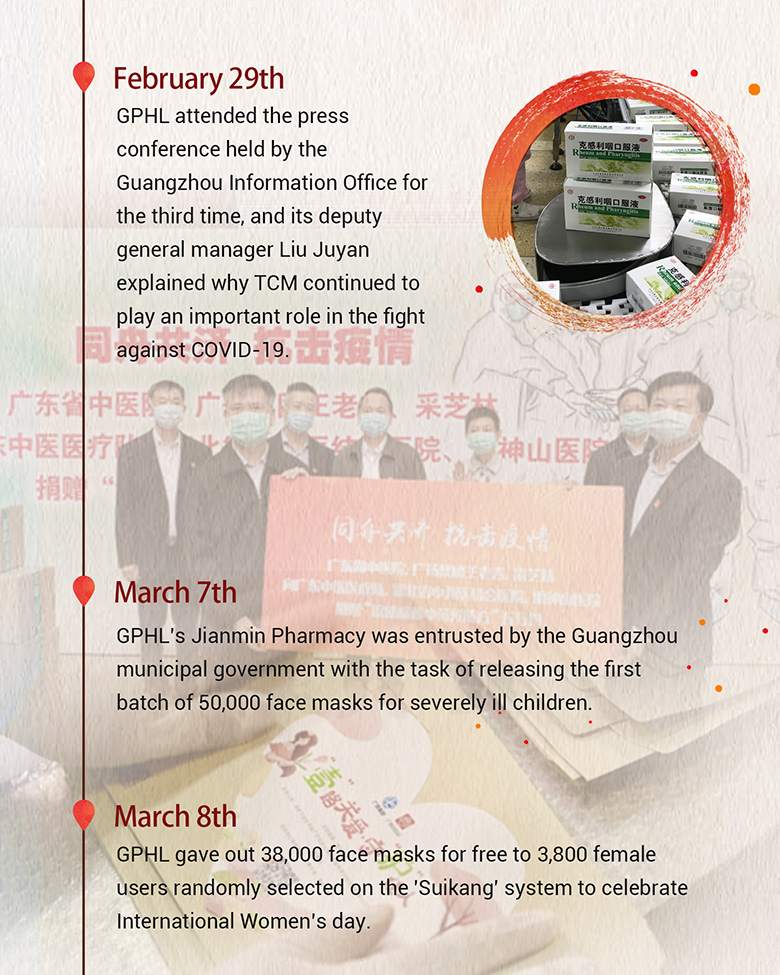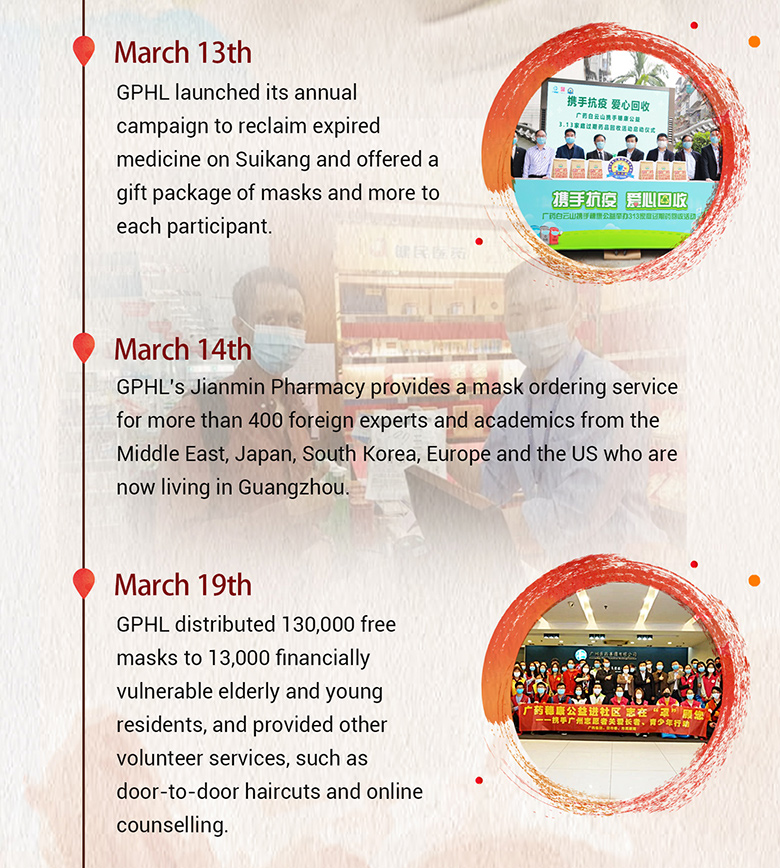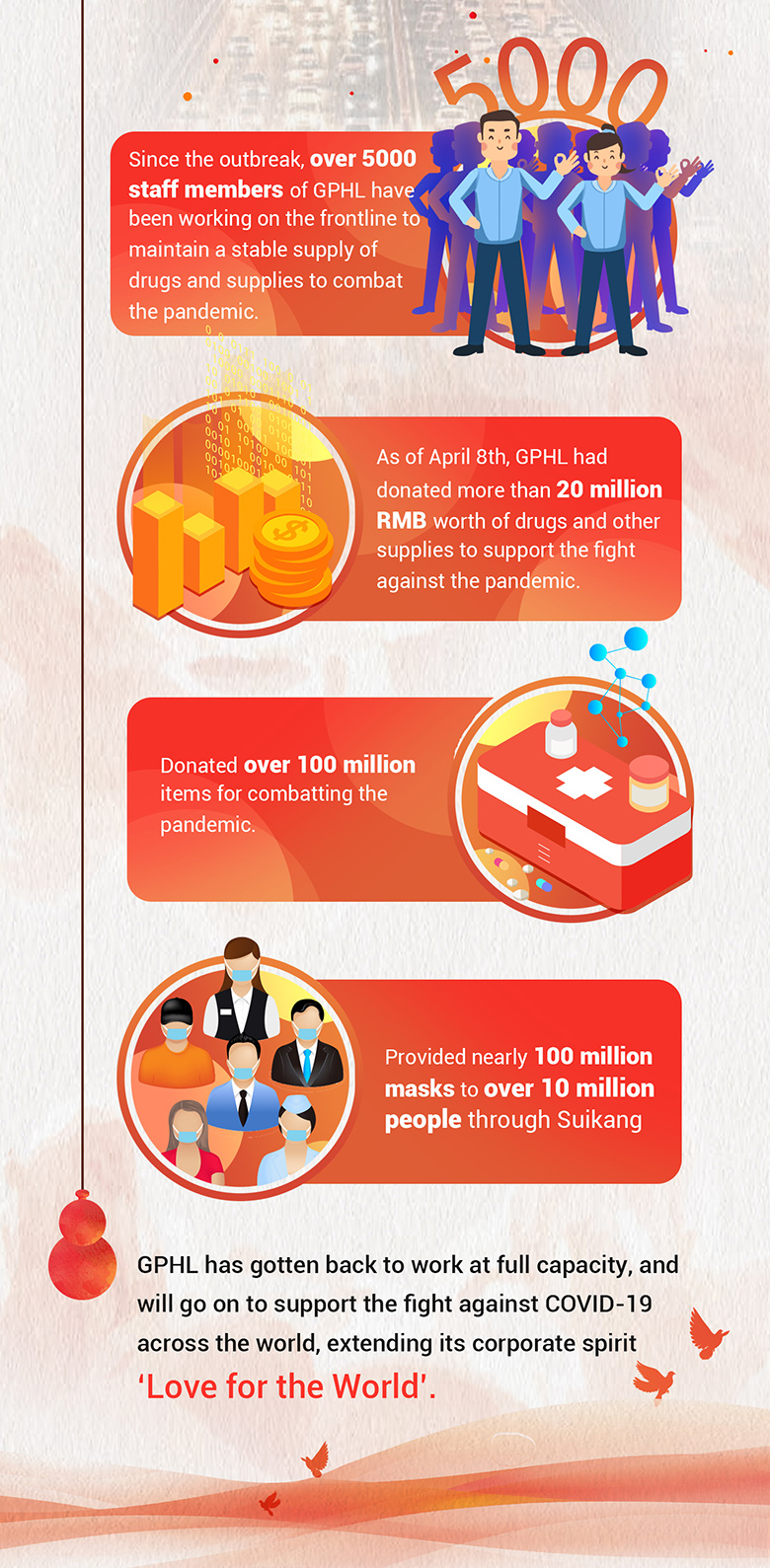 Author: Monica Liu
Infographics: Mia Lai & GPHL
Editors: Simon Haywood, Olivia Yang
GPHL donates supplies to help fight coronavirus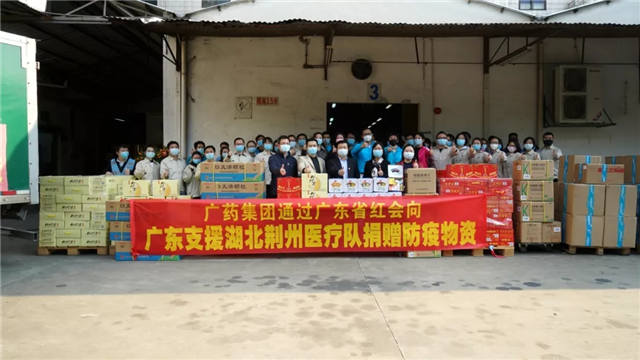 The supplies include protective equipment, disinfectant, hydrocolloid dressings, and drugs, such as Hou Ji Ling Capsules, Wang Lao Ji Herbal Tea Granules, and Po Chai Pills.
GPHL makes a donation to help in fight against coronavirus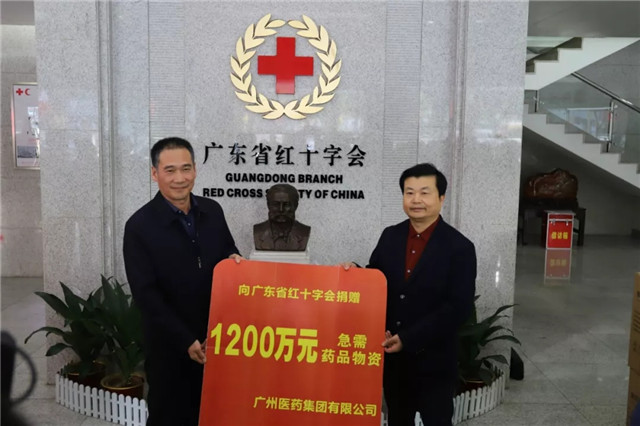 On January 27th, GPHL donated 12 million RMB worth of urgently needed items, such as drugs and protective equipment, to Hubei and Guangdong via the Guangdong branch of the Red Cross Society of China ("Guangdong Red Cross"). On behalf of the group, GPHL Chairman Li Chuyuan delivered the donations to Mr. Shi Xiandong, vice-chairman of the Standing Council of the Guangdong Red Cross, and Mr. Shi presented the donator with a thank-you plaque.
GPHL launched Spring Festival celebrations for the needed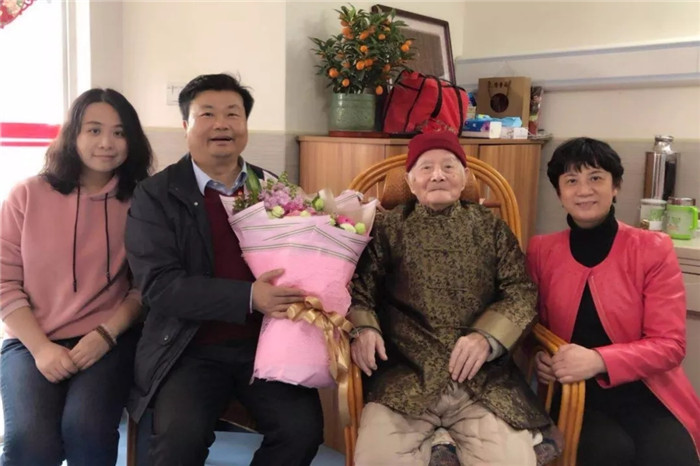 Ahead of the Lunar New Year, the most important festival for the Chinese, GPHL has launched a series of celebrations for the needed and the disadvantaged, extending Lunar New Year greetings to them all.
On Feb. 10, a delegation led by Li Chuyuan, the Chairman of GPHL, paid visits to TCM masters, GPHL's in-service staff, retired employees, model workers, the needed and the disadvantaged. On behalf of GPHL, Li sent them the most sincere blessings and new year greetings.

As one of the largest pharmaceutical companies in China, GPHL has been assuming more and more social responsibilities by reclaiming expired medicine, donating materials for earthquake relief, and playing a leading role in the poverty alleviation initiative with targeted measures.
GPHL and JD.com to boost the campaign to reclaim expired medicine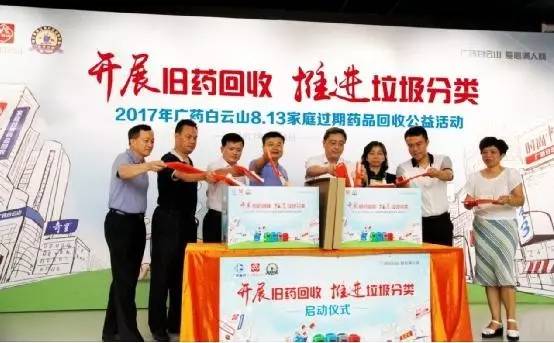 On August 14 2017, GPHL and JD.com signed an agreement to cooperate strategically on business, specifically business and public welfare. This is set to be an example of a crossover between the worlds of medicine and the web.
The first project of the cooperation, which sees GPHL & JD.com reclaiming expired medicine through door-to-door pickup was also formally announced at the signing ceremony.
From August 13 to 31, GPHL worked with JD.com to reclaim expired medicine in 10 cities around China via JD.com's logistics system. Consumers didn't have to go out, instead just needed to submit an application on JD.com, following which JD's delivery couriers came to pick up the expired medicine. All the expired medicine was then professionally disposed of by GPHL.
GPHL donates 3000 crates of Wanglaoji herbal tea and mineral water to Jiuzhaigou earthquake relief

A 7.0-magnitude earthquake jolted Jiuzhaigou County in Sichuan Province on the evening of August 8. Reportedly, the death toll from the earthquake rose to 20 and the tally of the injured rose to 431, including 18 seriously and 21 in critical condition, by 12 o'clock on August 10.

Disasters have no mercy, but humans do. After the earthquake struck Jiuzhaigou County, the whole country has also been shaken up. On the morning of August 10, GPHL donated the first supplies—2000 boxes of Wanglaoji herbal tea and Baiyunshan drinking natural mineral water to help the earthquake relief through China Council of Lions Clubs. The supplies were delivered from Chengdu to Jiuzhaigou on the morning of August 10 to contribute to the disaster relief.
GPHL invests RMB 750 million over 4 years in poverty alleviation initiative
At end of 2016, GPHL launched a one-day training to introduce agricultural technology and build peasant worker's legal awareness in Jingkou Village, Yuanling Village and Wanxi Village of Mei County, Meizhou. This only constitutes a small part of GPHL's poverty reduction initiative.
As a Guangzhou-based major state-owned and nationally-known enterprise, GPHL utilizes its distinctive advantages to create a model that integrates poverty alleviation with business development. In the past four years, the total investment up to RMB 750 million made GPHL a leading poverty alleviating company in Guangzhou and Guangdong.
GPHL safeguards the health of soldiers of Guangzhou Class Destroyer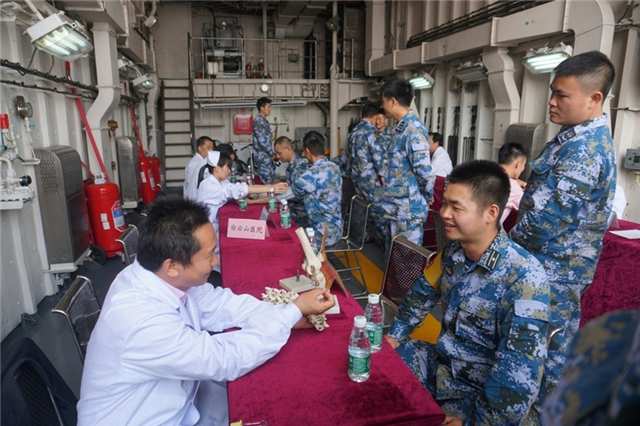 Upon agreement being reached regarding civil-military cooperation with the navy personnel manning the Guangzhou Class Destroyer, GPHL put it into practice quickly by sending medical personnel to the army. On April 5, it assigned a professional medical team consisting of doctors and nurses from Guangzhou Baiyun Mountain Hospital (GZBYMH) and Guangzhou Caizhilin Pharmaceutical Company Limited (Caizhilin) to the warship, receiving warm greetings from the soldiers.  
Due to long-lasting marine combat training, the soldiers are faced with physical issues, among which neck pains, shoulder pains, loin diseases, leg problems and respiratory diseases are relatively common. On April 5, Liu Wensong, head of GZBYMH and Zhang Jinlian, secretary of the CPC in GZBYMH led a medical team to conduct on-site treatment for the soldiers; whilst another team of three famous TCM doctors under the guidance of Du Lihua, secretary of the CPC in Caizhilin carried out free medical consultation for the soldiers. For the whole day, while having the treatment, the soldiers also had the chance to experience the charm of TCM and the profound culture of a China Time-honored Brand.
GPHL facilitates precision poverty alleviation with solar street light project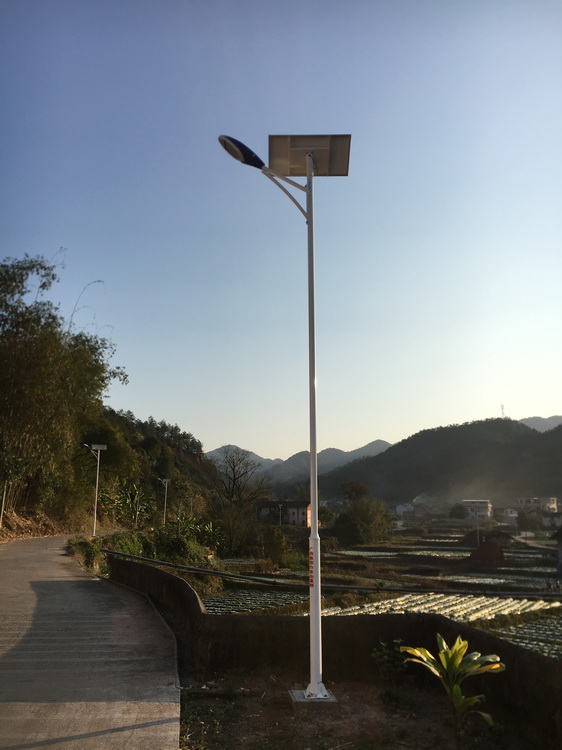 Shortly before the 2017 Spring Festival, GPHL completed its precision poverty alleviation initiative in the three villages of Songyuan Town in Meizhou City—Jingkou, Yuanling and Wanxi. The villagers were busy preparing for Spring Festival and migrant workers were also returning home, only to find 220 newly equipped solar street lights installed on the roadsides.
Guangzhou Baiyunshan Xingqun Pharmaceutical Co, Ltd (Xingqun), Guangzhou Caizhilin Pharmaceutical Company Limited (Caizhilin) and Guangzhou Baiyunshan Guanghua Pharmaceutical Co., Ltd (Guanghua) under the umbrella of GPHL were dedicated to implementing poverty alleviation in the three villages of—Jingkou, Yuanling and Wanxi respectively.
Note: Click the above tiles in bold to know more about GPHL's social responsibility pursuit.