Xiaochaihu Decoction as the Millennium Prescription
2018-05-31 18:14:59 GPHL GPHL
The climate of Guangdong is hot and humid, and so local residents are easy to suffer febrile diseases. For traditional Chinese medicine, the epidemic febrile diseases are a kind of acute exopathic febrile diseases caused by pathogenic warm without damp, including rheumatism and heatstroke.

Moreover, the infectivity of febrile diseases is normally smaller and even zero, and once febrile diseases came along with fierce infection and pandemic trend, they would be called big febrile diseases and for modern medicine they are plague. Chinese have always had a set of resolving solutions, and ancient Chinese dynasties all had many famous medical books against febrile diseases, such as Wu Youke's Treatise on Plague.
Thus, throughout Chinese long history, there was no record of mass deaths due to plague. In 2003, when the SARS epidemic broke out and the whole world fell into panic, Chinese medicine played a magic role in curing patients well without sequelae, and then Radix Isatidis and Xiaochaihu granules stepped onto an international stage from then on.
Saying about "Xiaochaihu", we are familiar with it. When we have a cold, doctors or pharmacy staffs will recommend Xiaochaihu granules, and in sorts of costume dramas and Wuxia stories a magic doctor or imperial physician gave someone a dose of "Xiaochaihu decoction". So what's the relationship between Xiaochaihu granules and Xiaochaihu decoction?
A very tasty dish should be made of special food materials and through professional cooking skills, so does the preparation of Chinese medicine. The preparation of Xiaochaihu granules includes two parts: Xiaochaihu decoction and its ancient craftsmanship "the method of removing draff and re-decocting". Xiaochaihu decoction comes from Treatise on Febrile Diseases written by Zhang Zhongjing, and "the method of removing draff and re-decocting" is one of six traditional methods of decocting Chinese medicine recorded in the book, which also is the one of the oldest pharmaceutical craftsmanship in the world for its history of 1800 years.
In Eastern Han Dynasty Jian'an 7 (AD 202), Zhang Zhongjing, the author of Treatise on Febrile Diseases, was Changsha Prefecture. One branch of his descendants moved south to Lingnan, and Treatise on Febrile Diseases with the making process of Xiaochaihu decoction came into Guangdong. Together they and Ge Hong, the representative person of Shanghan School in Jin Dynasty, gradually formed Lingan Chinese medicine school.
In 1896, Tang Shiyi, Lingnan Chinese medicine school's disciple, advocated "Chinese medicine as primary and west medicine as auxiliary" for the heritage of Zhang Zhongjing medicine sage's classic prescriptions, and produced Chinese patent medicines with combination of Chinese medicine and Western medicine, which was praised as the modern pharmaceutical pioneer by Sun Yat-Sen.
In the early 20th century, Tang Shiyi Pharmaceutical Factory first produced Chinese patent medicines through the combination of the traditional making process of Chinese medicine and big pharmaceutical equipments, and the factory then was renamed "Guang Hua Pharmaceutical Factory" according to Sun Yat-Sen's last wish "Glorying (Guang) China (Hua)".
In 1930s, Guang Hua Factory initiated Xiaochaihu granules, which could be returned to decoction after being dissolved by warm water if patients wanted to eat the medicine. So Xiaochaihu granules were hailed as the representative prescription of ancient connection to modern times, and a pioneering work to combine modern production technology with traditional craft techniques, because the medicine not only retained the function and regimen of ancient preparations, but also could be easy to carry and keep.
In 2000, the making process of Xiaochaihu granules initiated by Guang Hua Pharmaceutical Factory was included in The Pharmacopoeia of China (The 2000 Edition) .
In the fighting against SARS in 2003, Xiaochaihu decoction was listed as one of "Three Weapons against SARS" for its effective on dozens of patients without death or disability.
In the early 2009, in the fighting against H1N1, because it's clinical results were better than west medicine Tamiflu for reducing fever just in two days without bounce, Xiaochaihu decoction remained the function of Chinese medicine and created new miracle in the world medical history.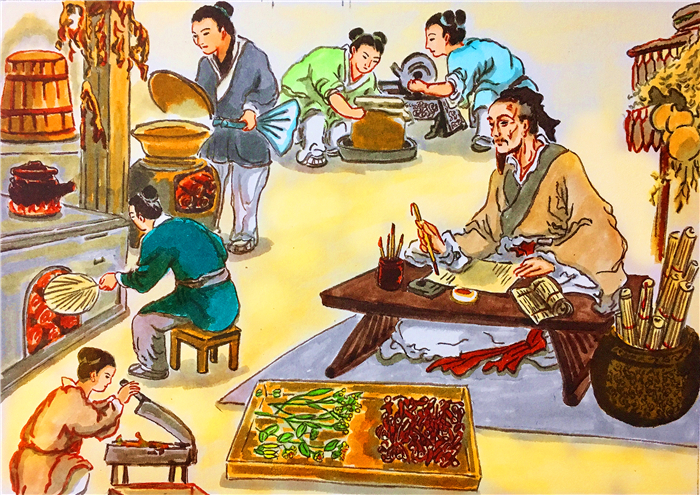 Zhang Zhongjing devoted himself to develop Xiaochaihu Decoction.