Viral sequences of Lufeng COVID-19 cases are similar with HK
2020-08-25 16:04:01 Newsgd.com Newsgd.com
The 67th press conference on Guangdong's fight against COVID-19 was held in Guangzhou today (August 22nd).
Duan Yufei, Director General of the Health Commission of Guangdong Province, said that as of 8 am on August 22nd, one confirmed case of COVID-19 and 5 asymptomatic carriers were found in Shanwei, Guangdong province, and 3 asymptomatic carriers were reported in Shenzhen.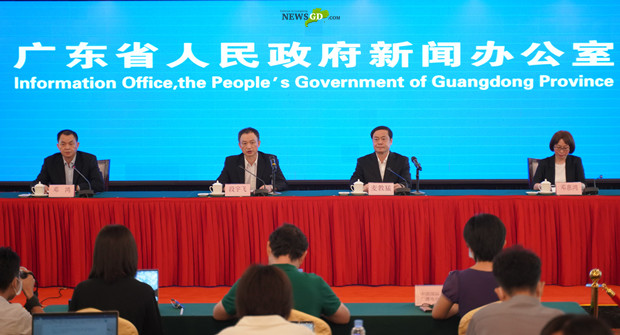 The 67th press conference on Guangdong's fight against COVID-19 was held in Guangzhou. (Photo: Zhang Ruilin)
"After eight days of continuous investigation, Shanwei and Shenzhen authorities have inspected 10444 connected people, searched 43 key places, and found 130 close contacts," Duan said. "The 8 asymptomatic cases are all close contacts of the one confirmed case."
In addition, Duan said that after the genome sequencing, the viral sequences of the new confirmed case in Lufeng, Shanwei and the epidemic strain in Hong Kong are highly homologous. The homologous rate has reached 99.99 percent.
In order to detect the COVID-19 cases as soon as possible, Guangdong Province has mobilized all resources to support Shanwei in carrying out nucleic acid testing. So far the daily testing capacity in Shanwei has been boosted to 30,000. And Shenzhen has a daily testing capacity of 129,000.
By 8 am on Saturday, a total of 830,900 people, including 145,000 from Shanwei and 685,900 from Shenzhen, have received nucleic acid tests. From all test results so far, only eight tested positive but had no symptoms, according to Duan. "If everything goes well, all nucleic acid tests will be completed by the end of August," he added.
Mai Jiaomeng, Director General of the Guangdong Administration for Market Regulation, announced that the province has launched a new frozen food traceability system to achieve targeted and precise safety supervision of all frozen foods in the province and improve the COVID-19 prevention and control capability .
Mai suggested that residents should avoid direct contact with frozen foods. "When handling fresh and frozen foods, people can use disposable gloves or disinfect their hands promptly after the direct contact," Mai said.
Deng Huihong, director of the Guangdong Provincial Center for Disease Control and Prevention, said that sporadic cases will not affect the reopening of Guangdong schools for the autumn semester.
Duan emphasized that the epidemic has been effectively controlled, but does not exclude the possibility of sporadic new cases and asymptomatic carriers in the future. Residents also need to wear masks, maintain social distance, and seek medical treatment immediately if they have fever, cough or other symptoms.
Authors | Ariel Dong, Steven Yuen
Editors | Jerry