Guangdong strengthens inspection on these foods to prevent virus spread
2020-06-23 12:27:43 Newsgd.com Newsgd.com
After the suspension of the Xinfadi market, which has been connected to Beijing's newly confirmed COVID-19 cases, Guangdong has strengthened inspection on fresh food, frozen meat including pork, beef, lamb, chicken and duck as well as aquatic food especially those imported frozen seafood, according to Guangdong Administration for Market Regulation on June 14th.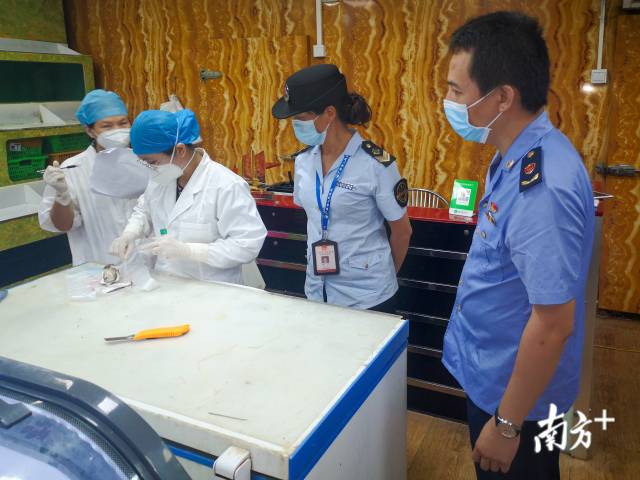 The inspection covers places such as wet markets, farmer's markets, supermarkets and restaurants which sell the foods listed above. The authority will also reinforce the management on schools and areas near the food markets.
Additionally, Guangdong Administration for Market Regulation stressed markets selling live poultry should strictly impose the '1110 strategy', that is, to clean and disinfect the market everyday, to have a deep cleaning once a week, to suspend business once a month and to have zero live poultry storage everyday.
According to the administration, the inspection has been implemented on the 21 cities from June 14th.
Salmon samples tested negative in GZ
The Guangzhou CDC collected 1141 samples from 3 food wholesale markets, 10 wet markets, 2 aquatic products chain stores, 13 supermarkets and 3 restaurants in the city's 11 districts on June 13th. All the samples tested negative for COVID-19.
Furthermore, the Guangzhou and Liwan CDC had an inspection on the Huangsha aquatic product wholesale market on June 13th. They took 71 samples from the markets, which have all tested negative for the virus.
As of today, the salmon stores have opened as usual in Huangsha. They are selling whole salmon and salmon slices. Most of their products are imported. The market will strengthen source tracing and virus prevention strategies for the next step.
Thus far, the CDC officers have concluded inspection on the market's hygienic condition as well as the business certificates of salmon stores. They have also checked the health certificate of the staff and suggested they wear masks and gloves when working.
Reported by Jasmine
Edited by Keane, Jerry