Traditional Chinese medicine introduced to Croatian health tourism
2019-05-05 15:52:25 Xinhua Xinhua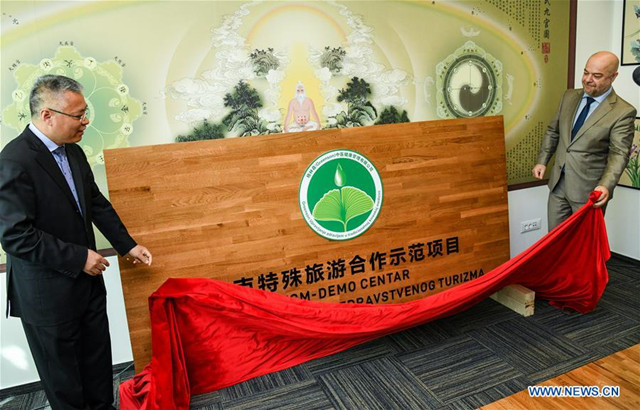 Chinese Ambassador to Croatia Hu Zhaoming (L) unveils the plaque of Traditional Chinese Medicine (TCM) Demonstrative Center in Zagreb, Croatia, April 26, 2019. A demonstrative center of China-Croatia Health Tourism opened on Friday at the Medikol Polyclinic in Zagreb, where traditional Chinese medicine methods will be used. (Xinhua/Josip Regovic)
A demonstrative center of China-Croatia Health Tourism opened on Friday at the Medikol Polyclinic in Zagreb, where traditional Chinese medicine methods will be used.
Chinese Ambassador to Croatia Hu Zhaoming said at the opening ceremony that it was the first concrete example of bilateral cooperation following Chinese Premier Li Keqiang's visit to Croatia.
During Li's visit earlier this month, multiple bilateral cooperation documents in areas including trade and investment, tourism, quality inspection and sports were signed.
"Croatia will become more attractive as a tourist destination after the opening of this center," said the Chinese ambassador.
President of the Management Board of Medikol Group Ivan Rajkovic said that the cooperation of Chinese doctors with Croatia started six years ago.
At Medikol Polyclinic, three Chinese doctors of various specialties will receive their patients each day, and the arrival of other Chinese doctors is also planned.