"701" Dieda Zhentong Gao (Adhesive Plaster for Bruise and Analgesic)
2017-09-13 15:57:44 GPHL GPHL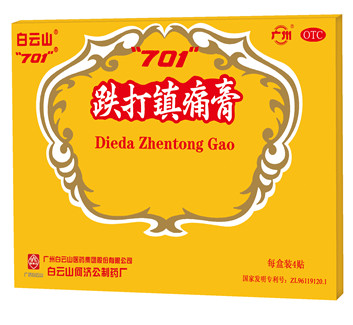 Product: "701" Dieda Zhentong Gao (Adhesive Plaster for Bruise and Analgesic)
Company: Baiyunshan He Ji Gong Pharmaceutical Factory of Guangzhou Baiyunshan Pharmaceutical Holdings Co. Ltd
Ingredients: Eupolyphaga, Rhei Radix et Rhizoma,Zanthoxyli Radix,Scutellariae  Radix, etc.
Indications: Promoting blood circulation and stopping pain,eliminating stasis to subdue swelling,expelling wind-damp. Used for urgent or chronic twists and bruise, the chronic waist and leg pain and rheumatism joint pain.
Dosage and administration: For external use. Cut the plaster to required size, pull the ointment apart from the separate paper, apply on the clean and dry affected area and press to make it attach firmly. Warm up the plaster to make it easily attach if the stickiness decreases when used in low temperature.
Package: 10x400cm: 1 roll/tin; 10x7 cm:4 plasters/box