Li Chuyuan shares insights into pharmaceutical and healthcare development in Greater Bay Area
2018-12-28 09:49:35 GPHL GPHL
From December 7 to 8, 2018, the First Innovation Global Forum (IGF) & Zhujiang International Forum kicked off at White Swan Hotel in Guangzhou.
The forum covered a wide range of topics including Fintech, AI, Internet technologies, new energy resources, autonomous driving and healthcare. Prestigious scholars, experts and entrepreneurs made key-note speeches on the topics of "Open and Innovative China and World", "Technological Change and Smart Manufacturing Future", "Belt and Road Initiative and the Future of Guangdong-Hong Kong-Macao Greater Bay Area".
Li Chuyuan, Party Chief and Chairman of GPHL, shared his insights into the development of pharmaceutical and healthcare industry under the Belt and Road Initiative and the construction of the Greater Bay Area.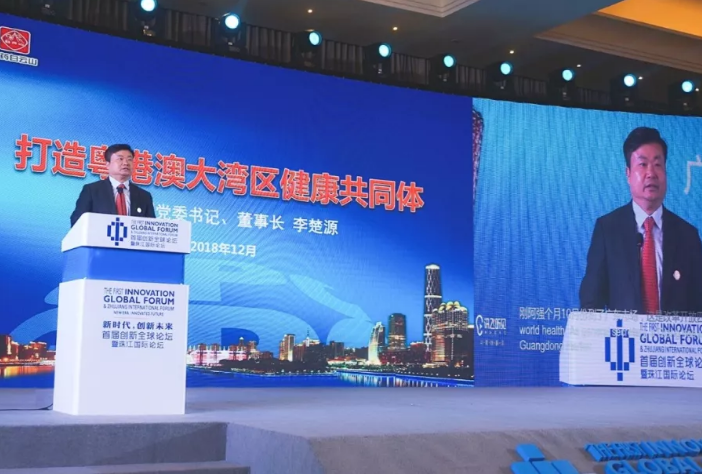 According to the annual government work report in 2017, China will draw up a plan for the development of a city cluster in the Guangdong-Hong Kong-Macao Greater Bay Area, give full play to the distinctive strengths of Hong Kong and Macao, and elevate their positions and roles in the country's economic development and opening up.
"Guangdong, Hong Kong and Macao are all the core component of the Lingnan region, sharing common cultural background with open-minded and innovative characteristics," said Li Chuyuan. "Advanced production factors can be found in the Greater Bay Area which provides fertile ground for enterprise. GPHL is one of those than grew from this fertile ground, and it's now a leading conglomerate with an annual revenue of RMB 100 billion."
He added that the Greater Bay Area has unique advantages in geographic location, education resources and talent pool, favorable financing environment and evolving innovative platforms. "Guangdong, Hong Kong and Macao can complement each other in terms of industrial environment and healthcare resources. We see a great prospect for pharmaceutical and healthcare industry as there are opportunities in the Greater Bay Area."
In regard to the future development, Li suggested that the Greater Bay Area shall facilitate the seamless mutual access of drug registration and application. "For medications that are already sold in Hong Kong and Macao, but hasn't yet been approved in mainland China, I suggest it should be deemed approved for selling and applying in the Greater Bay Area, and vise versa."
TCM (traditional Chinese medicine) is an essential part of the pharmaceutical and healthcare industry. According to Li, Hong Kong and Macao, two global metropolis, can improve TCM's international presence. Guangdong, Hong Kong and Macao shall work together to facilitate the development of an international standard system for TCM in order to promote TCM culture.
Being an enterprise expanding from the Greater Bay Area to the world, GPHL ranked 165th among China's Top 500 Enterprises in 2018 and ranked as China's top pharmaceuticals manufacturer for seven consecutive years.
In 2015, GPHL started cooperation with the Traditional Chinese Medicine Science and Technology Industrial Park of Co-operation between Guangdong and Macao and University of Macau. With the park's advantage in Portuguese-speaking countries and the ASEAN countries, GPHL was enabled to accelerate its global expansion. Meanwhile, GPHL worked with University of Macau to launch research and academic exchange program, supporting the globalization of TCM.
In 2017, GPHL reached an cooperation agreement with University of Hong Kong, and joined hands to training students and carry out joint research, academic exchange and project cooperation. GPHL and HKU will jointly establish teaching centers, post-doctoral research stations and workstations serving as training platform.