Lab for experimenting on rats opens in Guangdong
2018-09-07 11:09:28 Newsgd.com Global Times Net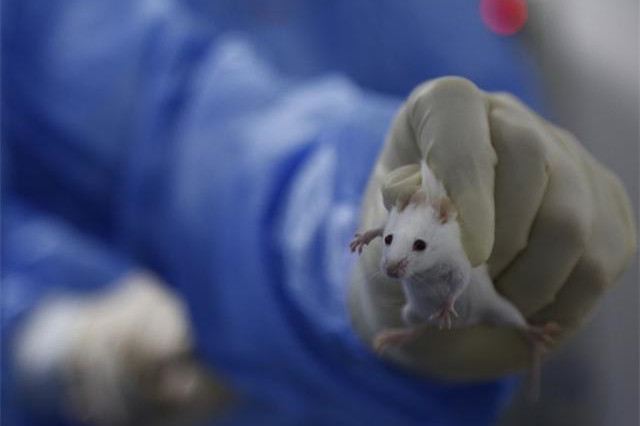 A group of animals live in an apartment worth 100,000 yuan ($14,643) per square meter in Guangzhou, capital of South China's Guangdong Province, and drink water that goes through three levels of filtration. People who want to meet with these animals need to pass quarantine.
Why?
They are actually animals living in the Laboratory Animal Center of the Sixth Affiliated Hospital of Sun Yat-sen University. The center has passed a review by the Department of Science and Technology of Guangdong and is about to start operations.
The rats all have a label on their ear, which looks like an earring and is used to show their identity. Poplar chips, which have been purchased from authorized suppliers, have been put into these rats' cages after sterilization. These chips need to be changed twice a week since the rats eat, drink, sleep and excrete on them.

All the food and water for the rats has been sterilized.
Fang Lekun, a research fellow from the Sixth Affiliated Hospital of Sun Yat-sen University, said that the center covers an area of 520 square meters and has one quarantine room, seven feeding rooms, three operation rooms and two inspection rooms.
The center, which has a 1 billion yuan budget, has 2,000 0.05-square-meter cages, which means that the rats live in a place with 100,000 yuan budgeted for one square meter. Each cage can house up to five rats.
The living environment of the rats must be sterile with a constant temperature, humidity and pressure. The air of the rooms where the rats live also needs to be filtered carefully.
Laboratory rats have been used in research because their physiological and biochemical processes are similar to humans and about 99 percent of genes in humans have counterparts in a rat. The disease models developed from mice can mimic humans' reactions to certain medicines.
Rats have been used for research due to their high fertility and tiny body, which makes them easy to manage.
Fang said that the center is mainly used for doing research related to intestine and stomach diseases.
Laboratory animals are the main contributors for the improvement of bioscience and humans will always thank them, research fellows from the center said.