Guangzhou Pharmaceutical establishes two plants in Guangdong
2020-11-12 17:30:36 Chinadaily.com.cn Chinadaily.com.cn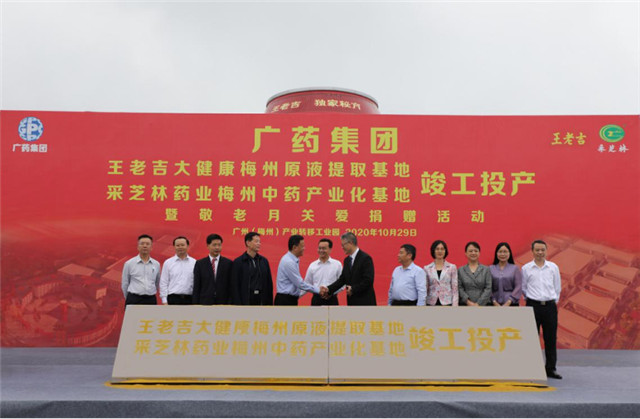 Guangzhou Pharmaceutical Group establishes new facilities in Meizhou city, Guangdong province, to boost local economic development. [Photo provided to chinadaily.com.cn]
Chinese pharmaceutical giant Guangzhou Pharmaceutical Group has built two production bases in Meizhou city, Guangdong province, to help locals defeat poverty and boost economic development.
Leveraging on the company's technological advantage and leading position in healthcare industry, the move is in line with the province's strategic development strategy for the northern, eastern and western parts of Guangdong, and Guangzhou's counterpart assistance to Meizhou, the company said.
With an investment of about 367 million yuan ($55 million), the Meizhou ingredient liquid extraction base, affiliated to the company's subsidiary Guangzhou Wanglaoji Great Health Industry Corp, covers an area of 177 mu, or 118,000 square meters, and will be used to extract ingredient liquid for "liangcha" beverage products, which originate from a traditional Chinese medicine believed to have cooling properties.
The base will also serve for the company's raw material strategic reservation, logistics and Wanglaoji herbal beverage research and development, creating more than 400 jobs for locals.

Once into production, it can extract more than 60 tons of medicinal materials daily and produce more than 20,000 tons of herbal tea concentrate annually.

The Meizhou Traditional Chinese Medicine production base of the company's subsidiary Caizhilin covers 130 mu ( 86,666 square meters), with a total investment of about 129 million yuan, aiming to build a comprehensive production service base using modern Chinese herbal medicine technologies.
The base includes a production center, a storage center, and research and development center for prepared Chinese herbal medicines.
The base's annual production capacity of prepared Chinese herbal medicine will reach 12,000 tons and provide 200 jobs for locals.
Yang Jun, deputy president of the company, said once the two bases are put into use, the company will actively use its advantages in scale, technologies and industry leading position, to provide long-term assistance to Meizhou's economic development while tapping business opportunities for itself, achieving win-win situation.
Wu Buke, an official with State-owned Assets Supervision and Administration Commission of Guangdong municipal government, spoke highly of the company's efforts to help Meizhou.