Guangzhou Wanglaoji Health Industry Company Limited (hereinafter referred to as Wanglaoji Health), established in 2012, is a wholly-owned subsidiary of Guangzhou Baiyunshan Pharmaceutical Holdings Co. Ltd (hereinafter referred to as GPHL), whose products mainly include the iconic red can version, red bottled version, sugar-free version, solid version, instant version and other new forms of herbal tea.

Following the classic recipe, Wanglaoji Herbal Tea is made from natural Chinese medicinal herbs processed with modern technological methods, falling strictly in line with the Grade 5 Quality Assurance System. Thanks to its top quality and excellent taste, it sells well all over China, becoming the No. 1 Beverage in China with a brand value of 108 billion RMB.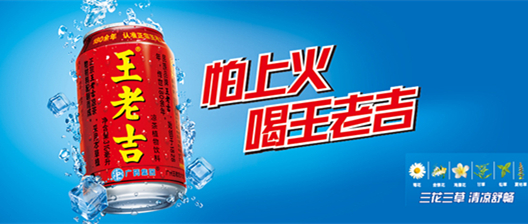 The 21st century has ushered in a new era of health industries. According to GPHL's development strategy, Wanglaoji Health has proposed a One Goal, Three Methods and Six Strategies Plan. By adopting an approach centered on product management, capital operation and virtual profit, the brand will move forward based on six strategies focused on—Talent, Technology, Brand, Resources Standards and Globalisation, to achieve the goal of making Wanglaoji a world-class beverage brand.
Currently, Wanglaoji Health prides itself on its strong team of 10 thousand people across the whole of China working on the construction of new production centres and on marketing. The brand has gained enormous popularity across the country and their products have been exported overseas, receiving lots of awards only one year after the company's foundation.

Meanwhile, as a socially responsible company, Wanglaoji Health also set up a fund with 182.8 million RMB to contribute to the community, especially for disaster and poverty alleviation and environmental protection, making visable the caring spirit of this national herbal tea brand.

Wanglaoji Health, as the leader in Chinese herbal tea industry, is an active proponent for the promotion of the industry establishing the largest herbal tea museum, and is a advocating holding herbal tea cultural festival. Furthermore, the company is also working with SGS Group to initiate research on international standards of herbal tea, facilitate quality improvement, and increase investment in new product development and promotion. In doing so, it will spare no efforts to make Wanglaoji an influential world brand through the creation of a new trend in the health industry.

(Translator: Cheryl Ma; Editors: Simon Haywood, Olivia Yang, Monica Liu)