Located at No. 1 and No. 16 Nanshi Road, Haizhu District of Guangzhou, Guangzhou Baiyunshan Guanghua Pharmaceutical Co., Ltd. (Guanghua) is now a member of Guangzhou Pharmaceuticals Corporation. It began life as the Tang Shiyi Pharmaceutical Factory in 1912 and was renamed the Guanghua Pharmaceutical Factory, one of earliest western patent medicine factories in south China.

In 1993, it was transformed into a state-owned company called Guangzhou Guanghua Pharmaceutical Holdings Limited. Five years later, it merged with Guangzhou Pharmaceutical Packaging Materials Factory.

In 2001, it became a subsidiary company of Guangzhou Baiyunshan Pharmaceutical Holdings Co. Ltd under Guangzhou Pharmaceutical Holdings (GPHL) due to asset reorganization and changed its name to Guangzhou Baiyunshan Guanghua Pharmaceutical Co., Ltd. in 2005. In that same year, the company was commissioned to manage Guangzhou South China Medical Equipment Co., Ltd.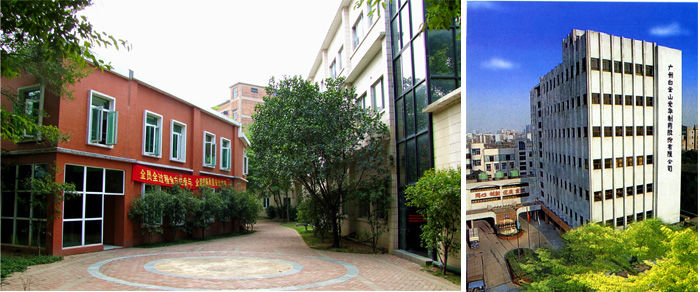 With assets totaling a value of more than 300 million RMB, Guanghua has reached an annual sales turnover of over 600 million RMB and records profits of up to 60 million RMB. The company's premises cover an area of 51 thousand square meters with a built-up area of 46 thousand square meters.
Thanks to its talent development strategy, the company prides itself on its team consisting of more than 600 employees, of whom 46.7% are professionally qualified in various fields. Equipped with over 80 pieces of high grade pharmaceutical machinery of international standard, Guanghua is one of the leading enterprises of GPHL, the top name among China's leading 100 pharmaceutical companies. As a key company of Guangzhou Baiyunshan Pharmaceutical Holdings Co. Ltd, the market value of Guanghua's core brand, Baiyunshan, has reached 28.33 billion RMB.

Specializing in Chinese and western patent medicines, the annual output of Guanghua amounts to 2 billion tablets, 700 million capsules, 360 million granule sachets, 5 million bottles of syrup, 100 million units of cephalosporin based drugs. Guanghua has a business philosophy of being technology forward and that quality establishes a brand. Guanghua has developed eight series of medicines with different functions including cold resistance, relieving cardiovascular and cerebrovascular diseases, reducing inflammation and relieving cough, treating diseases of the digestive tract, promoting health, treating women and children's common diseases and antibiotic products.

There are 295 products approved, among which the Hesui An Jia Huang Min Jiao Nang (formerly named as Su Xiao Shang Feng Jiao Nang, for relieving symptoms of cold and flu), Nao Luo Tong Jiao Nang (for activating blood circulation), Oyster Shell Calcium drugs, Xiao Chai Hu Ke Li (for relieving symptoms of cold), Cha Jian Ma Huang Jian Pian (formerly named as Xi Chuan Ling Pian, for easing symptoms of asthma) and Lian Zhi Xiao Yan Jiao Nang (for dispelling internal heat and detoxing) were granted national gold and silver medals as well as being acknowledged as famous brands at both municipal and provincial levels.

The company produces sustained-release preparations, rapid-release effervescent tablets and chewable tablets. Many of Guanghua's products have been appraised as National Products of Good Quality and Best Price and as Guangdong Products of Independent Innovation. In particular, the Hesui trademark is considered a famous brand throughout Guangdong Province.  

For years, thanks to its advanced scientific technology and superior quality, Guanghua has been conferred a significant number of awards at provincial and national level. In 2006, it became the designated medicine supplier for the United Nations and obtained the title of China Time-honored Brand four years later. In 2011, its Xiao Chai Hu preparation method was included in the Guangdong Intangible Cultural Heritage register and the new preparation technique of Xiao Chai Hu Ke Li acquired patent protection at national level in 2012.

(Translator: Cheryl Ma; Editors: Simon Haywood, Olivia Yang, Monica Liu)