Ericsson: 5G ecosystem should be developed in Guangdong
2019-11-30 12:11:35 Newsgd.com Newsgd.com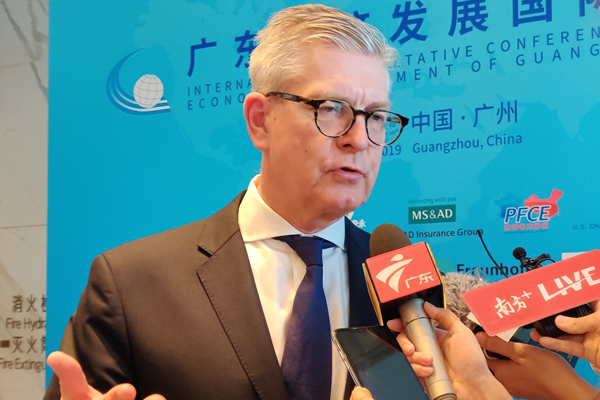 Börje Ekholm, President & CEO of Ericsson, accepted the interview from Guangdong Media. (Source: Nanfang Daily)
Guangdong should invest in the education sector and make the province attractive to more talent domestically and internationally, so as to improve its presence in the 5G arena, said Börje Ekholm, President & CEO of Ericsson, during a recent interview with Newsgd.com.
Ekholm made the remark during the 2019 ICCFED. This year, a total of 12 foreign consultants from some of world's top institutions brought their insight and advice on the development of the Guangdong-Hong Kong-Macao Greater Bay Area (GBA).
Ekholm indicated that Guangdong has a very strong manufacturing presence in 5G infrastructure, with the largest number of 5G stations, and that what matters most at present is to create an ecosystem for manufacturing, especially for 5G. for instance, a couple of smart manufacturing applications based on 5G technology can be developed as a next step.
Moreover, Ekholm suggested that Guangdong could take this opportunity to develop talent and that first of all, it should invest in its education system and attract talent both domestically and internationally.
Ericsson has a long friendship with Guangdong which can be dated back over 35 years. At present it has more than 700 engineers in China, many of whom are based in the GBA. Earlier this month, Ericsson and Guangdong-based technology firm OPPO, whose products include 5G handsets, announced the establishment of a joint lab in Shenzhen, focusing on 5G innovation.
Ericsson senior management is an old friend of the ICCFED, and during the past 20 years, senior management members were named as Economic Adviser to the province many times and have made a great deal of insightful and practical proposals.
Reported by Nan, Will
Edited by Olivia, Simon