China shares COVID-19 control experience with foreign embassies
2020-08-25 16:05:14 Newsgd.com Newsgd.com
The Chinese Ministry of Foreign Affairs invited Zhong Nanshan, a prominent Chinese respiratory disease expert and an academician at the Chinese Academy of Engineering, to participate in an online meeting on August 19th and share his insight into the measures China has adopted to contain the COVID-19 pandemic.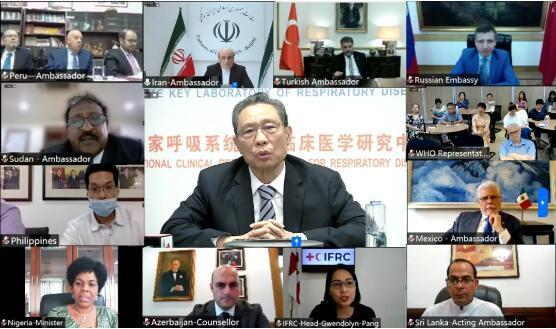 [Photo provided to Newsgd.com]
The event was hosted by Hong Lei, Director-General of the Protocol Department of the Foreign Ministry, and 158 foreign diplomatic missions attended the meeting.
Zhong Nanshan elaborated the measures that China has taken to combat COVID-19 at different stages based on case studies and statistics. He highlighted strategies such as 'early detection, early diagnosis, early isolation and early treatment' which have proven effective in China. He also introduced the effectiveness of using traditional Chinese medicine as a supportive treatment for infected patients.
As for the frequently asked question about vaccine development, Zhong Nanshan quoted the remarks by President Xi Jinping, saying 'COVID-19 vaccine development and deployment in China, when available, will be made a global public good. It will be China's contribution to ensuring vaccine accessibility and affordability in developing countries. China is willing to cooperate with global partners for vaccine development and production.'
The participants extended gratitude to the Chinese Foreign Affairs Ministry for holding the online meeting. They praised Zhong Nanshan's professional and valuable insight and considered China's experience will be of great help to fight against the pandemic in their own countries.
Author: Jasmine
Editor: Olivia, Jerry
Source: GDFAO