GD researchers create open-source prediction tool for COVID-19 triage
2020-07-13 15:39:43 Newsgd.com Newsgd.com
A group of researchers from Guangdong created an open-source prediction tool that can identify the COVID-19 patients who are at the high risk of progression from mild and moderate type to severe and critical type.

Led by Professor Hong Zhu, the Chairman of Nanfang Hospital, Southern Medical University, the study entitled 'Development and Validation of the HNC-LL Score for Predicting the Severity of Coronavirus Disease 2019' was published online on July 7th on EBioMedicine, published by The Lancet. It provides valuable experience and a reliable tool for prediction of severe and critical type of disease in the treatment of COVID-19 patients around the world.
To make the tool accessible to the clinicians around the world, especially in countries where the COVID-19 pandemic is still out of effective control, Professor Zhu's team has designed a bilingual (Chinese and English), web-based version of the clinical decision support tool (Link: http://42.194.129.205:8001/#/).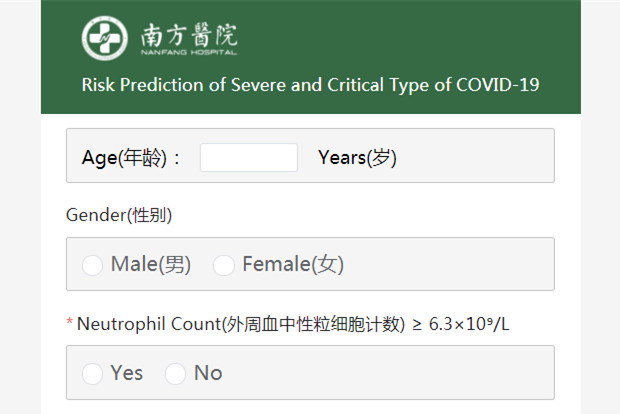 A screenshot of the web-based version of the tool.
The study is an important achievement made by the Guangdong Medical Aid Team, who successfully completed the task of disease control in the city of Honghu, Hubei in close collaboration with the local government.
Based on their clinical work in Honghu, Professor Hong Zhu led the team to develop an HNC-LL (Hypertension, Neutrophil count, C-reactive protein, Lymphocyte count, Lactate dehydrogenase) score to quantitatively predict disease severity, especially the risk of future development of severe COVID-19, which is of profound significance in guiding clinical practice and allocation of medical resources.
This model is capable of providing clinical early warning, effectively guiding the diagnosis and treatment of high-risk patients, and reducing the mortality risk through early intervention.
It outperformed other prediction systems and can help healthcare system in areas including Honghu helping to overcome the pandemic more efficiently. Compared with similar published type of risk prediction models based on clinical indicators, it is cost-effective, accessible and quality-assured.
Link of the research paper: https://doi.org/10.1016/j.ebiom.2020.102880
Author | Monica
Editors| Wing, Jerry