All asymptomatic patients in Guangzhou now negative for COVID-19
2020-05-25 15:00:31 Newsgd.com Newsgd.com
The Guangzhou Eighth People's Hospital, the largest hospital specialising in infectious diseases in South China, accepted a total number of 181 asymptomatic cases, more than 70 percent of whom were foreign nationals. All of these patients including those who later developed into confirmed cases have now tested negative for COVID-19 as of May 19th.

According to the hospital, it has treated 1402 COVID-19 cases since it accepted the first patient on January 20th. The hospital also accepted the largest number of foreign patients in Guangdong who come from more than 30 countries.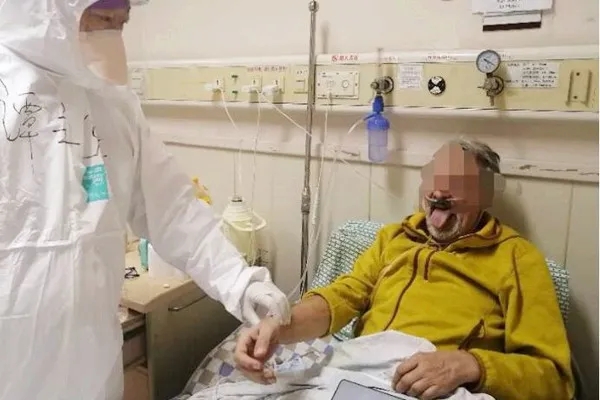 An expat accepts treatment at Guangzhou Eighth People's Hospital (Photo\Guangzhou Eighth People's Hospital)
The hospital divided the past four months into two phases. 'Phase I' refers to the period when they received locally confirmed cases while 'Phase II' refers to the period when the patients were mainly those coming back to China from overseas and locally transmitted cases related to those imported cases.
Although most patients during 'Phase II' were with mild symptoms or asymptomatic, it didn't mean the treatment was easier, said Mo Xiaoneng, director of the respiratory disease department of Guangzhou Eighth People's Hospital.
"These patients came from different countries so we met differences in religious beliefs and personal habits," said Mo, "Some patients could not understand why they had to be quarantined because the regulations are different in their countries so we need to make further explanations to gain their understanding and cooperation."
To solve the problem, the Guangzhou government sent officers from related departments to the hospital so that they could help the doctors overcome language barriers and cultural differences. Southern Medical University also arranged foreign volunteers to communicate with the foreign patients and ease their anxiety through video calls.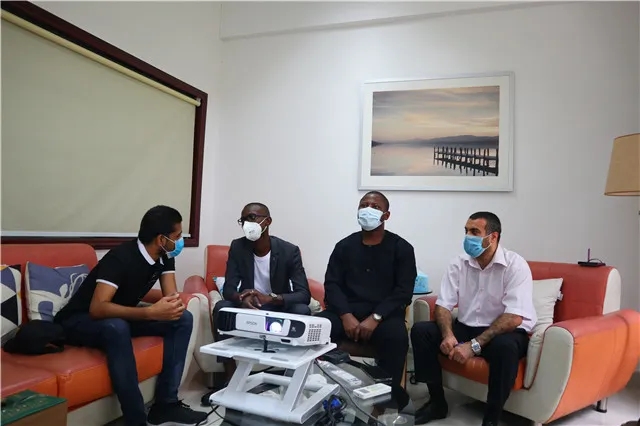 (Photo provided to Newsgd.com by Southern Medical University)
The photo shows FEMI MUYIDEEN OLUTOYE, a nursing PhD student of Southern Medical University contacting a Nigerian patient on May 14th, explaining the treatment process and related policies. According to the regulation, the patient can finally be discharged from hospital if they have tested negative for the virus twice and accept to undergo a further 14-day quarantine.
The hospital treated asymptomatic patients separately. There were regular meetings every day which gathered doctors to discuss the personalized treatment plans for each patient. A total of 32 meetings had been carried out for over 1,000 patients.
As there is no specific medicine that has proven effective in treating COVID-19, the hospital adopted TCM as adjuvant therapy. Tan Xinghua, director of TCM department of Guangzhou Eighth People's Hospital, said that TCM was used on more than 90 percent of the asymptomatic patients, and that it was well accepted.
As of May 19th, only 8 of the 181 asymptomatic patients turned into confirmed cases, a conversion rate of 4 percent which is lower than the average rate of 8.03 percent nationwide.
Shenzhen's last COVID-19 patient discharged
The last COVID-19 patient in the city was discharged from the hospital Thursday, clearing the city of all confirmed cases.
The 29-year-old patient, whose identity was withheld, was taken to Shenzhen No. 3 People's Hospital on April 27 after a positive nucleic acid test.
The 110-kg patient sustained a high fever for three days before he was admitted. He had diabetes and a suspected history of hypertension.
The last COVID-19 patient (L) in Shenzhen is discharged from the hospital Thursday. (Photo: Zhu Hongbo)
"On the day the patient was admitted, the fever reached 40 degrees Celsius. His condition soon deteriorated and a ventilator was used May 4," said Yuan Jing, director of the No. 2 Unit for Infectious Diseases of Shenzhen No. 3 People's Hospital.
The hospital applied the experience and treatment methods that it had used through treatment of the previous 461 patients. It had tightened monitoring on days 5 to 8 and adopted early intervention to prevent the situation from getting worse.
On the first day that the patient entered into a severe condition, the hospital applied a special plasma antibody which is generally used in the recovery period of a patient, and adopted some comprehensive treatment methods that are proven to be effective, according to Yuan.
Shenzhen has so far reported 462 confirmed cases including imported cases from overseas.
A total of 459 patients were discharged and three died.
The city centralized treatment of confirmed patients at Shenzhen No. 3 People's Hospital following the principle of centralizing medical resources and expertise for treatment. A total of 130 medical employees selected from other hospitals participated in the treatment.
The city's health commission arranged supplies like preventative clothing, N95 masks, surgical masks and ECMO machines and ventilators to ensure treatment.
Authorities also set up an expert team on the treatment of patients with severe symptoms.
Author | Jasmine & Zoey (intern)
Editor | Keane & Simon
Source | Newsgd.com & Szdaily.com