Summon the best of all civilizations in coronavirus crisis
2020-05-20 11:06:51 Xinhua Xinhua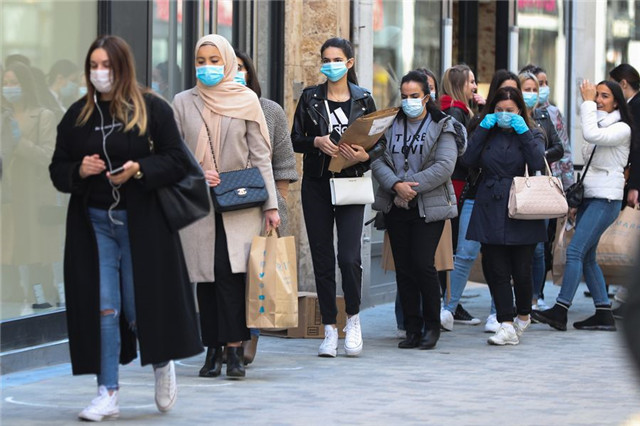 People queue outside a shop at the main shopping street, the Avenue Nouvelle, in Brussels, Belgium, May 11, 2020. (Xinhua/Zheng Huansong)
Countries in the East and the West should learn from each other to weather this crisis because no civilization has all the answers to defeating COVID-19, humanity's formidable common foe.
One year ago during his keynote speech at the opening ceremony of the Conference on Dialogue of Asian Civilizations, Chinese President Xi Jinping urged the international community to "look to culture and civilization to play their role" in meeting common challenges and creating a better future for all.

As the human race is still in the depths of a global fight against the COVID-19 pandemic, Xi's call a year before could not be more relevant today. Countries with different civilizations can and should draw inspiration from humanity's shared values, and form a united front to beat this deadly disease.
Civilizations do share common ground. That is exactly what has been demonstrated in the ongoing global public health crisis.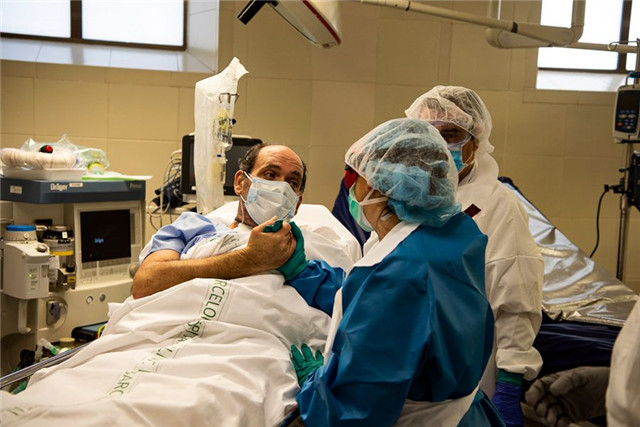 A COVID-19 patient holds the hand of a medical worker to show his appreciation in an ICU ward of a hospital in Barcelona, Spain, on May 7, 2020. (Photo by Francisco Avia/Xinhua)
All across the world, front-line doctors and nurses have been risking their own lives to save those of others. Though they speak different languages and have different skin colors, their shared respect for human lives is unmistakable.
All across the world, governments, businesses and ordinary citizens in different countries have shown their support of each other and rushed to the aid of those struggling in the pandemic.
Not too long ago, Italian President Sergio Mattarella hosted a special concert in his presidential palace to express unity and special friendship with the Chinese people, and Switzerland lit up its famed Matterhorn mountain with projections of the national flags of China, the United States, Japan and many other countries in a show of global solidarity.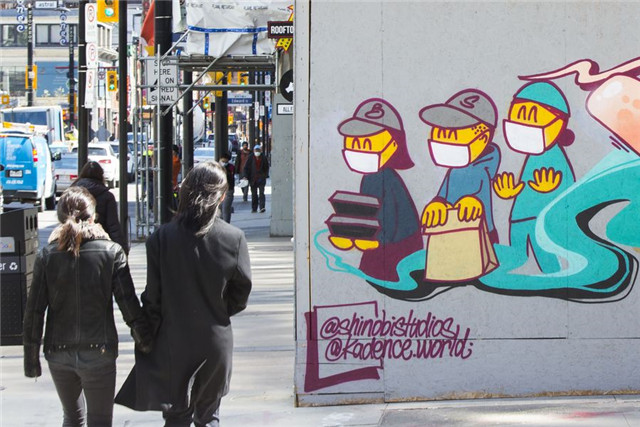 People walk past a mural which thanks frontline workers outside a boarded-up store amid the COVID-19 outbreak in Toronto, Canada, on May 13, 2020. (Photo by Zou Zheng/Xinhua)
Meanwhile, cultural diversity exemplified in this outbreak also provides an opportunity for different civilizations to learn from each other.
Take wearing face masks as an example. While wearing surgical masks has become a commonplace practice in many Asian countries, many in the West initially regarded them as unnecessary. Now that more and more medical professionals and scientists worldwide are recommending using masks in public places, Westerners have started to come around.
Members of the Chinese anti-COVID-19 medical consultant expert team attend a video conference with Malaysia's traditional Chinese medicine (TCM) associations, practitioners and companies on China's experiences in applying TCM in the fight against COVID-19, in Kuala Lumpur, Malaysia, April 22, 2020. (Xinhua/Zhu Wei)
Another case in point is a growing role traditional Chinese medicine (TCM) now plays in treating coronavirus infections. While hospitals around the world have mainly used Western medicine during the pandemic, TCM has seen more recognition.
According to the reports of Canadian news outlet The Globe and Mail, Jindrich Cinatl, a German virologist, said, "In Western medicine, we have drugs that attack just a concrete target. With traditional medicine, you can prevent virus absorption to cells, virus replication and so on."
However, the international community should guard against hubris and prejudice that tend to entail misguided judgement during the deadly outbreak, which in turn has already cost a tremendous loss of human life.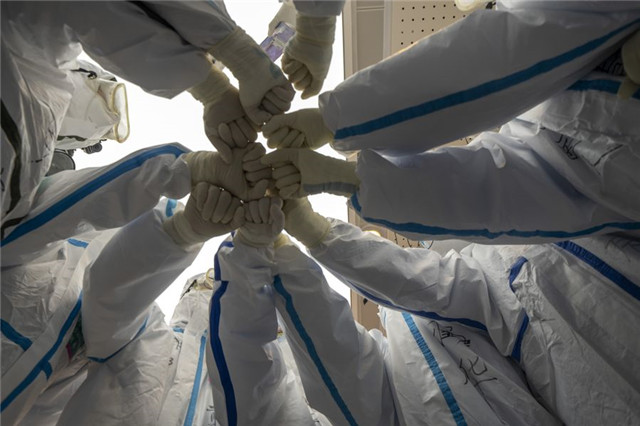 Medical workers cheer up each other before the closure of the Wuchang temporary hospital in Wuhan, central China's Hubei Province, March 10, 2020. (Xinhua/Fei Maohua)
When the coronavirus was first reported in Asia, some U.S. politicians saw it as an "Asian virus," and claimed that the coronavirus only attacked the immune system of Asians.
That is a part of the reason why the United States, whose leader once described the pathogen as a "flu," has become the world's epicenter of the pandemic.
Today, as the coronavirus pandemic has already claimed more than 300,000 lives around the globe, the urgency to pool wisdom from different cultures and people worldwide has become more imperative than ever before. Countries in the East and the West should learn from each other to weather this crisis because no civilization has all the answers to defeating COVID-19, humanity's formidable common foe.