GPHL donates Chloroquine Phosphate Tablets to Iran
2020-04-09 17:21:52 GPHL GPHL
GPHL's subsidiary Guangzhou Baiyunshan Guanghua Pharmaceutical Co., Ltd. donated half a million Chloroquine Phosphate Tablets to Iran via the China Marxism Research Foundation. The tablets were delivered to the Consulate General of Iran in Guangzhou on the afternoon of April 2nd.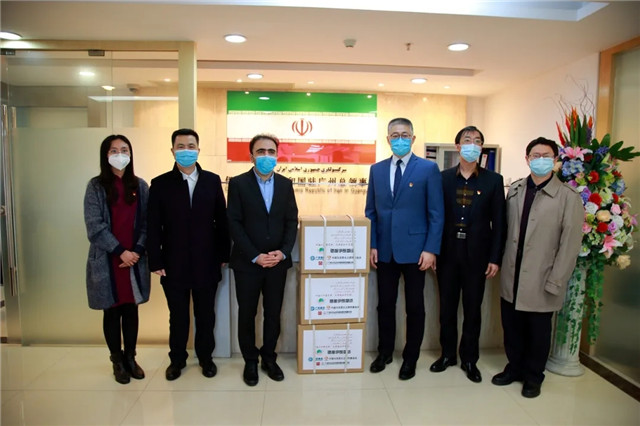 Representatives of GPHL and the Iranian
Consulate General

attend

the donation activity.
In addition, representatives of GPHL and Guanghua visited staff of the Iranian Consulate General to express their solidarity with the country, bringing Xiaochaihu granules and small-molecule protein peptide powder as a gift. Iran's Consul General Khalil Shirgholami and GPHL's vice chairman Yang Jun attended the donation activity along with other notable individuals from both parties.
Shirgholami expressed his gratitude to both GPHL and Guanghua for their support and solidarity.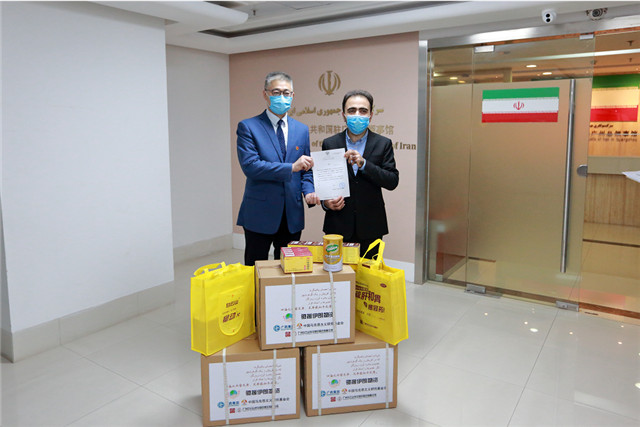 Yang Jun (L) and
Khalil Shirgholami
attend the donation activity.
Yang Jun explained that Iran provided great support to China during the outbreak at the beginning of the year. He hopes that the medication can also play an active role in Iran's fight against COVID-19, and wishes the Iranian people a quick return to normality.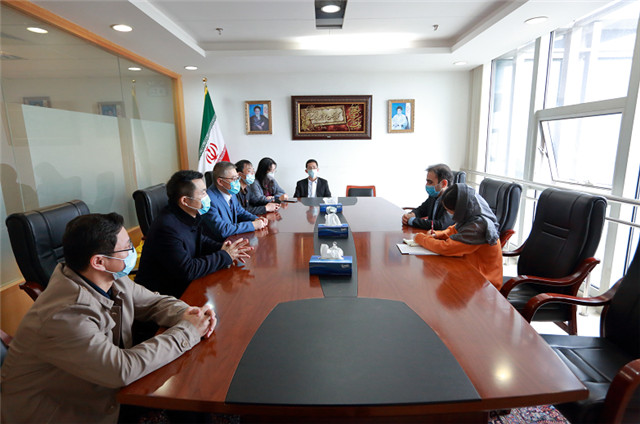 Representatives of GPHL and the Iranian Consulate General hold a meeting.

On March 23rd, 300,000 Chloroquine Phosphate Tablets arrived at Soekarno-Hatta International Airport. This was the first batch of Guanghua's medicine to be exported for the fight against COVID-19.
Chloroquine Phosphate Tablets have been included into the sixth and seventh versions of guidelines for treating COVID-19 patients.

Guanghua not only maintains a stable supply of this drug in the domestic market, but is also expanding supply worldwide. So far Guanghua has reached 18 countries through its cooperation with embassies, foundations and distributors.
In addition to the Chloroquine Phosphate Tablets, GPHL has received many overseas orders for Banlangen Granules, Antiviral Oral Liquid, masks and protective clothing.
Authors: Monica, Zoey (intern)
Editor: Simon, Olivia