The 127th Canton Fair will be postponed
2020-03-24 15:20:49 Newsgd.com Newsgd.com
The 46th press conference on Guangdong's fight against COVID-19 was held in Guangzhou on March 23rd.
At the press conference, Ma Hua, Deputy Director-General of the Department of Commerce of Guangdong Province indicated that the 127th China Import and Export Fair will not be held on April 15th, due to the current global situation.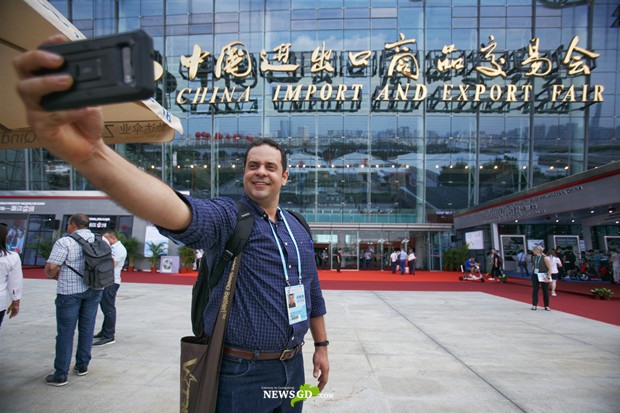 Canton Fair (Photo: Shi Lei)
As of midnight of March 22nd, Guangdong had reported 6 new imported cases, with 3 cases in Guangzhou (from the UK, France and the Philippines), 2 cases in Foshan (from France and Côte d'Ivoire), and 1 case in Chaozhou (from the UK), according to Zhou Zixiao, Deputy Director-General of the Health Commission of Guangdong Province.
As of 12pm today, 2 more imported cases were reported in Guangzhou and Shenzhen, who had travelled in from the UK and the USA.
Since the outbreak of COVID-19, Guangdong has implemented a series measures to guarantee basic living needs of the people living in poverty.
"The province has distributed more than 2 billion yuan of subsistence allowances since the epidemic broke out", explained Nie Yuansong, Deputy Director-General of the Department of Civil Affairs of Guangdong Province. "There are now no suspected or confirmed cases among the over 1.6 million people living in poverty and relying on subsistence allowances."
As a result of the epidemic, students can presently only take online classes. Nie said that Guangdong has mobilized more than 9000 computers and 210,000 tablets for children in poverty-stricken families. Each of the children will be given a 30 GB free data allowance for online learning.
Wu Daowen, Deputy Director-General of the Guangdong Provincial Development and Reform Commission, said that despite the extended Spring Festival vacation and the epidemic, Guangdong's consumer price index (CPI) remains high. Over 200 million yuan in allowances to poor families to help them buy essential groceries to more than 1.69 million people in poverty.
Authors: Steven Yuen, Zoey Huang (intern)
Editors: Simon Haywood, Keane Wong