Chinese aerobics and TCM widely applied in the fight against COVID-19
2020-03-24 15:01:27 Xinhua Xinhua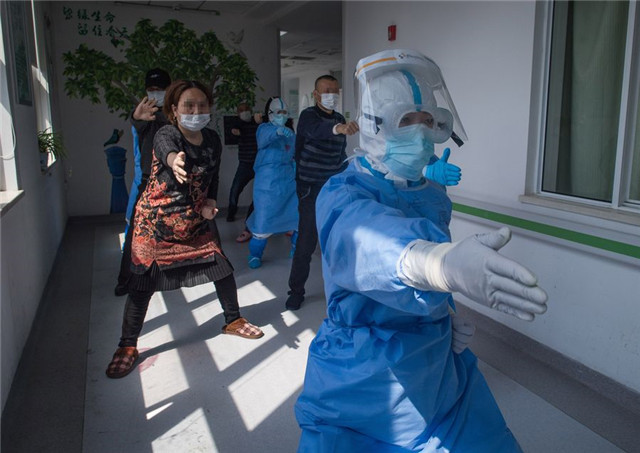 Medical workers from north China's Inner Mongolia Autonomous Region lead the patients in practicing Baduanjin, a traditional Chinese aerobics, at the Wuhan pulmonary hospital in Wuhan, central China's Hubei Province, March 19, 2020. (Xinhua/Xiao Yijiu)
Chinese aerobics and traditional Chinese medicine(TCM) therapies have been widely applied in treating novel coronavirus infected patients in China.
WUHAN, March 21 (Xinhua) -- The medical workers treat COVID-19 patients with traditional Chinese medicine (TCM) therapies to help patients alleviate headache, improve sleeping quality and gastrointestinal function.
The goal of TCM is not to kill the virus, but to drive it away by restoring the internal balance and boost the body. That is why traditional Chinese medicine can cure some severe illnesses, even if it has no microbiological make-up.
TCM has been involved in treating 92.5 percent of confirmed COVID-19 cases nationwide, as studies confirmed that TCM and Western medicine work better when combined than used independently in improving the recovery rate and reducing the mortality rate.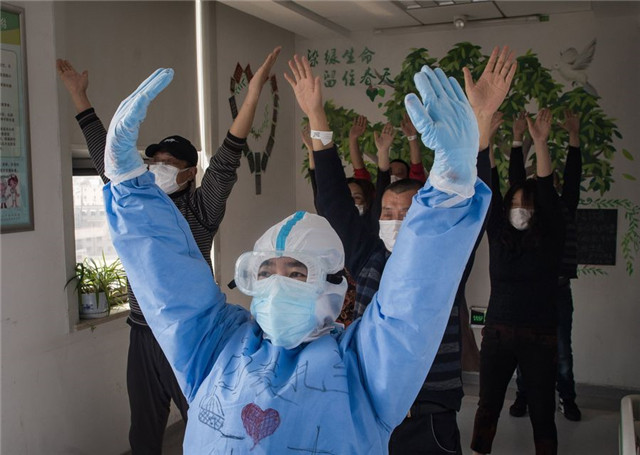 A medical worker from north China's Inner Mongolia Autonomous Region leads the patients in practicing Baduanjin, a traditional Chinese aerobics, at the Wuhan pulmonary hospital in Wuhan, central China's Hubei Province, March 19, 2020. (Xinhua/Xiao Yijiu)