Expert: outbreak will end by June, if countries take urgent action
2020-03-16 15:51:16 Newsgd.com Newsgd.com
As of 24:00, March 11th, Guangdong had confirmed 3 new cases, pushing the total number of infected patients to 1356.
Over 2,000 medical workers from Guangdong have gone to Hubei in the fight against COVID-19, and none among them have been infected, according to Zhou Zixiao, Deputy Director-General of Guangdong Health Commission.
The 41st press conference on Guangdong's fight against COVID-19 was held in Guangzhou today.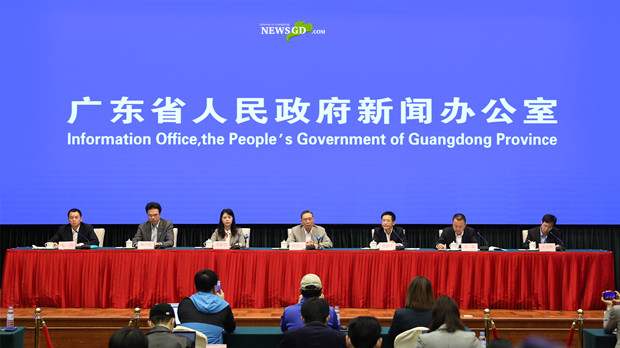 The 41st press conference on Guangdong's fight against COVID-19 was held in Guangzhou today. (Photo: Cao Yaqin)
As the confirmed cases of COVID-19 grow worldwide, Guangdong as an international trade hub tightened entry quarantine regulations as of February 28th.
"As of now, most imported cases showed no symptoms of fever on arrival and instead tested positive for COVID-19 or were confirmed as being infected during their quarantine," renowned Chinese respiratory expert Zhong Nanshan said. "Guangdong should enhance the monitoring of imported cases. If the virus has mutated, it might cause reinfection."
Renowned Chinese respiratory expert Zhong Nanshan (Photo: Cao Yaqin)
Led by the Red Cross Society, China has sent several teams of medical experts and humanitarian relief supplies to Italy, Iraq, Pakistan and other countries in fighting against COVID-19.
According to Zhong, now the mortality rate is about 3.2% overseas, similar to the early stages of the outbreak in Wuhan. Last week, he held video conferences with his counterparts from a dozen countries to exchange views and share his experience of how China continues to fight against the virus.
"International communication is vital," Zhong said. "China has summarized experience and drawn lessons from the past two months, which will contribute to the fight against the virus in other countries and lower the mortality rate."
Zhong pointed out that it's impossible to develop wonder drugs within two months, but there are ways to curb the spread of COVID-19.
"If we fail to control the epidemic worldwide, we will never win the fight against COVID-19," Zhong added. "The world should unite, work together and support each other."
The World Health Organization (WHO) said on Wednesday that the COVID-19 outbreak can now be characterized as a 'pandemic' as the virus has spread increasingly worldwide. It urged the international community to take urgent and aggressive action to contain the pandemic.
Zhong believes the COVID-19 outbreak will end by June, on the condition that other countries attach great importance to the severity of the virus and take strong measures to stop it from spreading further.
Some recovered patients discharged from the hospital have tested positive for the virus, but so far, they haven't been found to be infectious, Zhong stressed. In addition, no coronavirus has been found in the faeces of these patients.
Furthermore, the Third People's Hospital of Shenzhen has developed an artificial intelligence (AI) system to increase the accuracy rate of COVID-19 diagnosis.
The hospital's director Li Lei explained that the system is able to read and analyze a patient's CT scan within 20 seconds, with an accuracy rate of 90 percent. It can also assist doctors in comparing patient condition before and after taking medication.
Authors: Monica Liu, Steven Yuen
Editors: Simon Haywood, Keane Wong