Try these channels to buy masks in Guangdong
2020-02-09 15:28:47 Newsgd.com Newsgd.com
Although more mask manufacturers have resumed production, the supply is still limited in many cities. Recently, major cities including Guangzhou, Shenzhen and Zhuhai have launched various channels to make masks more easily obtainable for residents.

Guangzhou
'Suikang' WeChat program
The 'Sui Kang' mask booking WeChat program has completed testing and released new rules on February 6th.
Residents can log on and make a reservation with their ID card number or other valid documents at 8:00 pm every day. Each ID can reserve ten normal protective masks or five N95 masks. The masks will be delivered to your home address as before but will not be free after the official launch. (18 yuan for 10 normal protective masks. Pricing for the N95 has not yet been released. The price will be adjusted based on related costs.)
It's worth noting that those who have made a reservation successfully must complete payment before the reservation expires. Only one purchase can be made in any 10 day period.
Pharmacies
The Guangzhou government has been allocating masks to major pharmacies including Jianmin Pharmacy 健民医药,Cai Zhi Lin 采芝林, Guangzhou Medical Pharmacy 广州医药大药房, Yi Xin Tang 广药一心堂药店, Da Shen Lin 大参林, Hai Wang Xing Chen 海王星辰 and Jin Kang 金康.
As supply is still limited, you can contact with the pharmacies near your community first to check if they have masks in stock. The screenshot below shows the major pharmacies in Tianhe district, you can also search for the pharmacies on Baidu maps or similar applications.
(Photo: 天河发布)

To avoid attracting large crowds, most pharmacies have customers scan the QRcode to 'queue' online and suggest that people pay by WeChat and Alipay. Different pharmacies have different procedures and requirements. Most pharmacies have announced that each person can buy at most 5 masks every three days.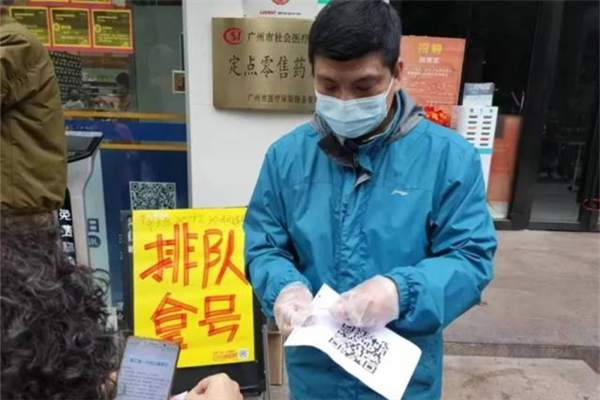 In addition, pharmacies including Da Shen Lin 大参林, Cai Zhi Lin 采芝林 and Jin Kang 金康 have launched their online mask booking systems. You can follow their official WeChat accounts for more information. (Da Shen Lin 大参林 requires ID card number for reservations.)
Shenzhen
According to Shenzhen Special Zone Daily, Naber Medicine has purchased 4 million masks from South Korea and Malaysia, and will sell the masks at its subsidiary Nanbei Pharmacy (南北药行) and Bao Hua Pharmacy (宝华药行).
As the supply is limited, you can check for you nearest branch through map applications and make a phone call for more information.
Li Zhong, Deputy Director of Shenzhen Market Supervision Administration, revealed that the city was also working to develop a mask online booking system.
Zhuhai
Zhuhai launched an online booking system on February 7th. Residents can make reservations via WeChat accounts "珠海发布" and "珠海特区报". The system opens at 10:00 am every day and automatically closes as soon as the masks are sold out. ID card numbers are required for registration at present.
Jiangmen
Two major pharmacies, Da Shen Lin(江门大参林药店有限公司) and Guoda(江门国大药房) have launched online reservation channels on WeChat.
Foshan and Zhanjiang also launched mask online booking systems on WeChat, but they are still under testing.
If you are living in other cities of Guangdong, you can contact major local pharmacies near your home to ask if they have masks currently in stock before leaving home.
Authors| Jasmine, Zero
Editors| Olivia, Simon