Hotline for expats launched in Guangdong and no new cases across 9 cities
2020-02-09 15:25:54 Newsgd.com Newsgd.com
As of 12 pm, February 8th, Guangdong has confirmed 20 new cases, pushing the total number of infected patients to 1095. Shaoguan, Qingyuan, Chaozhou, Jieyang, Shanwei, Zhongshan, Zhaoqing, Maoming and Yangjiang reported no new cases on February 7th.

3 recoveries were reported on February 8th.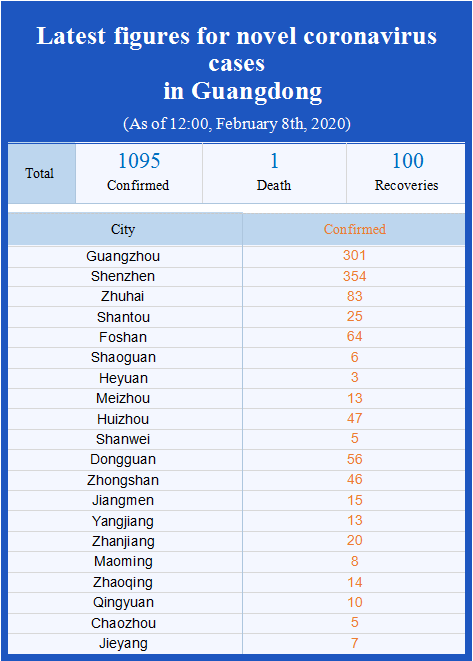 The 14th press conference on Guangdong's fight against the coronavirus (NCP) was held in Guangzhou today.
At the press conference, Gu Xingwei, Director-General of the Department of Agriculture and Rural Affairs of Guangdong, indicated that Guangdong do its utmost to guarantee normal production and supply of daily necessities including vegetables, meat, eggs, milk and grain during the epidemic period.
(Photo: The 14th press conference on Guangdong's fight against the coronavirus / Southcn.com)
"Guangdong has built an online platform for more than 1300 agricultural enterprises to ensure daily supply," Gu said. "The platform has attracted leading enterprises both in Guangdong and from other provinces, covering different areas such as large-scale breeding and planting bases, agricultural wholesale markets, supermarket, e-commerce and restaurants."
Gu also pointed out that Guangdong has also implemented preventative and control measures for major diseases like the bird flu and African Swine Fever. Since January 23rd, more than 1200 vehicles for transporting pigs and swine products have been inspected. No vehicle was found carrying wild animals and their products.
"The risk of animal epidemics including the bird flu is in control," Gu indicated. "There is no risk of regional epidemics."
Hotline for foreigners in Guangdong
Starting from the midnight of Feb. 8th of the year 2020, a 24-hour English and Chinese hotline set up by Guangdong Foreign Affairs Office will open to public. During the period of prevention and control over novel coronavirus, foreign nationals in Guangdong province can call 1258088 for inquiries or assistance at any time.
Authors: Steven Yuen, Zoey Huang (intern)
Editors: Olivia, Simon