Expats perceive the charm of Lingnan traditional culture
2019-11-30 12:13:09 Newsgd.com Newsgd.com
"Lion head making is interesting, and the teacher has been very helpful. I think the next generation should learn more about this traditional art." said Shelly Amanda Gurney, who is from America and now works as a teacher in Clifford School.

On the afternoon of November 23rd, Guangzhou's Urban Planning Exhibition Center was filled with waves of laughter and applause. 20 foreign experts and their families from the United States, Russia, Singapore, Mexico and Columbia attended the activity "Experiencing Guangzhou - an ancient city with a beating heart" for learning about traditional "lion head" making and paper-cut from the inheritors of these intangible cultural heritages.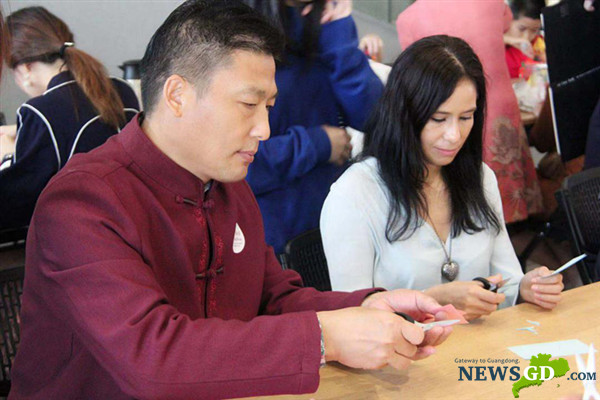 Yu Zhongmin (left) teaching an expat how to create a paper-cut. (Photo / newsgd.com)
Yu Zhongmin, the founder of the Lingnan Rong School Paper-cut, has lived in Guangzhou for 22 years. He has also specialized in paper-cutting for over 20 years and his paper-cuts are realistic, and well proportioned. He explained the skills of paper-cut to the expats patiently and highly praised their work. "In such a limited time, all foreign guests did a good job and produced some attractive paper-cuts." said Yu.
Li Wanzhen and her daughter Zhou Jiaxin are both inheritors of "lion head" making. Zhou showed the lion head used in the movie "Wong Fei-hung" to the guests, made by her mother Li Wanzhen. According to Zhou, her family has been making "lion heads" for lion dancers since the Qing Dynasty. Lion head making has four processes including setting, pasting, painting and decorating, which can be further divided into more than 300 individual procedures.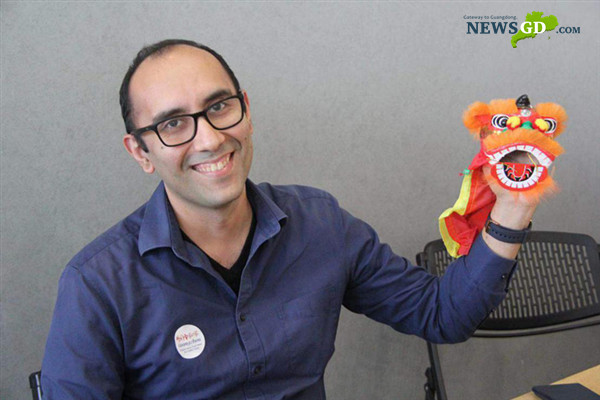 Antonio Mora and his "lion head" work. (Photo / newsgd.com)

Antonio Mora is from Columbia, working as a professor in Guangzhou Medical University. He has been in Guangzhou for two and a half years, and it was his second time to join the events of "Guangzhou: A home away from home for Global Talent". "The activity was really nice, it offers a way to get closer to Chinese culture. I love Guangzhou. I've been here for a only short time, but I feel it is really like home for me."
The activity was held by Guangzhou Science and Technology Bureau (Guangzhou Foreign Expert Bureau), and Guangzhou Urban Planning Exhibition Center, and run by Guangzhou Association of International Exchange of Personnel with Newsgd.com offering media support.
"Guangzhou: A home away from home for Global Talent" is a service platform built in Guangzhou for foreign experts working in China. With the aim of helping foreign experts find out more about Guangzhou and China, this platform hopes to help foreign experts enjoy their work and life in Guangzhou and further promotes the integration of Chinese and foreign cultures.
The program has organized a range of activities including lectures, public welfare activities and traditional Chinese cultural activities. "Experiencing Guangzhou - an ancient city with a beating heart" is one of a series activities held for "Guangzhou: A home away from home for Global Talent" in 2019.
Authors: Will, Huang Yueming
Editor: Simon