Guangzhou hosts 2019 Fortune Global Tech Forum highlighting innovation
2019-11-08 15:40:39 Newsgd.com Newsgd.com
Fortune's annual Global Tech Forum kicked off on November 7th in Guangzhou. The two-day event covers hot issues in 5G technology, biotech, cloud computing, AI and more. It enables global executives, entrepreneurs and investors to get in touch with the digital revolution leaders and learn how they are reshaping the world of tomorrow through innovation.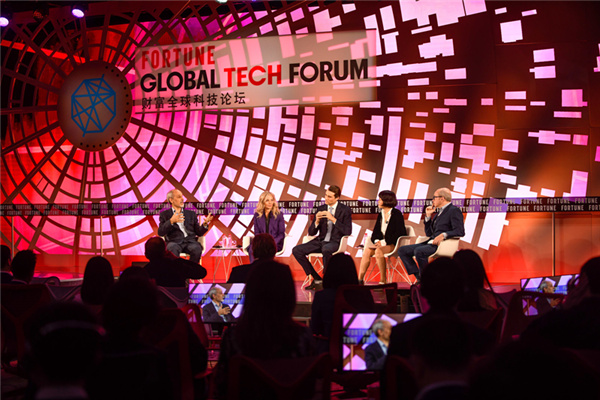 [Photo provided by the event organizer]
Focusing on key trends in global technology, speakers shared different stories and their insight on wide ranging topics Including, 5G and its application, health care, innovation and integration in the GBA on the first day's event.
The forum has become one of the best platforms for exchange between Guangzhou and the global sci-tech field. It is also boosting cooperation between the Greater Bay Area and other regions, said Wang Dong, vice mayor of Guangzhou in his welcome speech.
The amount of high-tech enterprises in Guangzhou has grown rapidly from just over 1,900 in 2015 to 11,700 in 2018, the total number now taking third place in the country.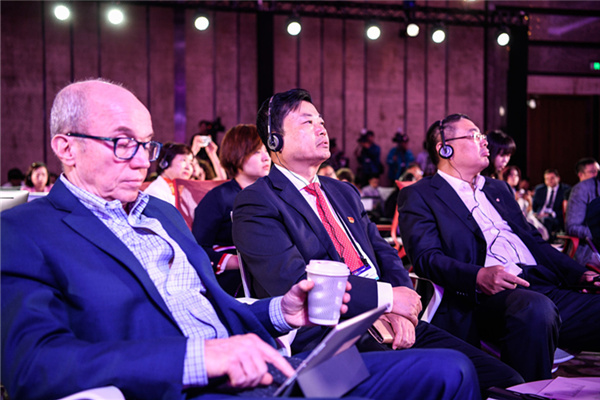 Li Chuyuan (middle), Chairman of Guangzhou Pharmaceutical Holdings. [Photo provided by the event organizer]
"The Greater Bay Area is very promising and has a bright future thanks to its size, a big population and diversified industry resources," said Li Chuyuan, Chairman of Guangzhou Pharmaceutical Holdings, a Guangzhou-based and China's largest pharmaceutical company.
GPHL is moving its international headquarters to Macao to serve GBA objectives, to promote mutual recognition of drug registration in the GBA and formulate international standards for traditional Chinese medicine.
"If you want to make the GBA fully integrated, we need to go back to basics, which is infrastructure," said Lee Der-Horng, vice president and dean of Guangzhou-based PCITECH, a provider of AI technology and specialising in smart city infrastructure.
Lee suggested that the best way to build a one-hour living circle is to use intelligent technology for rail transit in the GBA. The combination of AI + rail transit offers an innovative solution for transportation.
In addition to providing insight into fast-moving trends, the event also held the second Fortune China Innovation Award Competition, which showcases China's high-potential start-up companies across a variety of fields.
Background:The Fortune Global Tech Forum is an annual international technology event for senior executives from FORTUNE 500 companies, top emerging entrepreneurs from the tech world, and the most prominent investors who finance them. This is the third year that the forum has been held in Guangzhou and also hosts the prestigious annual Fortune China Innovation Awards.
Reported by Will
Edited by Simon