South Sudan medical institute hails Chinese doctors' free capacity building services
2019-09-29 14:49:50 Xinhua Xinhua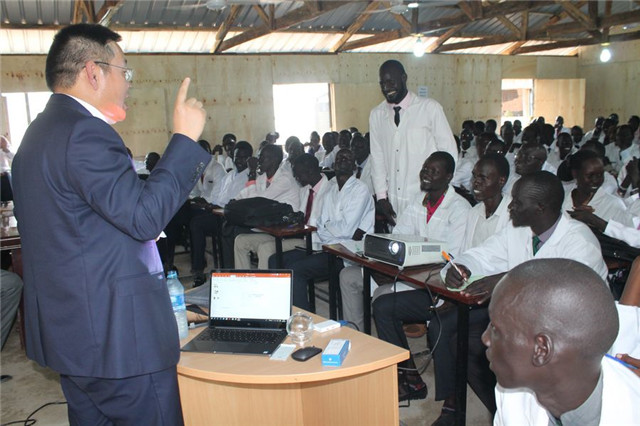 Tang Youbin (L), Traditional Chinese Medicine (TCM) expert delivers his lecture for medical students at Upper Nile University in Juba, South Sudan, Aug. 2, 2019. (Xinhua/Gale Julius)

The Chinese medical team in South Sudan is helping nurture the practical medical skills of local students through lectures, particularly in the field of anesthesia. This is apart from the much-needed medical services they provide in the country that has suffered years of conflict.
JUBA, Sept. 18 (Xinhua)-- South Sudan's Health Science Training Institute, a government-aided medical school has appreciated a group of Chinese doctors based in the country for offering free capacity building services to hundreds of medical students in the past one year.
Charles Abe Buli, principal of the institute revealed that the school entered a partnership agreement with the China medical team last year, which allowed the Chinese medics to conduct biweekly lectures in the field of anesthesia and practical medical skills.
"To me, it is a great benefit for us because there are some units in the school lacking lecturers. With their (Chinese) coming, they have covered the gap and improved learning," Buli told Xinhua on Tuesday.
Previously facing manpower shortage in the anesthesiology department, Buli said the cooperation between the institution and the Chinese doctors have helped to bridge the gap and enabled his students to improve their theoretical and practical knowledge on anesthesia.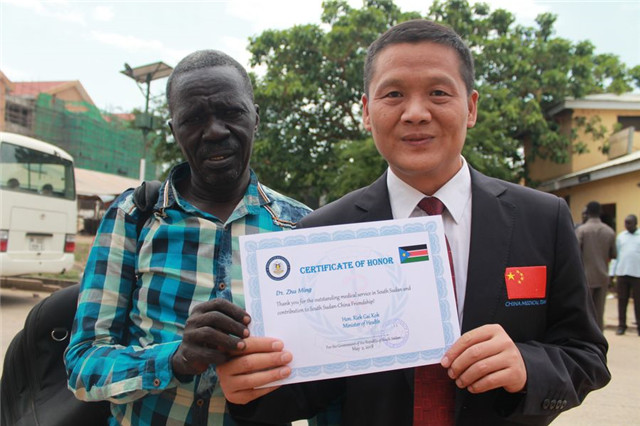 Zhu Ming (R), Chinese anesthesiologist and his South Sudanese counterpart display a certificate of honour awarded to the Chinese doctor by the South Sudanese government for his medical services, in Juba, capital of South Sudan, May 4, 2019. (Xinhua/Gale Julius)
"My request is that anyone in South Sudan with medical skills is welcome to help and give knowledge to the students," Buli added.
Since 2013, the rotating China medical teams have offered free medical services in South Sudan and also helped with the capacity building of health workers and medical students.
The Chinese medical team currently in South Sudan is composed of 13 specialists and two support staff, and is stationed at Juba Teaching and Referral Hospital, with routine outreach programs across South Sudan.
"I have benefited a lot from the anesthesia lectures given by the Chinese doctor because you cannot do operations without anesthesia," said medical student Anet Gune.
Chinese anesthesiologist Zhou Chang said he was impressed by the dedication of the medical students towards his lectures.
"The students are very hungry for knowledge and each student is very attentive and focused. The good thing is that they are also ready to ask questions that help me to have good preparations each time I want to have lecturers," Zhou said.
"Actually I'm getting a lot of knowledge and experience from the Chinese doctor. We are having a lot of practice on how to use some anesthesia equipment," said Chan Mijak, a second-year student pursuing a diploma in Theater Medical Technician.