Guangzhou to hold China's biggest cruise conference in November
2019-09-29 14:42:34 Newsgd.com Newsgd.com
The 14th China Cruise Shipping Conference & International Cruise Expo(CCS14) will be held in Guangzhou from November 15th to 17th with Nansha's international cruise port set to open on the last day of the event (Nov. 17), as announced at a press conference on September 25th.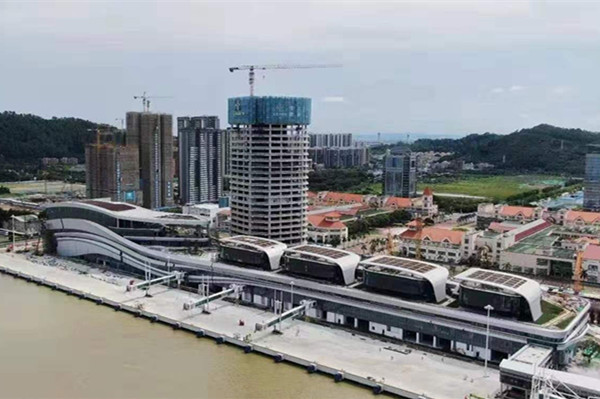 Nansha international cruise port [Photo provided to Newsgd.com]
"The conference will see officials from China's customs, transportation and tourism departments introduce the country's latest policies. And high-profile cruise companies from home and aboard, such as Costa and Royal Caribbean have confirmed their attendance," said Zheng Weihang, Executive VP & Secretary General of China Cruise & Yacht Industry Association. "apart from policies, ports and cruise services, we will also shed light onto cruise manufacturing and cruise education this year."
In addition, an exhibition will be held, which has so far seen about 100 exhibitors register, in fields ranging from cruise companies, accessories & parts companies and cruise-related service companies.
The CCS is the biggest and the most authoritative conference in China's cruise shipping industry and this year, it will be jointly hosted by the China Communications and Transportation Association and the Guangzhou Government, according to Zheng. Over the past 13 years, the conference has contributed to the country's cruise planning and policy formulation. It's also dedicated to cooperation between domestic and overseas cruise companies.
Guangzhou's new international cruise port will also open to the public during the final day of the event. Pan Yuzhang, Deputy Director of Nansha's Free Trade Zone Management Committee, said the cruise industry has been rapidly developing in Nansha since 2016 with better policy supports and a more sophisticated transportation network.
In the first half of 2019, Nansha welcomed 47 cruises and 229.6 thousand passengers, and ranks 3rd in China. It operates 9 cruise lines to 12 destinations including Hong Kong, Japan, Vietnam and the Philippines, making it a cruise port with one of the largest numbers of cruise lines to South East Asia nationwide.
Author: Jasmine Yin
Editors:Olivia Ouyang, Simon Haywood