African journalists amazed by Guangzhou's rapid development
2019-09-29 14:27:45 Newsgd.com Newsgd.com
On September 25th, 28 journalists from over 20 mainstream media organisations in African countries participating in the Belt and Road News Network (BRNN) Media Workshop visited Guangzhou to better understand the city's development.


African journalists take a group photo at China Resources Power Holdings Co., Ltd. [Photo / newsgd.com]
The journalists learned about Guangzhou's achievements in clean energy and new business format during their trip to China Resources Power Holdings Co., (CR Power) Ltd. at Nansha, Pacific Coffee and Olé Supermarket at TaiKoo Hui.
After visiting the Guangzhou Thermal Power Plant operated by CR Power, Mr. Austin Maho, Editor-in-Chief of Nigeria Pilot, praised the rapid development of clean energy in the Guangdong-Hong Kong-Macao Greater Bay Area. "Guangdong energy companies have effectively reduced carbon emissions through new technologies. I hope this model can be introduced to Africa," he said.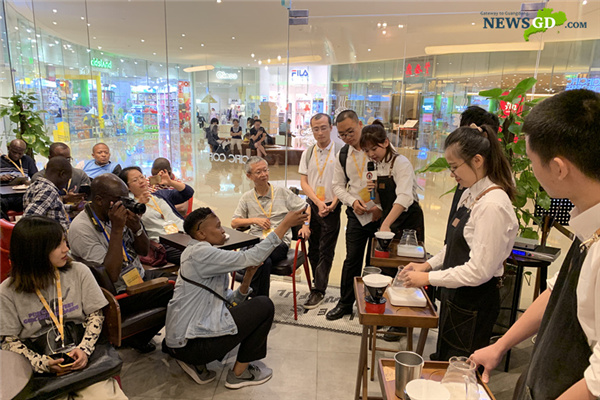 Journalists learn to make a cup of coffee in Pacific Coffee, TaiKoo Hui. [Photo / newsgd.com]
Mr. Thierry Ramasawmy, Senior News Editor of Mauritius Broadcasting Corporation, had been to Guangzhou before, in 2017, and now he can see that there has been a remarkable progress in the city's development such as food & restaurants, infrastructure and quality of service.
With the development of the Belt and Road Initiative, Guangdong has a great role to play in connecting China with other Belt and Road countries.
"You probably don't realize that our (African people's) main source of fabrics of small commodities is from China. And we import those commodities from Guangdong," said Mr. Thierry Ramasawmy. "Now we are talking a lot about the Guangdong-Hong Kong-Macao Greater Bay Area. It is crucial for the development of China and its relations to countries along the Belt and Road," he added.
Journalists will go to Foshan and Zhuhai from Thursday to Friday.
The media workshop, which kicked off on September 16th in Beijing and will run until September 29th, is focused on the theme "New Era, New Ideas, New Media, and New Technologies." It is a means for global media to enhance communication and cooperation and to jointly produce high-quality news items under the Belt and Road Initiative.
Organised by the State Council Information Office and undertaken by the BRNN Secretariat and the Communication University of China. Currently, 194 media organisations from 94 countries have joined the BRNN.
Reported by Will

Edited by Simon