Join these events, celebrate GZ's friendship with 76 international sister cities
2019-09-29 14:22:57 Newsgd.com Newsgd.com
Guangzhou is about to hold a series of events to celebrate its friendship with 76 sister cities around the world from October to November. These events will include exhibitions and football matches, and both locals as well as expats are invited to join in and further cooperation in the fields of trade, technology and innovation, urban governance and people-to-people exchanges.

A grand meeting
From October 31st to November 1st, Guangzhou will invite about 200 guests from home and aboard to participate in a grand celebratory meeting which will include different activities such as partnering seminars, a Pearl River tour, metro tour and project signing ceremonies.
An exhibition
From October 28th to November 28th, the city will hold an exhibition on the third floor of the Guangzhou Urban Planning Exhibition Center to highlight past exchanges with its sister cities. For the first time gifts from the sister cities to Guangzhou will be on display. These gifts showcase the unique culture and customs of different cities.
A themed metro station
From October 15th to November 14th, the Linhe Xi APM station will be decorated with information and images of Guangzhou's international sister cities to let people gain some insight into the scope of Guangzhou's international network.
A photography competition
Guangzhou will also organize a photography competition, inviting expats to explore the beauty of Guangzhou through their cameras.
A football match
In the middle of October, Guangzhou will hold a football contest for teens and a football camp with its sister cities.
A new monument
In November, Guangzhou will invite both domestic and overseas guests to attend the unveiling of a new monument to celebrate the 40th anniversary of the sister city project.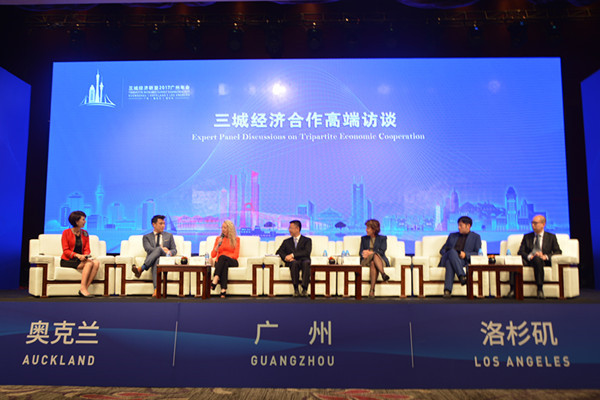 An expert panel held during the conference of Guangzhou-Auckland-Los Angeles Economic Alliance [Photo\Newsgd.com]
Guangzhou began its first international sister city relationship with Fukuoka, Japan in 1979, and has since paired with 76 cities from 54 different countries. It expects to have established more than 100 such cooperative relationships by 2021.
In recent years, the city has established a variety of cooperative platforms including the Guangzhou International Award for Urban Innovation and the Guangzhou-Auckland-Los Angeles Economic Alliance, and its projects in partnership with the sister cities have covered diverse areas including technology, culture and environmental protection.
Author: Jasmine Yin
Editors:Olivia Ouyang, Simon Haywood