GPHL, highest net profit among 288 pharma companies
2019-09-19 10:08:11 GPHL GPHL
In the first half of 2019, Guangzhou Baiyunshan Pharmaceutical Holdings Co., Ltd. ("GPHL") was ranked as the most profitable company among 288 pharmaceutical companies listed in China's A-share market, with a net profit of 2.548 billion RMB.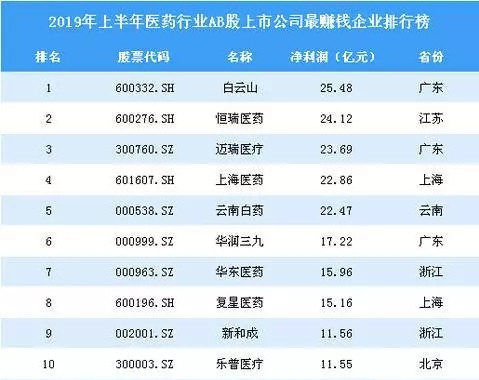 (Source: The Chinese Academy of Industry Economy Research)
In the first half of this year, GPHL reported revenues of 33.34 billion RMB and a total profit of 3.212 billion, up 124.67% and 6.66% respectively on a year-on-year basis, with a net profit of 2.548 billion. Net profit attributing to GPHL's shareholders net of non-recurring gains and losses was 2.205 billion, a 43.1% increase year on year.
Meanwhile, with greater efforts being made in promoting and marketing its brands and products, GPHL is home to many fashionable TCM products and big hitting brands, such as Zishen Yutai Pills, Istatis Root, the Rabies Vaccine, Sildenafil Citrate Tablets and Cefathiamidine.

Its subsidiary Guangzhou Wanglaoji Health Industry Company Limited has carefully controlled the cost of per-case marketing expenses and reinvested more in R&D, interaction with consumers and promotion of Wanglaoji culture, all of which propelled high quality growth for the brand, resulting in net profit of 1.114 billion RMB.

After Guangzhou Pharmaceuticals Corporation, another subsidiary of GPHL, was awarded the GPO contract, it accelerated business expansion in medical institutions, promoted the growth of relevant businesses and increased the volume of hospital sales.

Its subsidiary Guangzhou Caizhilin Pharmaceutical Company Limited focused on developing TCM decoction pieces and secured a greater market presence in the premium TCM decoction pieces used in hospitals.

Guangzhou Baiyun Mountain Hospital worked together with Guangzhou 999 Brain Hospital to establish an integrated medical treatment partnership and a children's diagnosis and treatment center.

In addition, GPHL has partnered with government and businesses to develop quarantine and containment services, and senior citizen welfare services to create new types of business in the sector.

Author: Michelle Wang
Editors: Monica Liu, Simon Haywood