Guangzhou launches hotline for Hong Kong and Macao youths
2019-08-29 17:44:11 Newsgd.com Newsgd.com
With the development of the Guangdong-Hong Kong-Macao Greater Bay Area, more young people from Hong Kong and Macao are coming to Guangzhou to start a business.

When you start your own business in an unfamiliar city, you might face a myriad of questions, such as, "How can I apply for an individual business in Guangzhou?" "Are there any preferential policies for startups?" "Where can I take part in voluntary services?" From now on, you can get answers to these kinds of questions by calling 12355 if you are Hong Kong and Macao youths living in Guangzhou.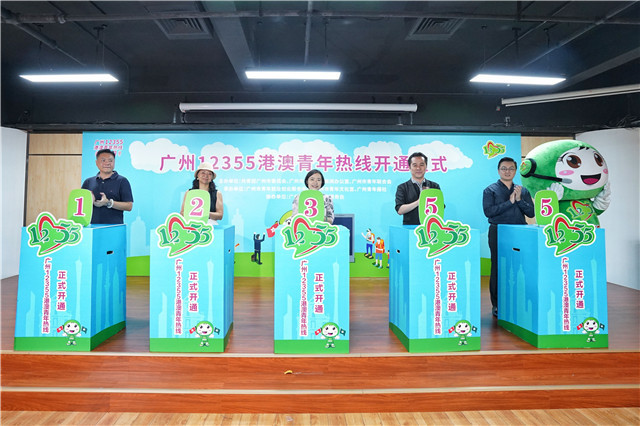 The launch ceremony of the hotline. [Photo provided to Newsgd.com]
The hotline 12355 is a national project that was initiated in 2004 to give young people legal advice and counseling services. Starting from May 2019, a special line 12355-2 has been added to provide counseling services regarding study, career, entrepreneurship, volunteer services, cultural exchanges and advice for living in Guangzhou for youths from Hong Kong and Macao. The hotline is now on a three-month trial, during which period operators will collect all questions and hot topics raised by the callers, to enrich the repository and data bank.
A launch ceremony and open day activity for the hotline was held on August 17 at the Guangzhou Youth Palace, the headquarters of the Guangzhou Youth Hub. Public officials, brain-trusts, experienced officers and youth representatives from Guangzhou, Hong Kong and Macao attended the event.
During the event, Huang Yuezhong, founder and CEO of Guangzhou Dreampix Innovation Network Technology Co., Ltd., who hails from Hong Kong and has settled in Guangzhou, spoke highly of the hotline service. Huang recognizes the hotline as a useful tool for young people to solve problems when starting a business and explore opportunities when interacting with different cultures.
An operator of the hotline is answering a phone call. [Photo provided to Newsgd.com]
Information involving the market, vocational skills, contracts and companies are available through the hotline, which helps young people prepare themselves for employment and entrepreneurship opportunities in Guangzhou, according to Lin Huibin, director of Hong Kong and Macao Youth House in Tianhe district.
In addition to the hotline 12355 service, a network platform and workstation have been set up to provide services such as employment and entrepreneurship services and living consultations for Hong Kong and Macao youths. Many activities including the 2019 Guangdong International Youth Exchanges Week, comic fair and employment service activities have attracted many young people in the GBA to work together and start businesses in Guangzhou.
Author: Monica Liu, Pu Enling
Editor: Chris