Shenzhen aims to drive a new growth in the GBA
2019-06-27 12:38:27 Newsgd.com Newsgd.com
Shenzhen highly values its relationships with Hong Kong and Macao. Utilizing its wealth of resources, Shenzhen will play a leading role in the development of the international sci-tech innovation center for the Guangdong-Hong Kong-Macao Greater Bay Area (GBA) and work hard to continue to establish a great modern city in China.

These remarks were delivered by Shenzhen Municipal Committee's Jiang Likun, Executive Deputy Director of the Leading Group Office for Promoting the Development of the GBA, in an exclusive interview with Southcn.com and Newsgd.com.

Seizing opportunities to promote GBA development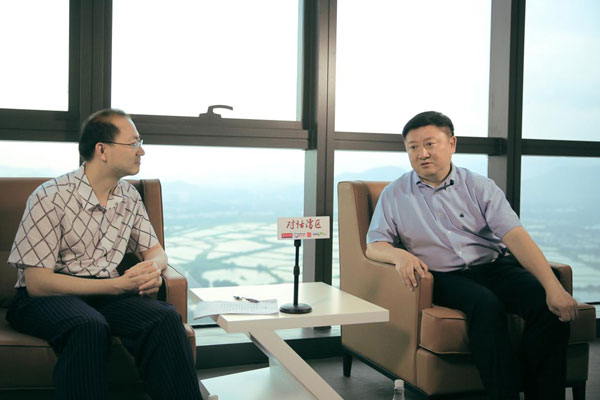 Jiang Likun (R), executive deputy director of the leading group office for promoting the development of the GBA of Shenzhen municipal committee. [Photo / Lu Li]
According to Jiang, all Shenzhen's effort will be devoted to promoting the development of the GBA. The key areas of work include sci-tech innovation, cooperation mechanisms and infrastructure construction.
In order to promote sci-tech innovation, Shenzhen is working on fundamental research and its application, and building platforms such as science cities and Shenzhen-Hong Kong sci-tech innovation cooperation zone.
The city will explore ways to enhance economic connectivity and cooperation with Hong Kong and Macao by advancing the reform of the social management system under the principle of "One country, Two systems".
As far as infrastructure is concerned, Shenzhen is rapidly becoming an international transportation hub, accelerating the construction of ports, traffic arteries and economic areas in airports.
Expanding opening up and cooperation with HK and Macao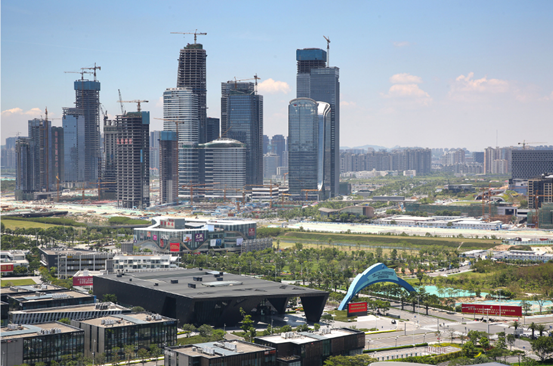 The Qianhai-Shekou area of Guangdong Free Trade Zone. [Photo / Zhu Hongbo]
As one of the four central cities proposed in the outline development plan,Shenzhen has had great success in promoting cooperation with Hong Kong and Macao.
Jiang put forward that the system for intergovernmental cooperation is working smoothly. Shenzhen established annual conferences with Hong Kong and Macao in 2004 and 2006 respectively. This year, the two conferences have already proved successful, with a consensus on jointly participating in the GBA's development being reached.
Shenzhen's Hetao district is taking shape rapidly, with the goal of breaking ground on the first project by 2021 and completing the whole construction process between 2022 and 2023.
Establishing youth innovation and entrepreneurship bases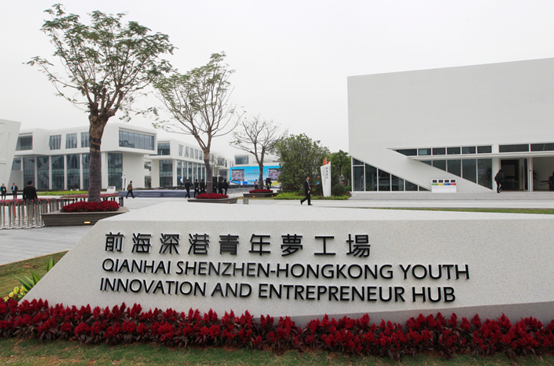 The Qianhai Shenzhen-Hong Kong Youth Innovation and Entrepreneur Hub. [Photo / Lu Li]
In order to attract innovative and entrepreneurial young professionals from Hong Kong and Macao, Shenzhen is making full use of its geographic advantage and sci-tech resources, according to Jiang.
The youth innovation and entrepreneurship bases are being built in various districts of Shenzhen with Government support including rent reduction, preferential tax policies and capital subsidies. By June 2019, a total of 647 start-up projects had been incubated in this kind of base.
Furthermore a GBA internship program for Hong Kong and Macao youth is currently being carried out in Shenzhen. This program has offered about 2,674 internship positions for Hong Kong college students since 2015.
The 2018 Shenzhen fintech summer internship group also helped 50 college students from Hong Kong get placed for their six-week internships in Shenzhen's top fintech enterprises, including China CITIC Bank, Tencent and Pingan Technology.
Supervisor: Liu Jianneng
Planning: Gan Xueming, Tang Lina, Zhang Ying, Yang Lei, He Jingwen
Reporters: Liu Jianneng, Liang Huimin, Xia Fan, Hu Nan, Weishen, Pu Enling
Video: Xie Haoran, Liu Daiqi
Photography: Lu Li
Editor: Simon, Olivia