The 16th CISMEF held in Guangzhou from June 24th to 27th
2019-06-27 12:33:31 Newsgd.com Newsgd.com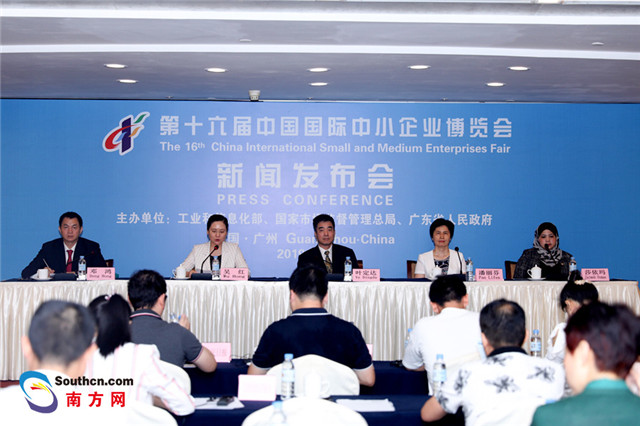 The 16th China International Small and Medium Enterprises Fair (CISMEF) is held on June 24th, in Area A of the China Import and Export Fair Complex. It will see nearly 3,000 exhibitors with 7315 booths and 1062 of which are manned by 650 overseas enterprises.
This year's session is co-hosted by the Ministry of Industry and Information Technology, the State Administration for Market Regulation, the People's Government of Guangdong, the Ministry of International Trade and Industry of Malaysia, and United Nations Industrial Development Organization.
The exhibition area covers about 60,000 square meters including both overseas and domestic themed exhibitions.
According to Wu Hong, deputy director-general of the fair's organizing committee, this year will see the first 'Professionalism, Excellence, Distinctiveness and Innovation' exhibition, focusing on the latest achievements of nearly 1,500 national outstanding SMEs. They will get support and investment services, such as financing, listing counselling and corporate roadshows via the event.
As regards to international cooperation, 38 overseas countries, regions and international organizations have confirmed attendance, including Bulgaria, Fiji, Japan, Australia, India, Iran, Thailand, Mexico, Ecuador, Uruguay, Greece and South Korea. Fiji will become the first Pacific island nation to showcase at CISMEF, said Wu. Officials from 27 consulates in Guangzhou have signed up for the event, and13 consuls will attend in person.
Malaysia is co-hosting this year's CISMEF. "China contributed the most to Malaysian manufacturing investment last year, with a total investment of 4.8 billion US dollars. We hope to encourage more Chinese companies to invest in Malaysia, especially in the fields of manufacturing and industry 4.0", said Zaimah Osman, Trade Consul of Consulate General of Malaysia in Guangzhou.
She further added that the Malaysia-China Chamber of Commerce will field 46 Malaysian exhibitors at this event, covering food and beverages, health, beauty, fashion, life, automobile, machinery, education, and tourism among other fields.
During the event, there will be several notable events: the China SME Summit, promotion of new products, enterprise road shows, finance matchmaking and energy saving services. The official CISMEF website (www.cismef.com) will be launched.
About the CISMEF
The CISME is a large-scale international fair approved by the State Council of China and oriented toward SMEs. It is the largest and most influential international event for SMEs with highest standards and is certificated by the Union of international Fairs (UFI).
It is aimed at building a platform for foreign and domestic SMEs to display, trade, exchange, and cooperate. Since its launch in 2004, the CISMEF has been held annually in Guangdong for 15 successive years.
Reported by Will
Edited by Simon