China Southern Airlines to start codeshare partnership with Finnair next month
2019-05-29 15:23:55 Newsgd.com Newsgd.com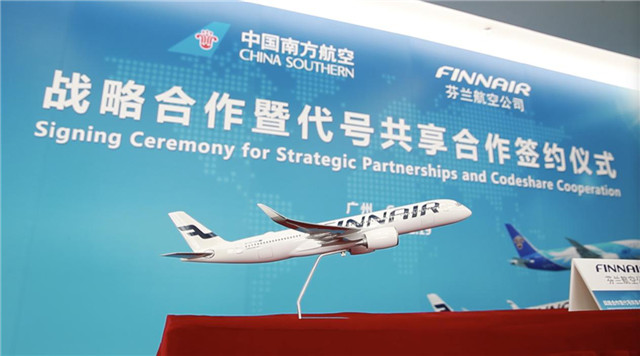 Last December China Southern signed a MoU with Finnair to establish a codeshare partnership. (Provided to Newsgd.com)
Guangzhou-based China Southern Airlines will officially launch its codeshare cooperation with Finland's largest airline, Finnair, on June 1st. Passengers can purchase code-sharing flights since May 21st.
Passengers of China Southern Airlines flights will be able to transfer from Helsinki to certain European cities, including Amsterdam, Billund of Denmark, Copenhagen, Gothenburg of Sweden, London, Paris, Riga of the Republic of Latvia and Stockholm.
While Finnair passengers will be able to transfer from Guangzhou to other cities such as Changsha, Chongqing, Hangzhou, Nanjing, Sanya, Wenzhou, Xiamen and Xi'an.
At the same time, since the Finnair has moved to the T2 of Baiyun International Airport, where China Southern locates, the two carriers intend to cooperate closely and provide better services to transit passengers.
"It's a great honour to start our partnership with Finnair," said Wu Guoxiang, General Manager of the Department of International Cooperation in China Southern. "Finland is a world-renowned destination for both business and tourism. We are delighted to provide better services to passengers and make their journey more comfortable. "
Last December China Southern signed a strategic cooperation memorandum with Finnair, targeting to establish a codeshare partnership.
Codeshare is a business arrangement in which two or more airlines publish and market a flight under their own airline designator and flight number as part of their published timetable or schedule. The flight is operated by a single airline, but flight tickets are sold by all cooperating airlines using their own designator and flight number.
Code-share cooperation can provide passengers of each airlines more choices of flights and destinations at cheaper prices. Also they can enjoy better transfer services, including checking luggage through to the final destination.
Author: Nan
Editor: Olivia