Guangzhou greets first tour group to enjoy 144-hour visa-free transit
2019-05-23 11:12:50 Newsgd.com Newsgd.com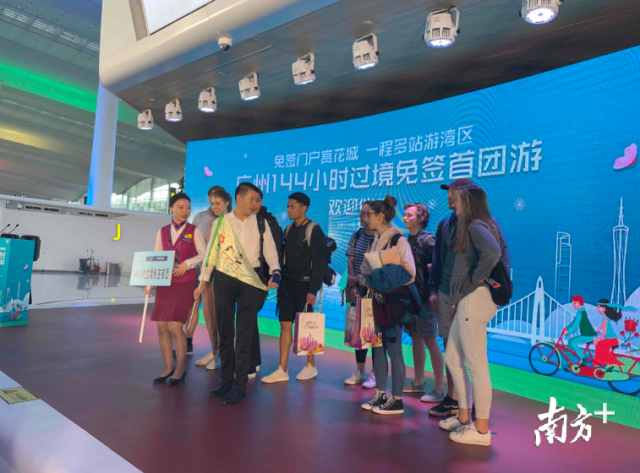 A tour group that consisted of nine passengers from France and Holland became the first group to enjoy 144-hour visa-free transit service at the T2 of Guangzhou Baiyun International Airport in Guangzhou on the morning of May 12th, 2019. The foreign tourists visited Guangzhou Folk Culture Museum and enjoyed authentic Cantonese dim sum during their trip.
Starting from May 1st, Guangdong began to offer 144-hour visa-free transit services to foreign travelers from 53 countries when transferring through the province. Guangzhou Baiyun International Airport is one of the three designated entry airports along with Shenzhen Bao'an International Airport and Jieyang Chaoshan International Airport.
Thibault, a businessman who regularly flies between China and France, often stays in Guangzhou for a short period due to corporate business. He said the 144-hour visa-free transit policy makes his trip in China more convenient. In the past, he could only deal with businesses and take a short trip in Guangzhou within the 72-hour visa-free period, but now he has got 144 hours (6 days) to have an in-depth travel around the city.
Tour guide Cao Wanlong from GZL International Travel Service Ltd told the reporter that many foreign tourists like Thibault had contacted him about traveling in Guangdong after the province offered 72-hour visa-free transit in 2013. Apart from Chen Clan Academy, Litchi Bay and Cantonese cuisine, they were also very interested in Kaiping Diaolou, Foshan Ancestral Temple (Zumiao), and Hong Kong-Zhuhai-Macao Bridge.
An official from Guangzhou Municipal Culture, Radio, Television and Tourism Bureau pointed out that the 144-hour visa-free transit and the Guangzhou travel card which was launched last year will provide more convenience to transfer visitors. The bureau has also launched a travel brochure to provide information on the 144-hour visa-free transit policy, airports, metro, scenic spots, restaurants, hotels, travel agencies and five transit tourist routes covering Guangzhou, Shenzhen, Zhuhai, Foshan, Jiangmen and Zhongshan.
Further reading:
About 144-hour visa-free transit
Starting May 1st, travellers from 53 countries can enjoy a 144-hour visa-free period when transferring through Guangdong. Foreign transit passengers with valid travel documents, and air ticket already in hand to a third country can enjoy this policy when entering China from Guangzhou Baiyun International Airport, Shenzhen Bao'an International Airport and Jieyang Chaoshan International Airport, and exit via any of the province's 32 ports. Click the titles below to find out more about the policy.
About Guangzhou travel card

The Guangzhou travel card was launched on February 5, 20189 to provide more convenience to visitors. Three versions are available — a 24-hour card, a 48-hour card and a 72-hour card. The card enables visitors to have unlimited use of the metro, buses, water buses, the tram, the APM (automated people mover system) and BRT (bus rapid transit) in the city within the specified time.
The cards are priced at 36 yuan, 56 yuan, and 76 yuan, respectively. Card holders also can enjoy discounts at more than 100 tourist spots, hotels and restaurants, including Canton Tower and Guangzhou Chimelong Tourist Resort. The travel cards now can be purchased at Yangchengtong customer service centers in the city. (Source: Silk Road Post)
Author: Monica Liu
Editor: Wing Zhang