International standardization essential to TCM progress
2019-05-06 10:09:24 China Daily China Daily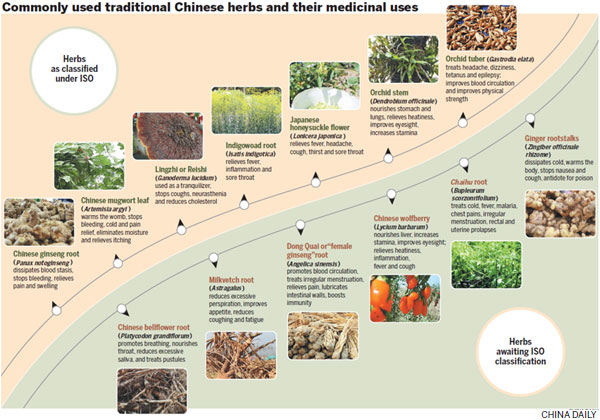 As the ancient medicine becomes increasingly used overseas, experts agree on the need to accelerate certifications. Wang Xiaodong reports.
Though traditional Chinese medicine has been practiced in China for thousands of years, it has largely been a supplementary part of medical care overseas, when compared with modern medicine. However, as the standardization of the ancient medicine is being accelerated, it is expected to gain more recognition overseas and more people will use TCM.

"The standardization of traditional Chinese medicine is of fundamental importance to its development and progress, and it can promote regulation of the industry," said Huang Luqi, president of the China Academy of Chinese Medical Sciences. "Establishing international standards are a prerequisite for the development of TCM overseas."

With increasing popularity of TCM overseas, he said it is urgent to accelerate its standardization.

Since a special committee responsible for the formulation of TCM standards was established by the International Organization for Standardization in 2009, a total of 40 ISO standards on traditional Chinese medicine had been released by the end of last year, covering areas including quality control of traditional herbs, testing methods for pesticide residue and heavy metals in herbal medicines, and requirements for equipment in TCM practice.

Of all the ISO standards that were established, 80 percent were led by Chinese scholars during the formulation.

In addition, formulation of another 38 ISO standards on traditional Chinese medicine is currently under development.

Elementary school students looks at a pharmacist picking and weighing traditional Chinese herbs in Zaozhuang, Shandong province, in October.[Photo by Ji Zhe/For China Daily]
The latest TCM international standard, released in February by the ISO, was formulated for the quality control of the Isatis indigotica root - banlangen or Indigowoad root in English. It is one of the most widely used traditional Chinese herb for the prevention and cure of conditions such as cold and flu.
The ISO standard, which specifies the minimum quality requirements and testing methods for the herb, was proposed by a research team from the Shanghai University of Traditional Chinese Medicine in 2014. The research team referred to existing domestic standards for the herb while establishing the ISO standard, which covers testing methods and content limit of some pesticides and heavy metals in the herb.

In addition to the team, experts from five other countries including Germany, Canada and Australia, participated in the formulation of the ISO standard, according to Wang Zhengtao, a professor of traditional Chinese medicine.

Wang said that the release of the ISO standard for banlangen will play an important role in improving international recognition and popularization of the herb, and facilitating international trade of the herb.

More international standards on traditional Chinese herbs are being established, and some may be completed over the next year.

In addition to banlangen, some other common traditional Chinese herbs used as major ingredients for TCM have had ISO standards in recent years, including sanqi or Panax notoginseng root which relieves pain and stops bleeding, and jinyinhua or the Lonicera japonica flower, which relieves conditions such as fever and headache.
Workers produce wangshi baochiwan, a traditional Chinese medicine mostly for treating children's digestive problems, in Nantong, Jiangsu province, in February. The technique of making the medicine is listed as an intangible heritage of the province.[Photo by Xu Congjun/For China Daily]
A major progress in the international promotion of traditional Chinese medicine is the inclusion of TCM in the World Health Organization International Classification of Diseases for the first time. This will take effect in the organization's global compendium after endorsement from member states in 2022.
When asked why TCM is included in the ICD, WHO spokesperson Tarik Jasarevic wrote in an email response that it will help promote TCM internationally by improving international comparability of practice, the research and reporting of morbidity in TCM, digitization of TCM diagnoses data, enhance adverse-event reporting, and enables integration of TCM into insurance coverage and reimbursement systems.
"Traditional medicine is used in many countries around the world, but often without being noted, documented and reported," wrote Jasarevic in the response. He added that the inclusion of traditional medicine in the ICD will help log traditional medicine encounters in a standardized and internationally comparable manner.

As the best preserved traditional medicine in the world, TCM is practiced in more than 180 countries and regions, with 10 overseas TCM centers having been built by the end of last year, according to the National Administration of Traditional Chinese Medicine.
TCM normally uses various herbal medications to restore health and prevent and relieve illnesses. Moreover, TCM includes procedures such as acupuncture and cupping.
Yang Zhen, an associate professor at the Beijing University of Chinese Medicine, said TCM therapies such as acupuncture have been widely adopted in Western countries such as the United States and Canada, but TCM still lacks international recognition, and most insurance companies overseas do not cover these treatments.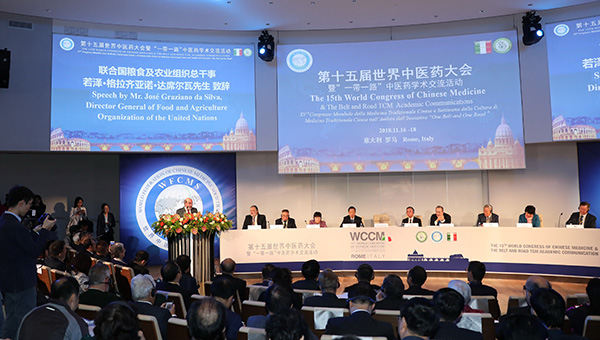 Jose Graziano da Silva, director-general of the United Nation's Food and Agriculture Organization, delivers a speech during the 15th World Congress of Chinese Medicine in Rome, Italy, in November. The congress covered various topics concerning TCM, such as standardization and endangered herb species preservation.[Photo by Cheng Tingting/Xinhua]
Lu Chuanjian, a professor at the Guangzhou University of Chinese Medicine, said the lack of international standards is a major obstacle to the promotion of TCM overseas, including its trade.
"Intensified efforts should be made to formulate technical standards for TCM, including guidelines for the diagnosis and treatment of common illnesses, and regulations for commonly used therapies," she said. "Pharmaceutical companies should be encouraged to participate in the formulation of international standards for TCM."
Meanwhile, Lu said authorities should pay more importance to the cultivation of talent for professionals or experts in TCM international standardization so that China can contribute more to the standardization of TCM.
Huang, president of the China Academy of Chinese Medical Sciences, said that despite an increasing number of ISO standards established for TCM herbs in recent years, formulation of the standards should be accelerated to promote its use overseas.
The total number of commonly used traditional Chinese herbs exceeds 600, with more than 300 being cultivated in China, according to the TCM Administration, which means only a small fraction of all the herbs have ISO standards.
As the place where TCM originated, Huang said that China should better use its advantage in the expertise and intensify international cooperation so it can take the lead in the formulation of international standards of TCM. He added that countries involved in the Belt and Road Initiative should cooperate in standardizing traditional medicine from their countries.
"Countries involved in the BRI can establish an information exchange and cooperation platform on the standardization of traditional medicine to promote the development of pharmaceutical industries in these countries, and promote the international use of TCM so it benefits more people," he said.