Guangdong to implement 144-Hour Visa-Free Transit Policy from May 1st
2019-05-05 15:44:05 Newsgd.com Newsgd.com
According to the Guangdong Provincial Public Security Department, foreigners from 53 countries can enjoy 144-Hour Visa-Free Transit Policy from May 1st when entering China.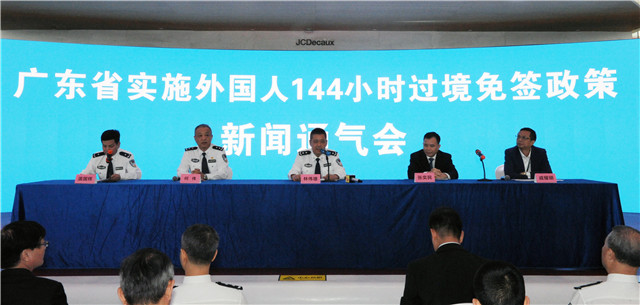 A press conference is held at the T2 of Guangzhou Baiyun International Airport on April 30th to explain the 144-hour visa-free transit policy to media representatives from both Guangdong and Macao. [Photo: Chen Tinghui]
Lin Weixiong, Deputy Director General of the Guangdong Provincial Public Security Department explained that foreign transit passengers with valid travel documents, and air ticket already in hand to a third country can enjoy this policy when entering China from Baiyun International Airport, Shenzhen Bao'an International Airport and Jieyang Chaoshan International Airport.
At present, channels for visa-free transit passengers are set in the ports of entry.
"Foreign transit passengers are, however, required to remain within Guangdong during the 144 hours," Lin added.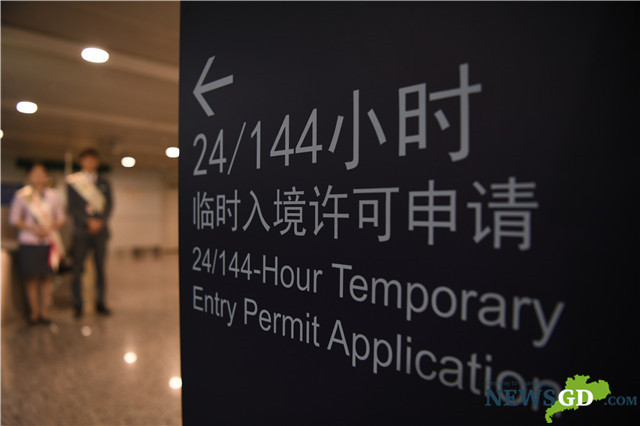 Sign of 24/144-hour temporary entry permit application at the T1 of Guangzhou Baiyun International Airport. [Photo: Zhang Ziwang]
Furthermore, the transit passengers must leave China from one of the following ports:
Airports
Baiyun International Airport, Shenzhen Bao'an International Airport, Meizhou Airport, Zhanjiang Airport, Jieyang Chaoshan Airport
Railway
Guangzhou East Railway Station, Dongguan Railway Station, Foshan Railway Station, Zhaoqing Railway Station
Highway
Shenzhen
Shatoujiang Port, Wen Jindu Port, Huanggang Port, Luohu Port, Shenzhen Bay Port, Futian Port,
Zhuhai
Gongbei Port, Hengqin Port
Harbor
Guangzhou
Port of Guangzhou Gang, Port of Nansha Gang, Port of Lianhuashan Gang
Shenzhen
Port of Shekou Gang, wharf of Shenzhen Bao'an International Airport
Zhuhai
Port of Jiuzhougang, Wanzi Port, Port of Wanshangang, Port of Doumen Gang
Jiangmen
Port of Jiangmen Gang, Port of Heshan Gang
Foshan
Port of Foshan Gaoming Gang, Port of Rongqi Gang
Zhongshan
Port of Zhongshan Guang
Dongguan
Port of Dongguan Humen Gang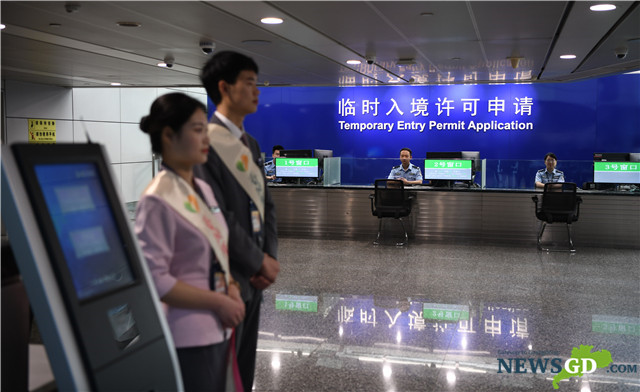 Area for applying for temporary entry permit application at the T1 of Guangzhou Baiyun International Airport [Photo: Zhang Ziwang]
According to the Guangdong Provincial Public Security Department, the 144-Hour Visa-Free Transit Policy is available to the passengers with following nationalities:
Europe
Austria, Belgium, Czech Republic, Denmark, Estonia, Finland, France, Germany, Greece, Hungary, Iceland, Italy, Latvia, Lithuania, Luxembourg, Malta, Netherlands, Poland, Portugal, Slovakia, Slovenia, Spain, Sweden, Switzerland, Russia, Britain, Ireland, Cyprus, Bulgaria, Romania, Ukraine, Serbia, Croatia, Bosnia and Herzegovina, Montenegro, Macedonia, Albania, Monaco, Belarus
America
United States, Canada, Brazil, Mexico, Argentina, Chile
Oceania
Australia, New Zealand
Asia
Korea, Japan, Singapore, Brunei, UAE, Qatar
Steps for passengers to apply for 144-hour visa-free transit [Photo: Monica Liu]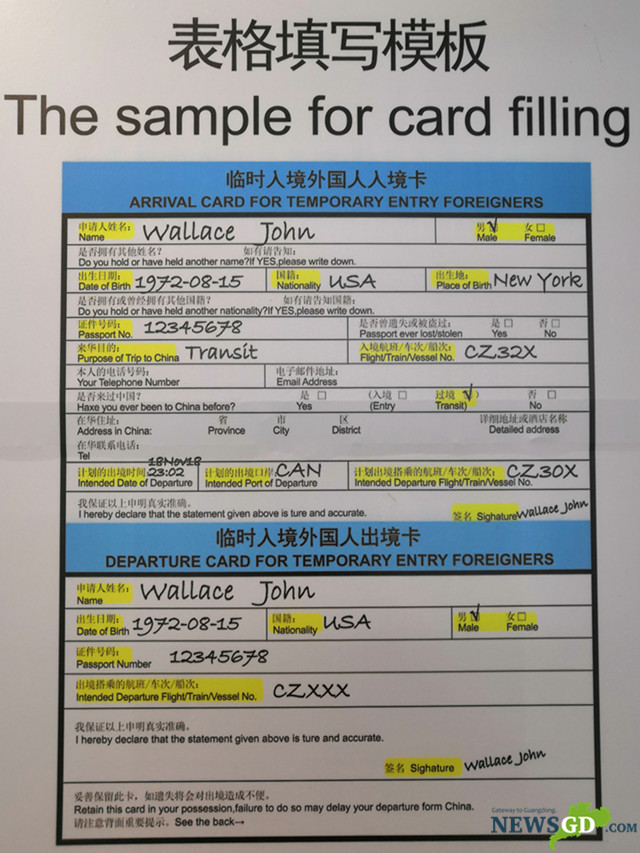 Sample for visa-free transit passenger's arrival card [Photo: Monica Liu]
Author: Monica Liu, Steven Yuen
Editor: Simon Haywood