Confidence in South China's economic development remains high: AmCham South China
2019-03-07 16:19:29 Newsgd.com Newsgd.com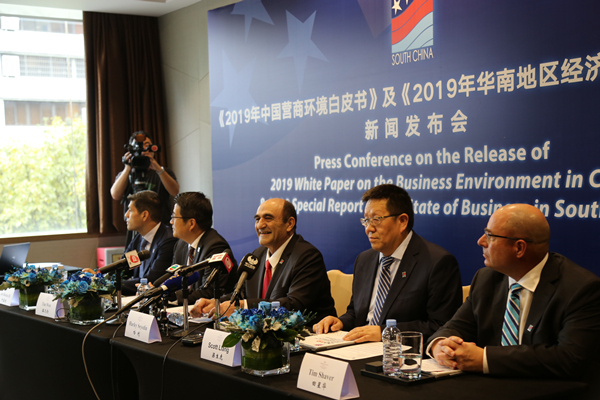 Dr. Harley Seyedin, President of AmCham South China (middle) and board members of AmCham South China at the press conference of 2019 White Paper on the Business Environment in China and 2019 Special Report on the State of Business in South China. (Provided to Newsgd.com)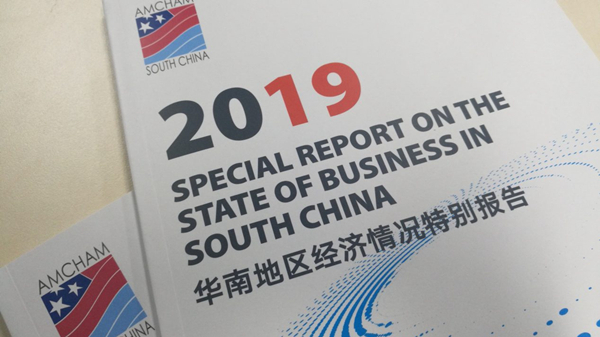 2019 Special Report on the State of Business in South China. (Provided to Newsgd.com)
Confidence in South China's economic development remains high, and 80 percent of the participants remain optimistic towards the future development of the Guangdong-Hong Kong-Macao Greater Bay Area (GBA), according to 2019 Special Report on the State of Business in South China by the American Chamber of Commerce in South China (AmCham South China) released on February 25th.
The report revealed that continued government backing, infrastructure support, and regional economic development are generally considered the top three important factors to its success.
At the same time, AmCham South China released its 2019 White Paper on the Business Environment in China.
While 256 companies participated in the 2019 study in total, responses of 240 companies were finally adopted to ensure a high degree of data integrity.
Harley Seyedin, President of AmCham South China, introduced at the press conference that confidence in South China's economic development remains high with 72 percent of the participants rating the business environment in South China as "good" to "very good".
Introduced by Guangdong province in 2017, the Policies and Measures of Guangdong Province on Further Expanding Open-up and Actively Attracting Foreign Direct Investment is popular among foreign-investment companies, and its policy effects are generally believed to be positive.
Guangzhou has been voted the most preferred city for investment from a list of 35 cities across Chinese mainland for the second consecutive year. Among other most favored reinvestment destinations are Shanghai, Beijing and Shenzhen.
Harley illustrated that this is very meaningful, since Guangzhou and Shenzhen are two important cities in the GBA. In Harley's eyes, Guangzhou and Shenzhen have performed well in intellectual property rights (IPR) protection, and IPR courts in two cities have played a key role.
According to the 2019 Special Report, although only a small number of the companies have appealed a case in China's intellectual property rights (IPR) courts, most of those with such experience consider the establishment of the courts as "very helpful" or "somewhat helpful".
Text by Nan
Edited by Wing