Guangdong art troupes celebrated Chinese New Year overseas
2019-02-21 15:45:33 Newsgd.com Newsgd.com
Over the past Chinese New Year holiday, Guangdong province sent 37 art troupes to over 10 countries and regions for exhibitions, art performances, New Year's fairs, forums and folk art shows. These events have brought the happiness of the Spring Festival from Guangdong worldwide.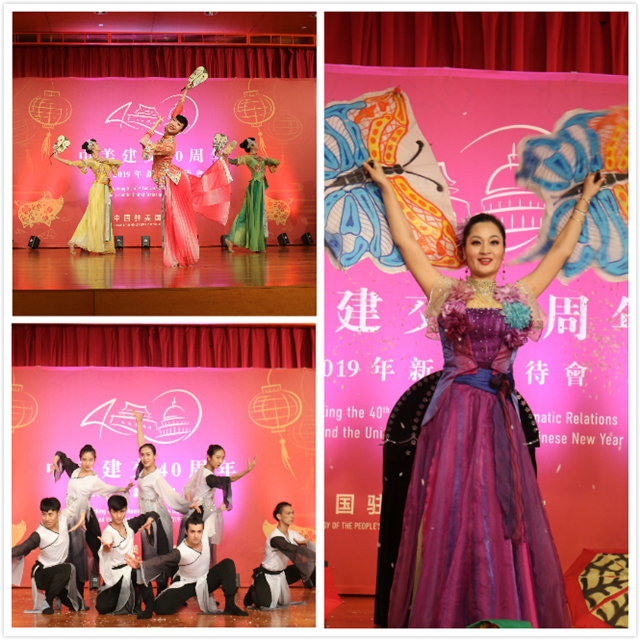 Artists of Guangdong art troupe perform at the Reception for the 40th Anniversary of China-U.S. Diplomatic Relations and the Chinese New Year at the Chinese Embassy. [Photo/Official website of Chinese Embassy in the USA]
2019 marks the 70th anniversary of the founding of the People's Republic of China and the 40th Anniversary of China-U.S. Diplomatic Relations. On this occasion, a 45-member Guangdong art troupe took part in the 14-day Happy Chinese New Year program in Washington DC and Maryland in the United States. These artists also performed at the Reception for the 40th Anniversary of China-U.S. Diplomatic Relations and the Chinese New Year at the Chinese Embassy, showcasing Lingnan culture to the attendees.
'Hakka Spring Festival Gala • Indonesia Night 2019' is held in Jakarta, the capital of Indonesia, January 25th, 2019. [Photo/Meizhou Radio and Television Station]
On January 25th, the first overseas 'Hakka Spring Festival Gala • Indonesia Night 2019' took place in Jakarta, the capital of Indonesia, featuring a variety of programs such as Hakka mountain songs, Hakka folk dances, Indonesian dances and songs, as well as chorus. The 'Hakka Spring Festival Gala' has been successfully held for five years. This is the first time it is held overseas, aiming to promote exchange among Hakka people worldwide and introduce Meizhou to the world. The gala is also part of the 'Hakka Culture Tour' project which is a key project of the Publicity Department of the CPC Central Committee and Guangdong Provincial Publicity Department.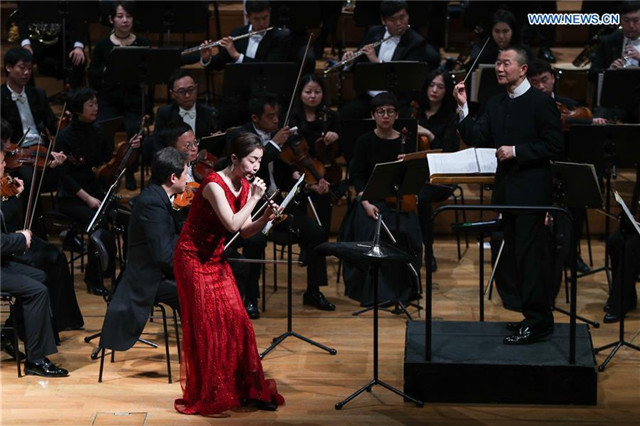 Conductor Tan Dun (R), suona player Liu Wenwen (L) and other members perform the 100 Birds Flying Towards the Phoenix during a Guangzhou Symphony Orchestra New Year Concert with Tan Dun as the conductor in Flagey, a culture house in Brussels, Belgium, Jan 29, 2019. [Photo/Xinhua]
On January 29th, the Guangzhou Symphony Orchestra gave a New Year Concert with Tan Dun as the conductor in Flagey, a culture house in Brussels, Belgium. The concert was held to bring the audience the charm of eastern and western music and to celebrate the Chinese Lunar New Year. The orchestra consisted of both world-renowned classical music performers such as conductor Tan Dun and pianist Lang Lang, and inheritors of traditional Chinese culture including suona player Liu Wenwen and Peking opera artist Lian Wenqing.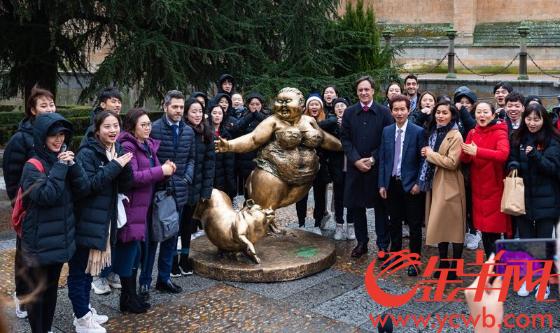 Art enthusiasts from Salamanca pose for a photo with Guangzhou artist Xu Hongfei. [Photo/ycwb.com]
On January 31st, Guangzhou artist Xu Hongfei, famous for his "Chubby Women" sculptures, held a special exhibition in Salamanca, Spain. The sculptures of overweight women, challenging pervasive artistic stereotypes and demonstrating the Chinese people's optimistic attitude towards life, are Xu's best-known works and have won wide acclaim from exhibitions around the world. A total of 14 of Xu's sculptures were put on display at eight outdoor plazas and famous buildings throughout Salamanca. As part of the 2019 Guangzhou Culture Week, over 200 art enthusiasts, as well as Salamanca Mayor Carlos Garcia Carbayo, attended the show's opening ceremony.

On February 1st, a set of stamps to celebrate the Year of the Pig was jointly issued by the Chinese Cultural Center in Fiji and Fiji Post. Starting from 2016, the stamp project has invited different top-notch artists to bridge Chinese and Fijian culture through Chinese Zodiac animals. This year's stamps were designed by Xu Lixian and Zhang Tao, who are based in Shenzhen. Being the youngest designers on the project, they vowed to express the understanding of traditional culture and relationship between China and Fiji from the perspective of the younger generation.
Guangzhou, the capital city of Guangdong province, also improved its image at international events around the Spring Festival.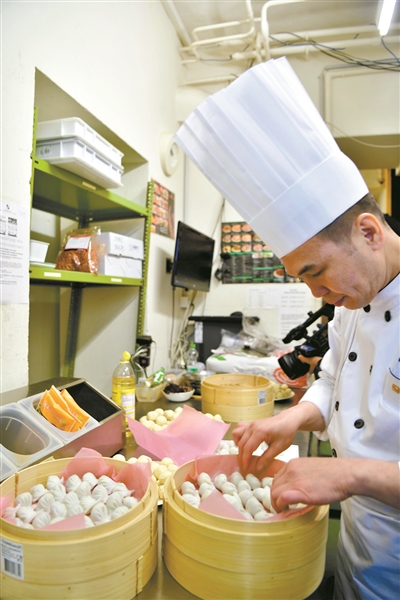 A chef from Guangzhou prepares Guangzhou dim sum for participants. [Photo/Guangzhou Daily]
On January 23rd, Guangzhou hosted a promotional event in Davos to raise awareness of the city and its upcoming international events. At the promotional meeting, Guangzhou introduced the Asian International Food Festival and the Guangzhou International Forum, which are scheduled to be held in Guangzhou this May and December, respectively. In addition to showcasing its latest technological innovations, Guangzhou, nicknamed the "City of Cuisine", also offered distinct local delicacies to all guests, sharing Guangzhou's traditional food culture with the world.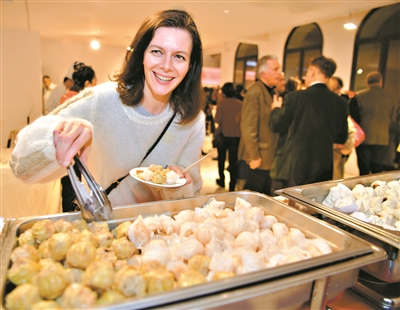 A foreign attendee tries some Guangzhou delicacies. [Photo/gz.gov.cn]
On January 25th, Guangzhou held a special conference in Paris, France to promote its flower and food culture. At the conference, German chef Stefan Stiller from China's first one-star Michelin restaurant and Chinese chef Hardy Lung, the judge of the 2017 Bocuse d'Or Finale, were invited to share their stories and cook up some delicacies for the meeting attendees. Apart from a variety of food, Guangzhou also brought kapok flower lanterns to the conference.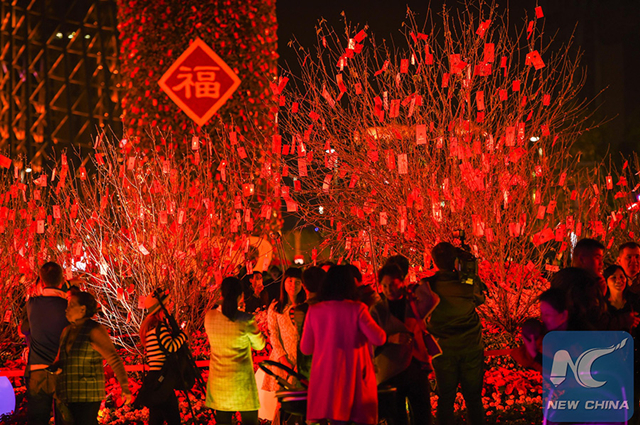 People view a tree full of red packets in Guangzhou, capital city of south China's Guangdong Province, Jan. 25, 2017, before the Spring Festival. (Xinhua/Liu Dawei)
On February 2nd, Guangzhou held a flower fair carnival and story forum to amaze New Yorkers with its unique festive traditions through blossoms and delicacies. The event, called Overseas Spring Festival Flower Fair Carnival and Guangzhou Story Forum, focused on introducing Guangzhou's time-honored tradition of hosting Spring Festival flower fairs and Cantonese food. The event also included interactive games such as learning Cantonese and recognizing various types of dim sum.
"It's amazing that I'm able to say 'Happy New Year' in Cantonese. Also, it's the first time I got to know the different meanings of the flowers according to Guangzhou customs," said Sarah Siskind, who comes from the U.S. state of California and now works in New York.
William H. Su, chairman of the Myanmar Chinese Association of New York Inc., said such activities are also significant in helping overseas Chinese, especially the young generation, learn and inherit the traditions of the Chinese New Year.
Reported by Monica Liu
Edited by Wing Zhang