TCM practitioners back ancient remedy to cure a deadly addiction
2019-01-29 16:35:01 China Daily China Daily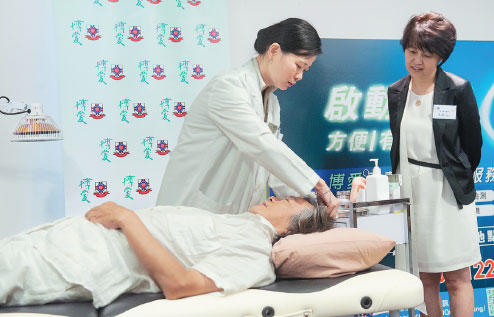 A practitioner of traditional Chinese medicine at Pok Oi Hospital in Hong Kong treats a patient via acupuncture. [Provided To China Daily]
A hospital is using acupuncture and counseling to help people quit smoking. Li Bingcun reports from Hong Kong.
After several attempts to quit smoking by sheer willpower, many addicts have turned to ancient remedies in a last-ditch effort to kick the weed.
It's almost a year since Lo Chikeung threw away his last cigarette butt. He discovered a new world, fresh and clean, after decades under the persuasive lure of nicotine. There was another plus - people stopped telling him he reeked of tobacco.
"I never realized that the odor was so unpleasant until I smelled smoke on other people after I quit," he said.
Last year, he visited Pok Oi Hospital, where he got the monkey off his back with the help of traditional Chinese medicine. In doing so, he became one of more than 10,000 smokers in Hong Kong that have used a smoking cessation program the hospital has offered since 2010.
Their reasons for quitting were varied: some people with life-threatening illnesses hoped they would survive if they quit smoking and their health improved; some were expectant parents who wanted to clean up their act to ensure their child would not have to endure passive smoking and an unhealthy atmosphere; and others believed quitting would give them a new lease on life.
The patients shared a common experience: it's hard to quit smoking. Tobacco is considered by some experts to be among the most addictive substances on the planet.
Lo tried to quit by using willpower seven years ago. His daughter and son-in-law were expecting a baby, and he was sure he'd be called on to look after the child. He was also sure the smoke from his cigarettes would be harmful to the little girl who finally came along.
"She would be living with me in my tiny house, breathing the same air. I might feed her, wash her and put her to sleep in my arms. Even if I smoked outdoors, the smell would stay on my clothes and affect her," he said.
Despite his good intentions, his reasoned approach, his feelings of guilt and his willpower, he continued to smoke. "I couldn't curb the desire. It felt so strange and uncomfortable to sit at home without a cigarette in my hand," he said. He cut the number of cigarettes he smoked by half, but he was still hooked.
He heard about the treatment being offered at the hospital - the city's first smoking-cessation program based on TCM - and decided to investigate. Over the following two months, he attended eight sessions. He quit, and hasn't smoked since.
The basic course consists of six acupuncture treatments and four face-to-face counseling sessions during the first month. If the patient quits smoking during those first four weeks, a practitioner monitors his or her progress at 26 weeks and 52 weeks.
If the first month's treatment doesn't work, patients are encouraged to continue visiting over the following year via a follow-up service, which places no limit on the number of visits.
Representatives of Pok Oi Hospital join colleagues from the Chinese mainland at a conference in Shenzhen, Guangdong province, in December. [Provided To China Daily]
Scientific program
The cessation treatment is part of a scientific program that aims to prove TCM is an effective way of helping smokers quit and subsequently promote better overall health.

The treatment protocols were formulated by the China Academy of Chinese Medical Sciences, the nation's top body in TCM research. After in-depth research into treatments, Hong Kong's leading TCM practitioners examined the protocols and commented on them before they were introduced, according to Yang Jinsheng, a professor at the academy and a prominent researcher in the study.

Under the academy's guidance, the hospital also offers treatment through community-based mobile clinics, which have visited more than 100 locations across the city. Records are kept on every patient, and the data is analyzed to ensure that the efforts are effective.

The hospital's practitioners continue to conduct research, which has helped the treatment to progress.

For example, some acupoints were relocated, while the frequency of the acupuncture services was also amended, Yang said.

The hospital said that about one-third of smokers who undertake the basic treatment kick the habit after 52 weeks, while those who cannot quit still benefit, with about 90 percent reducing their tobacco consumption by half.

The hospital also claims that the success rate is close to that of traditional nicotine replacement therapy, or NRT, the main approach recommended by the World Health Organization.

However, official data showing how many people had completed the basic treatment program during the past eight years will not be released until sometime in the future, according to the hospital, so it is not known how many have quit with the program's help.

Despite that, Chen Min, deputy coordinator of the hospital's Chinese Medicine Service, said the program has proved that the TCM treatment is effective and has no side effects.
It is also especially helpful for alleviating withdrawal symptoms during the initial period of abstinence, such as headaches, anxiety or lack of focus, he added.
'Natural', 'painless'
Law Sau-hung said the acupuncture therapy felt "natural" and "painless". She commented after undergoing a 20-minute treatment session during which 14 needles were inserted into eight acupoints on her head, face and limbs.
The treatment failed to curb the 42-year-old's urge to smoke, though. She has been undergoing acupuncture for more than three years and keeps returning to the hospital in the hope that someday she will quit smoking.
Law said she had tried NRT offered by the Tung Wah Group of Hospitals, but had a poor reaction to the treatment. The nicotine replacements aggravated a skin allergy, she felt unwell and her sleep patterns were disrupted.
Tang Yan-yan, a TCM practitioner at Pok Oi Hospital who is Law's attending doctor, explained that acupuncture has fewer side effects than the standard treatment, because no drugs are involved.
Hospital records show that before her first acupuncture session, Law smoked 20 cigarettes a day.
She said she resisted occasionally after the initial treatment, but after a couple of weeks she resumed her old routine as a result of a few minor problems, such as frustration at work and quarrels with family members.
The stress increased the desire to smoke, which became intense.
"I would immediately rush into the street to buy a pack of cigarettes," she said.
Tang explained that quitting smoking is more difficult if people are tense. Their ability to self-regulate may be hampered and their willpower may be weaker than in more-relaxed people.
Law, who has had a mental illness for a long time, may require more work before she can quit smoking. "But I'm happy that she is still insisting on it. I also believe that she will overcome the addiction eventually," Tang said.
According to Chen, from the hospital's Chinese Medicine Service, the program and other smoking-cessation services, combined with the government's multipronged approach to tobacco control, have played a major role in cutting tobacco consumption in the city.
Department of Health data show that the proportion of people in the city age 15 and older who smoke every day fell to 10 percent last year, a 35-year low.
Despite the reduced consumption rate - one of the lowest in the world - smoking continues to impose a heavy burden on the Hong Kong economy and the public health system.
In 2011, smoking was the direct cause of 6,826 deaths, resulting in an economic loss of HK$5.6 billion to the city, according to figures revealed in a study by the University of Hong Kong and published in the medical journal Nicotine and Tobacco Research in November 2017.
Expansion
To provide closer medical collaboration throughout the Guangdong-Hong Kong-Macao Greater Bay Area, the TCM cessation program will be introduced in Shenzhen and Guangzhou, both in Guangdong province, this year.
Under the guidance of Pok Oi Hospital, the program will be offered by the First Affiliated Hospital of Guangzhou Medical University and the Shenzhen Traditional Chinese Medicine Hospital.
Lin Guohua, director of the acupuncture department at the First Affiliated Hospital, believes the program shows promise.
Using acupuncture to help people quit smoking is not a new phenomenon in the Chinese mainland, but few of the programs are free, which restricts their promotion. Moreover, they serve no scientific purpose, which limits scientists' ability to conduct related research that would improve the treatments, he said.
In addition, the Hong Kong program is more mature, which is not only reflected in the wider sampling of patients, but also in detailed evaluation measures and more effective testing methods, he added.
Lin noted that it's too early to say if the program will catch on in the Greater Bay Area, but he said the conditions - such as a relatively broad acceptance of TCM treatment and the renown of the institutions involved - are favorable for its expansion to more cities.
Collaboration between different departments in TCM hospitals could also help to attract more patients, Lin said, adding that practitioners at inpatient departments could advise people with serious smoking-related illnesses to sign up for the cessation program.
In the long term, he hopes the program will be expanded further and ease much of the medical burden in the mainland caused by smoking. A survey released by the Chinese Center for Disease Control and Prevention in 2015 showed that smokers accounted for nearly one-third of the population age 15 and older.
Researchers attached to the program also hope to discover new ways to make it more effective through cross-boundary collaboration.
Pok Oi Hospital and the two participating establishments in the mainland plan to control testing and place greater emphasis on a range of treatments, including acupuncture, counseling and standard nicotine replacement therapy.
It's expected that the tests will indicate which therapies, or combined treatments, work best.
The data will be analyzed at the South China Research Center for Acupuncture and Moxibustion in Guangzhou, one of the region's leading research centers. The researchers hope this will allow them to arrive at more definitive conclusions that will improve results for people desperate to quit smoking.