GPHL's efforts in line with President Xi's instruction on TCM development
2018-10-26 09:44:38 GPHL GPHL
On October 22nd, Chinese President Xi Jinping visited an industrial park for traditional Chinese medicine (TCM) in Hengqin New Area, Zhuhai, calling for more efforts in exploring the essence of TCM and better collaboration between enterprises, universities and research institutes to advance the industrialization, modernization and globalization of TCM.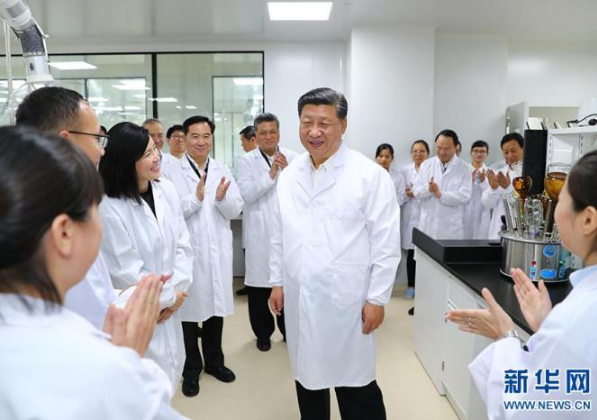 GPHL promotes TCM in a fashionable way
In recent years, GPHL has been promoting TCM in a more fashionable way, using the most advanced technology and marketing strategies that are most welcomed by young people.
During the 2018 LPL (a professional e-game competition), Banyunshan, GPHL's subsidiary, sponsored a team, BLG (Bilibili Gaming) to promote its Ban Lan Gen Keli (a TCM used for colds, flus and sore throat due to virus infection). The idea of relating BLG team to Ban Lan Gen was first started by BLG team's fans. Baiyunshan's strategy of using this idea successfully crabbed the audiences' eyes and became popular.
This is not the first time that GPHL joined hands with e-games. In 2017, Wanglaoji cooperated with MOBA, and launched a customized package for its new product, Black Herbal Tea, with the theme of Heroes of the Storm. The Black Herbal Tea was also presented at e-game competitions such as the HearthStone Gold Series.
Promoting TCM with the use of topics that are popular in the youth community can inject fashion element into the industry.
GPHL's four major strategies to activate TCM
GPHL also pushed forward four majors strategies to activate the traditional industry and enable TCM to become more fashionable.
Modernize TCM
Baiyunshan cooperated with Zhong Nanshan, renowned academician from Chinese Academy of Engineering, and successfully extracted new antiviral ingredient from Ban Lan Gen. The ingredient has been proved to have stronger antiviral effect and was granted a national patent. The company's another product, Fu Fang Dan Shen Tablets (a TCM used for activating blood circulation and remove blood stasis) was granted more than ten patents after further researched and developed.
Internationalize TCM
In recent years, GPHL frequently presented at international event, such as Davos, Boao and Fortune Global Forum and seek cooperation with international partners. With these international platforms, GPHL aims to promote the TCM culture and its products worldwide.
In addition, GPHL's Huatuo Zaizao Pills has been the TCM with the largest export volume for more than ten years in a row, and covered by the medical insurance of countries as Russia. And Baiyunshan's TCM products including Fu Fang Dan Shen Tablets and Ban Lan Gen Ke Li are being sold in many Asian and African countries.
TCM promotion
GPHL's subsidiaries, Baiyunshan and Guangzhou Baiyun Mountain and Hutchison Whampoa, started building the national first semi-open herbal museum, Shennong Herbal Garden, in 2006, and completed construction in 2013, aiming to introduce TCM knowledge and culture to tourists from home and abroad. Thus far, the Garden has seen more than one million tourists.
Popularize TCM
GPHL is dedicated to applying Chinese herbal ingredients to products that could be well accepted by people's daily life. Its flagship products including Wanglaoji herbal tea are successful examples of the implement of this strategy. In addition, GPHL also works to improve the effective ingredients in its products and keeps controlling their price points.