Sichuan Party Chief meets with GPHL Chairman
2018-10-23 17:47:25 GPHL GPHL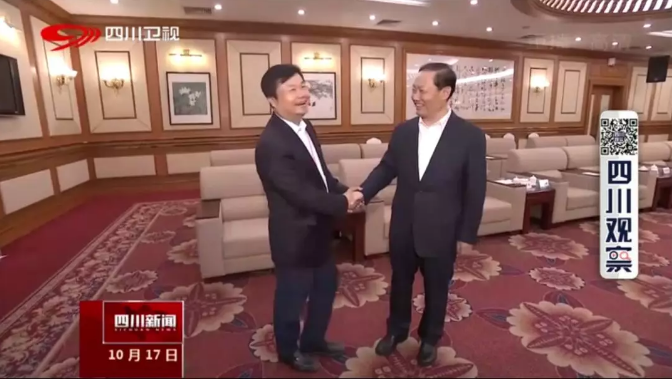 Peng Qinghua, Party Chief of Sichuan, and a delegation from Sichuan's provincial government visited Guangdong from October 15th to 17th, aiming to further improve communication and cooperation with Guangdong, China's pilot province to lead reform and opening-up.
During the visit, Peng also met with Li Chuyuan, GPHL's Chairman, and other representatives from leading Guangdong enterprises in the pharmaceutical industry. He appreciated GPHL's contribution to Sichuan, especially Wanglaoji's Ya'an project which supported the city after the earthquake and has become a 'pillar industry' in the region.
Li Chuyuan said Sichuan government's support to GPHL give the enterprise great confidence. "In the future, GPHL will further its investment in Sichuan, and its projects in fields of healthcare, logistics, medical equipment and Chinese traditional medicine.
In fact, GPHL maintains close cooperation with Sichuan, investing in Wanglaoji Ya'an production base project, Guangyao Sichuan Pharmaceuticals Corporation and a Chinese herb purchasing business.
After the devastating earthquake in 2013, GPHL set up its Ya'an production base and supported the city's rebuild project. It was the first enterprise to sign contract with the city and the first to start and complete construction in the aftermath.
In 2012, GPHL subsidiary, Guangzhou Pharmaceuticals Corporation, joined hands with a Chendu company and set up the Guangyao Sichuan Pharmaceuticals Corporation (GSPC). As a large-scale pharmaceutical sales company, GSPC is listed among the top 5 pharmaceutical commercial enterprises and has become a top pharmaceutical logistics operator in Sichuan.
In addition, GPHL has been importing a large number of Chinese herbs from Sichuan. Li Chuyuan said Sichuan is reknowned as a Chinese herb planting area and is home to a well-developed TCM industry. GPHL is the country's biggest TCM manufacturer and purchases a wide range of Chinese herbs every year. "With the support from both Guangdong and Sichuan governments, GPHL will make use of its industrial, technological and cultural advantages, and facilitate the progress of joint projects with Sichuan and tighten the cooperation between two provinces," he said.