Li Ka-shing, Jack Ma and Guangzhou Pharmaceutical Holdings
2017-08-31 14:32:11 GPHL GPHL
In May 2004, Hutchison Whampoa, the flagship company of Mr. Li Ka-shing who is the world's richest Chinese person, intended to cooperate with Baiyunshan Chinese Medicine Factory for forming their joint venture of which the duration should be 50 years.

As soon as the news was published openly, it became the focus of the social attention. Li Ka-shing has always gone global with port operations and telecommunications. Why did he suddenly favor Chinese medicine?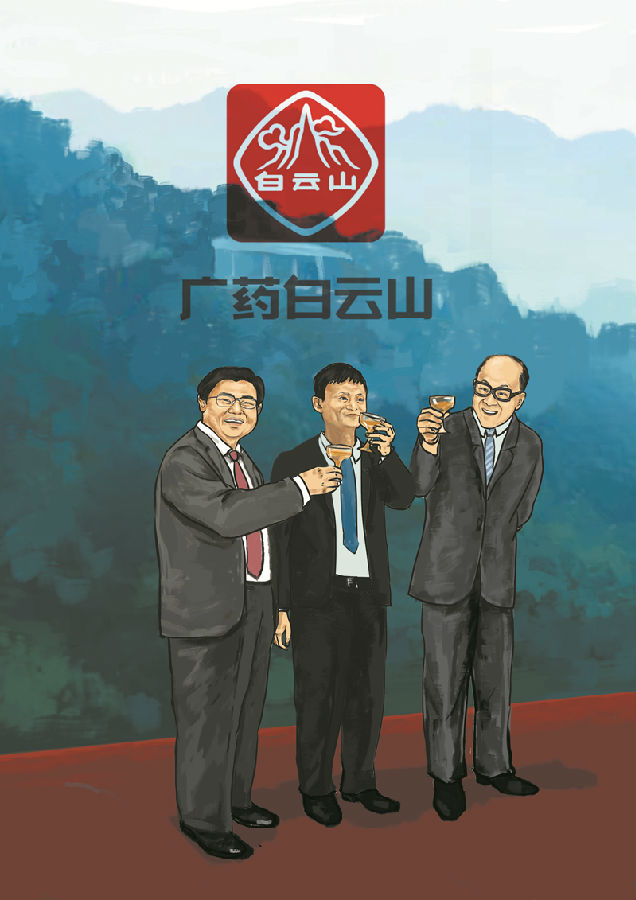 Li Ka-shing and Jack Ma cooperated with Guangzhou Pharmaceutical Holdings successively.

As a patriotic businessman, Li Ka-shing has deep "Chinese medicine internationalization complex", and he has long wanted to fulfill "Chinese medicine internationalization dream" for himself and also for all the Chinese people.
It seems to Li Ka-shing that Baiyunshan Chinese Medicine Factory is the best partner of fulfilling dream together with him. He is also full of praise for and then has a lot of confidence in Li Chuyuan, the leading figure of Baiyunshan Chinese Medicine Factory at that time, which is mainly due to Baiyunshan's spiritual manifestation of benefiting mankind in the SARS outbreak.

In February 2003, in face of the unexpected SARS outbreak, Banlangen (Radix Isatidis) showed the good effect in the fight against SARS, and then caused the medical profession's great subsequent attention. Thus the demand for "Baiyunshan" Banlangen Granules obviously effective on antivirus exceeded supply.

In the presence of "long queues" of waiting people with money in hand, and in the face of the temptation of high profits from price increase, Baiyunshan Chinese Medicine Factory didn't bow to huge profits, on the contrary, it took the lead in giving the society their public promise that the price of "Baiyunshan" Banlangen Granules would not be raised, the quality would not be discounted, and the production would be continued even at a loss. The factory went full steam ahead with support to fight against SARS in three shifts around the clock, and gained wide praise from all social circles.

Baiyunshan's products enhanced Chinese people's confidence tremendously, and the public community even talked "Baiyunshan" rank with the most iconic person of the year, "Wang Qishan" (then Beijing's mayor "fighting the fire" at the critical moment), "Zhong Nanshan" (an academician as the most authoritative and hardcore "national soul"), "Xiao Tangshan" (the location of temporary "SARS" isolation hospital urgently built), which were known collectively as "Four Mountains" in the forefront of fighting against SARS, and were told from mouth to mouth with general approval. Baiyunshan resisted price-increase pressure to hold down the price of "Baiyunshan" Banlangen Granules, and established a good brand and corporate image.

Zhong nanshan recommended Baiyunshan Banlangen Granules.

Under the leadership of the factory manager Li Chuyuan, Baiyunshan Chinese Medicine Factory carried weight in medicine industry in South China and even the whole China. Its competitive product, Baiyunshan Banlangen Granules, took up 60% market share, and Compound Salvia Tablet also took up 50% market share.

Hutchison Whampoa and Baiyunshan hit it off instantly, and their love proceeded very rapidly. In December 2003, Li Ka-shing expressed his will that Whampoa and Baiyunshan hoped to cooperate with Baiyunshan Chinese Medicine Factory through Guangzhou Municipal Government. Both sides then fell in love, and finally accomplished the cooperation intention, involving RMB ten hundred million yuan, known as lightning war, just in the negotiation time of less than five months.

Coincidentally, Jack Ma, the Chinese mainland's richest person, cooperated with Baiyunshan again in the lightning way ten years later. On 3 December 2014, with the overall start of Guangzhou Baiyunshan Pharmaceutical Stock Company Limited's ten-billion yuan financing constant increase plan, it only took Yunfeng Capital owned by Jack Ma three days to decide to invest RMB 500 million yuan in GBPSCL, as the sole strategic investor who participated in the ten-billion yuan refinancing outside of Gaungzhou national asset system, and thus the beginning of cooperation between GBPSCL and Alibaba was marked.

Why did both of the richest persons think alike? Faithful GBPSCL is the preferred partner!