The First Time for Chinese Medical Enterprise's Voice to Come at Davos
2018-04-04 11:34:21 GPHL GPHL
A small town named Davos is located on Landwasser River in Switzerland with more than 1500 meters above the sea level, in small size but known far and wide, where global top politicians and enterprise leaders met every year to discuss economic trend. Davos welcomed an important guest in the early 2015—the chairman of Guangzhou Baiyunshan Pharmaceutical Holdings, Li Chuyuan. Guangzhou Baiyunshan Pharmaceutical Holdings was the first Chinese medical enterprise who attended the World Economic Forum in Davos where there has been the voice of Chinese enterprises since then.

Chairman Li Chuyuan listened to Prime Minister Li Keqiang and Italian Prime Minister Matteo Renzi in several days, together with 2500 elites around the world. Guangzhou delegation led by Party Secretary Ren Xuefeng met with Chairman of the Forum Professor Schwab in Davos , who graciously received Chairman Li Chuyuan and other business representatives. It is particularly worth mentioning here that the internet community's big names Jack Ma met with Chairman Li Chuyuan four times during the forum in three days. Just a few days before when Forum in Davos was held, Guangzhou Baiyunshan Pharmaceutical Holdings had already raised ten-billion yuan fund, and Yunfeng Capital owned by Jack Ma was the sole strategic investor. At the time of the forum, Guangzhou Baiyunshan Pharmaceutical Holdings and Alibaba reached a couple of consensuses and both sides would carry out comprehensive strategic cooperation.
If Guangzhou Pharmacy Holdings' first appearance in Switzerland had made an impression, Guangzhou Pharmacy Holdings' performance on the Summer Davos Forum held in Dalian in 2015 was impressive. As the leader of Chinese medicine industry, Guangzhou Pharmacy Holdings was in domestic and international enterprises' good graces, regarding which Chairman Li Chuanyuan said, "we reached the intention of cooperation with quite a few large international enterprises in the period of the round-table conference and Davos Forum in Dalian. For instance, Russian Systema Company invested in Guangzhou together with us and hoped us to establish Chinese medical hospital in Russia. The Nobel Prize winner as the World's leader of wearable devices would be offered the role of President of Guangzhou Pharmacy Wearable Devices Institution. Furthermore, American Johnson Company, Nestle Corporation and Siemens of Germany all showed wish to cooperate with us."
World Economic Forum 2016 was held as scheduled at Swiss town Davos on 20 January 2016 when winter came after autumn. Facing the forefront of the times including Chinese medicine revitalization and Industry 4.0, Li Chuyuan, again as the sole native medical enterprise representative invited to attend the meeting, delivered the keynote address of which the viewpoint that Chinese medicine would become health mainstream in the future world attracts the extensive attention.
Li Chuyuan indicated that Chinese medicine modernization, internationalization, dissemination of science, popularization should be achieved, if Chinese medicine is expected to play a role in health field. It is learned that Guangzhou Pharmaceutical Holdings, as the biggest manufacturing base of Chinese patent medicine, possesses 12 China Time-Honored Brand medical enterprises including Wang Lao Ji, Chenliji and other many famous brand companies.
In the new era of industry 4.0, Guangzhou Pharmaceutical Holdings will enhance enterprise strength to promote the development of health industry 4.0 through carrying out "Sihua" strategy of Chinese medicine modernization, internationalization, dissemination of science, popularization.
Davos is the good opportunity for Guangzhou Baiyunshan Pharmaceutical Holdings to listen to the world's voice, and simultaneously is a chance for the world to understand Guangzhou and Guangzhou Baiyunshan Pharmaceutical Holdings. The next chapter of Guangzhou Pharmaceutical Holdings' Davos story is being written today.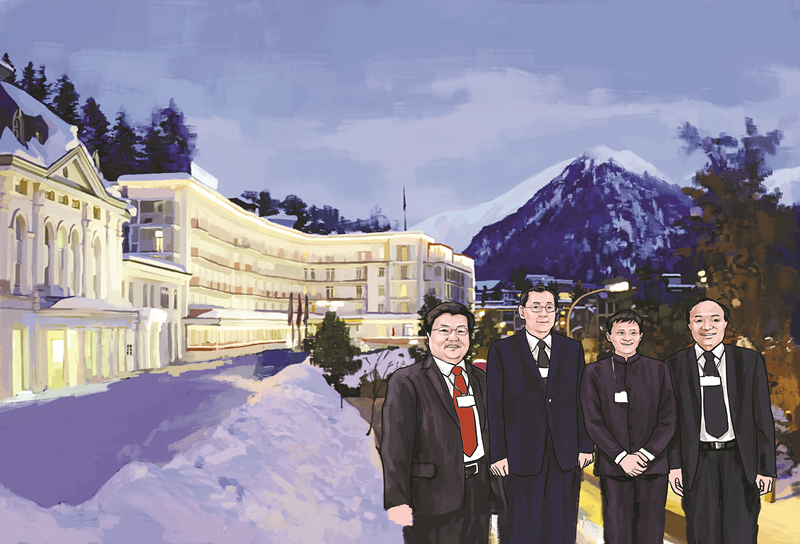 Chairman Li Chuyuan attended Davos Forum in Switzerland.