Shennong Cao Tang as the Temple of Chinese Medicine Culture
2018-04-04 11:17:34 GPHL GPHL
In 2006, as the first year of Guangdong's construction of Chinese medicine and culture strong province, Baiyunshan Hutchison Whampoa Shennong Cao Tang Chinese Medicine Museum was officially open to the public, which is the first Chinese medicine museum with the character of connecting garden and Lingnan buildings. The successful advent of Shennong Cao Tang gave "an idyllic world" for the majority of tourists and all circles of the society to seek herbs, visit famous doctors and learn traditional regimen.

During the process of museum construction, the story of "three seven" was celebrated in Baiyunshan Hutchison Whampoa Limited. The so-called "three seven" means that the Construction of Shennong Cao Tang Preparatory Team spent seven days writing moves, seven months constructing to show seven-thousand-year splendid Chinese medicine culture. The originality of constructing Shennong Cao Tang was determined in the late April 2006 when the native controversy about the existence and abolishment of Chinese medicine had been fired, but members of Shennong Cao Tang Preparatory Team adhered to their faith on promoting Chinese medicine culture and revitalizing Chinese medicine industry, and led by General Manager Li Chuyuan they developed Shennong's passion of daring to innovate and dedicating hard, working together day and night to compile 130,000-character construction blueprint.

When the core content of construction had been determined, in order to display a more comprehensive cultural essence of Chinese medicine and deeply explore rooted connection between Chinese descendants and Chinese medicine, shouldering the responsibility for tracing the Chinese medicine origin, passing through the numerous hills and streams south towards Hainan Island, north towards Daxing Anling, west towards Shanxi, and directly to Shennongjia hinterland, travelling and investigating day and night, the team worked hard for 7 months, and finally a palace of Chinese medicine culture came out.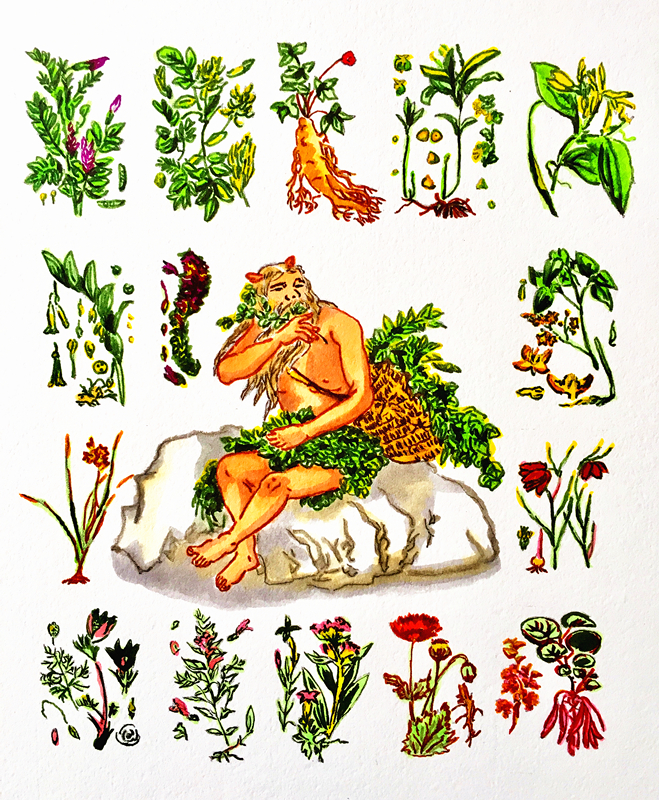 Shennong tasted hundreds of herbs.
When Baiyunshan Hutchison Whampoa Shennong Cao Tang was completed, Hubei Province Government dispatched commissioners to visit it. They lamented why a Guangdong Chinese medicine enterprise can get ahead despite the fact that Hubei Province has the natural advantage of the development of Shengnong Cao Tang Project. Li Chuyuan answered in very concise words that Shennong culture resource is the shared heritage for every Chinese from our ancestor, and so even though we are in Guangdong, we are capable of honoring Shennong in various forms.
Before the concept of Shen Nong Cao Tang came out, Baiyunshan Hutchison Whampoa Limited had planned to look for an open land to build a leisure garden for staffs to obtain more activity spaces and higher amateur life quality. The construction of garden had already been to start, but when Li Chuyuan went out of Guangdong Province due to business and visited a Chinese medicine museum, he was suddenly inspired to think why Baiyunshan Hutchison Whampoa Limited didn't set up a Chinese medicine museum that belongs to the whole Chinese pharmaceutical industry and is able to transmit the history of Chinese medicine?

Li Chuyuan changed the aim of the construction at once, and reestablished Shennong Cao Tang on the building site originally designed for a garden. Li Chuyuan thought rationally that Shennong Cao Tang could open a friendly door of mysterious Chinese medicine to the world.

The ancient Chinese medicine is what causes emotion rooted in every Chinese descendant's minds, and Chinese "traditional medicine dream" came true when Baiyunshan Hutchison Whampoa Limited created the excellent project at the rate of "three seven". Shennong Cao Tang Chinese Medicine Museum is the crystallization of Baiyunshan Hutchison Whampoa Limited people's wisdom and embodies people's Chinese medicine culture complex and deep emotion. The museum both condenses and incarnates a deposit of Chinese medicine culture in its seven-thousand-year evolution and development and unique Lingnan Chinese medicine. Now it has been located at the southern foot of Baiyun Mountain in fresh air, talking about benevolent mind and heart of Chinese medicine, carrying Chinese medicine culture to numerous households like spring wind, carrying forward Chinese medicine as "quintessence".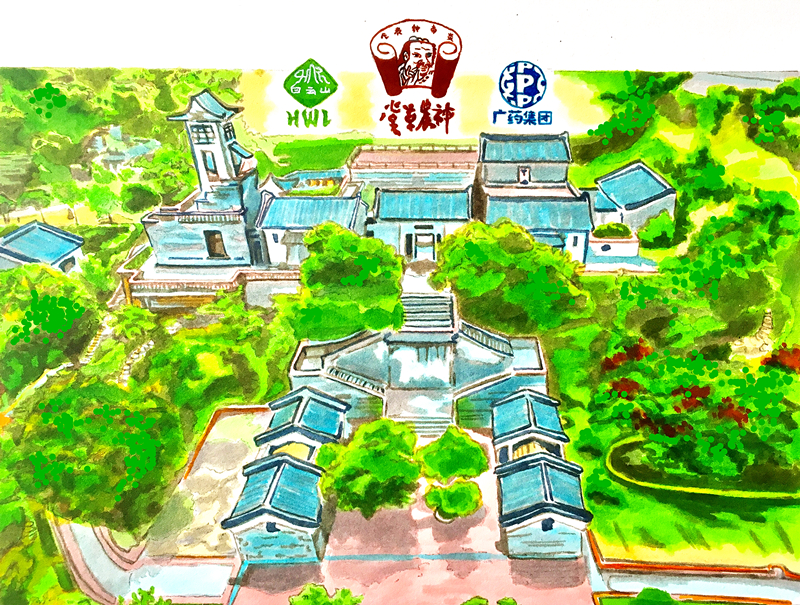 The Panorama of Shennong Baicao Tang