He Ji Gong's Helping People "Out of Sea of Bitterness"
2018-03-02 15:59:48 GPHL GPHL
Xiaoyan Zhentong Gao is the first native rubber plaster containing drugs in China, and it should be called the originator of Chinese plaster containing drugs, which is the most popular and convenient external medicine with better effect on rheumatism and punch injury. Xiaoyan Zhentong Gao is just this kind of simple and effective plaster calming people's pain, and thus people basically call it "out of sea of bitterness".
"701" Dieda Zhentong Gao, born in January 1970, ever thrived from 1970s to 1980s, and ever comforted Guangzhou prodigal children's nostalgia. It has condensed Guangzhou people's special emotion, as the witness of the history and the representation of cultural value, and so has inspired hundreds and thousands of Guangzhou people's unforgettable memory.
Almost each people purchased one can of "701" Dieda Zhentong Gao for its significant effect.

The history of two native kinds of plasters should be traced back to Guangzhou Xinmin Dressing Factory, the earliest predecessor of Baiyunshan Hejigong Pharmaceutical Factory. Guangzhou Xinmin Dressing Factory was established in 1923, and was the first factory engaged in surgical dressing production in Guangzhou. The technology of rubber containing drugs began in Japan.

In 1958, Lu Shuntian, who ever studied in Japan, was inspired to creat the first rubber plaster containing drugs in China. After China's May Fourth Movement, since a boycott of Japanese goods was set off in China, surgical dressing mainly produced by Japanese invested companies appeared in short supply. Mr. Lu Shuntian was bent on saving the country with industry and then set up Xinmin Dressing Factory.

After the founding of New China in 1949, Xinmin Dressing Factory and other firms were merged into Guangzhou Sanitary Material Factory. In 1958, Xiaoyan Zhentong Gao, the first native rubber plaster containing drugs was born in Gaungzhou, and then the factory developed classic Lingnan Chinese medicines for rheumatism and punch injury into Chinese medicine analgesic emplastrum in January 1970 , and thus "701" Dieda Zhentong Gao was born.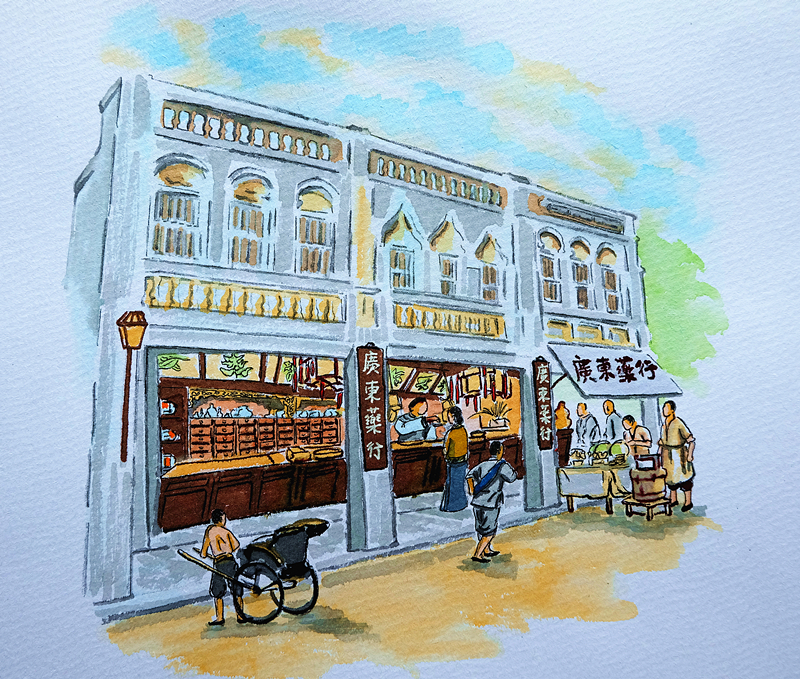 He Fuqing as the founder of He Ji Gong established Guangdong Pharmacy at Minsheng Road in Hankou in the late 1920s.
Xiaoyan Zhentong Gao and its 12-year-later developed product "701" Dieda Zhentong Gao have been always confused and called "out of sea of bitterness". Meanwhile, Xiaoyan Zhentong Gao with the longer history of difficulties during the early days of our country's foundation and then a decade of turmoil after that, is older than "701" Dieda Zhentong Gao.

In 1970s, many elderly clerks of pharmacies have witnessed the glory of "701" Dieda Zhentong Gao. When lots of overseas Chinese came back, they often purchased 20 to 30 cans of "701" Dieda Zhentong Gao as gifts for friends once every time. So today some older Guangzhou residents recall, "In that era, the folk medicine depended on barefoot doctors, acupuncture, herbal medicines and '701' Dieda Zhentong Gao."

In decades, Xiaoyan Zhentong Gao and "701" Dieda Zhentong Gao have constantly been the most common, simple and cheap external medicines with good effects on rheumatism and punch injury. When there were always short of doctors and medicine, people made clever use of Zhentong Gao to treat various illnesses. Moreover, using the plasters was almost the way of pain relief. At dusk, in the dimness of the light in rural and urban areas, after fast shower, done with hard work for a whole day, if people felt backaches or punch injury, they would not hesitate to snap plasters and put them on their bodies, stretched and went to sleep.

Nowadays, "701" Dieda Zhentong Gao has been celebrated in Guangdong, Hong Kong and Macao for 44 years, as the modern plaster made of handed down classic prescription of Lingnan good medicine on rheumatism and punch injury. It has obtained "Guangdong Brand-Name Product" and "Guangzhou Brand-Name Product " year after year, and been exported to Hong Kong, Macao, Southeast Asia, America, Canada and other countries and areas with exports account of more than RMB ten million yuan per year, as the first export product of Chinese external plaster.