GPHL's two subsidiaries win Invention and Entrepreneurship Awards
2021-12-30 19:24:00 GPHL GPHL
The 25th National Exhibition of Inventions and the Belt & Road and BRICS Skills Development & Technology Innovation Competition was held in Foshan of Guangdong on December 10th. The much-anticipated Invention and Entrepreneurship Awards were announced during the exhibition.
GPHL's subsidiaries, Guangzhou Baiyun Mountain and Hutchison Whampoa Ltd. (BMHW) and Guangzhou Baiyunshan Zhongyi Pharmaceutical Co., Ltd. (Zhongyi), were awarded the first prize for Invention and Entrepreneurship Awards by the China Association of Inventions, for their respective technological achievements—'The Re-appraisal of the Post-marketing Quality and Efficacy and Industrial Application of the Chinese Patent Medicine Kouyanqing Granules' and 'Research and Application of Key Technologies for Quality Control of Chinese Medicine in a Form of Pill (Xiaoke Wan)'.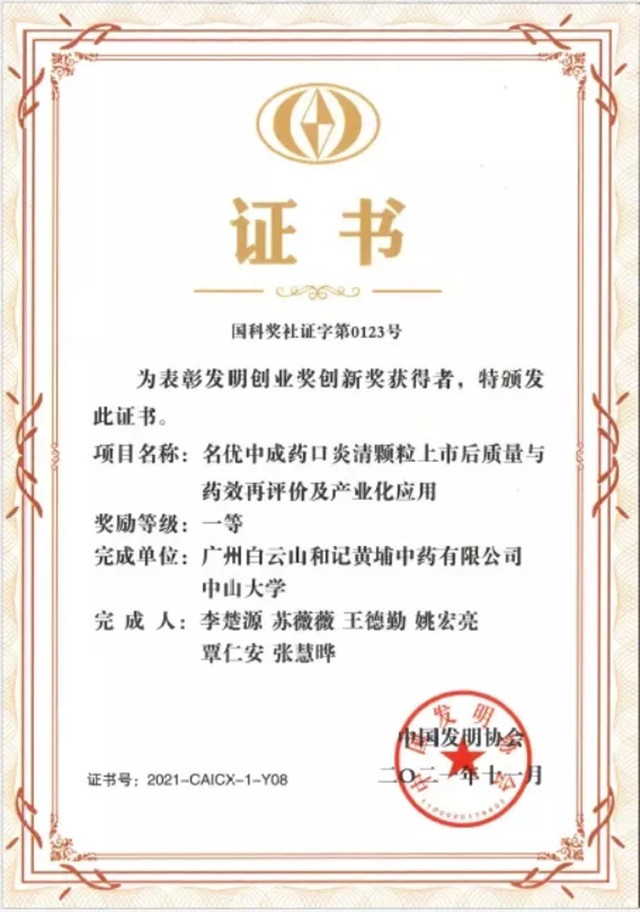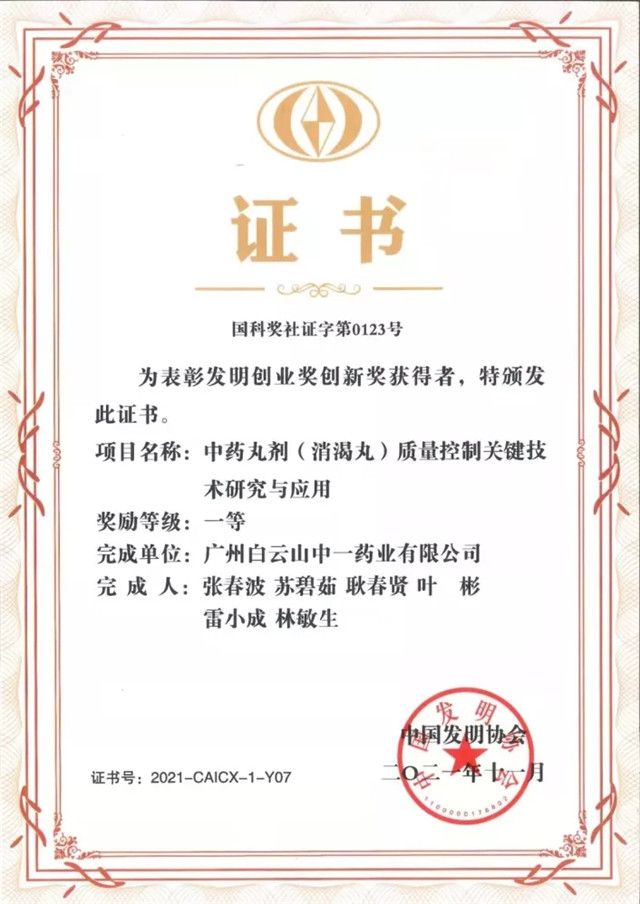 Kouyanqing Granules produced by Baiyunshan can effectively treat recurrent aphthous stomatitis, oral mucositis, oral lichen planus, etc. This famous and high-quality Chinese patent medicine for treating oral inflammation is a brand-name and award-winning product developed by BMHW.
BMHW has been devoted to innovations. In 2008, to improve the possible deficiencies in existing quality control standards and fundamental research on active ingredients of Kouyanqing Granules, BMHW and the team led by Prof. Su Weiwei of Sun Yat-sen University carried out a systematic study on the post-marketing quality and efficacy modernization through industry-university-research synergistic efforts, which yielded a series of positive results.
As of the end of 2020, Kouyanqing Granules has been sold and used in more than 300,000 retail pharmacies and medical institutions, benefiting more than 20 million patients. Its annual sales exceeded 300 million RMB, with a market share of more than 90%.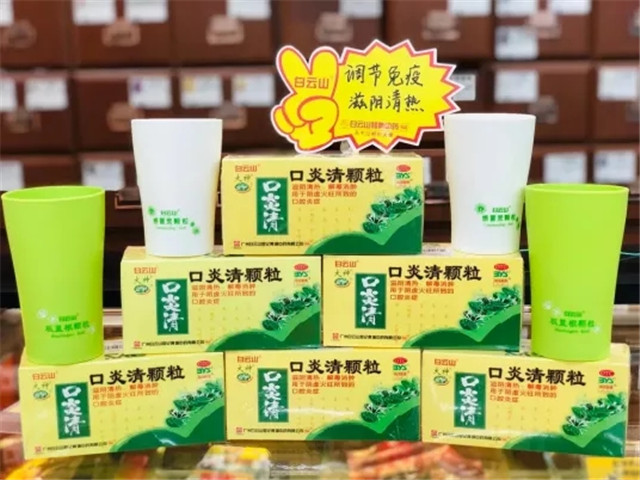 Xiaoke Wan is Zhongyi's brand-name drug used for the treatment of Type 2 diabetes. With the effect of combining traditional Chinese and western medicine, Xiaoke Wan owns 13 authorized patents. Zhongyi continues to improve its technologies in order to provide people with high-quality and affordable drugs. It pioneered the technology that adds micro-ingredients into Chinese medicine substrate, overcoming the bottleneck of uniform dispersion of Chinese and western compound preparations. Meanwhile, its invention—thin film coating-like process—can benefit subsequent mechanized and automated production, improve productivity, and ensure the quality control and stability of Xiaoke Wan.
Xiaoke Wan, Zhongyi's brand-name product for treating Type 2 diabetes, has been marketed for nearly 40 years. A total of 900 million bottles were sold and used by more than 40 million patients with diabetes, its annual sales have surpassed 600 million RMB. It has ranked No. 1 in sales of the oral Chinese patent medicines and integrated Chinese and western medicines for diabetes for 11 consecutive years.
The Invention and Entrepreneurship Awards was created by the China Association of Inventions, with the approval of the Ministry of Science and Technology of the PRC. The awards are given across four categories—Inventor Award, Achievement Award, Innovation Award, and Project Award. It aims to stimulate the public's innovations and creativity and reward organizations and individuals who have made contributions to China's economy and national defence.

Authors: Monica & Michelle
Editors: Olivia & Jerry