Guangdong unveils economic and social goals for 2021-2025
2021-04-27 15:47:18 Newsgd.com Newsgd.com
As life has been gradually getting back on track after the Covid-19 pandemic, Guangdong province released its 14th Five-Year Plan and development vision for 2035 on April 25, highlighting the province's main economic and social goals for 2021-2025.
"China as well as its provinces and cities always develop and accomplish their different goals following one Five-Year Plan after another," said Chen Wenling, an economist involved in the formulation of the Plan.
"Guangdong is a major engine to drive Chinese economic development. Its Five-Year Plan is of great value as it sets an example to achieve high-quality development in the recently more complicated global environment."

The Plan outlines 18 tasks and 103 major construction projects to boost development regarding technological innovation, modern industrial ecosystem, infrastructure construction, urbanization and regional coordinated development.
It also sets out 20 indicators to evaluate development in five aspects including economic development, innovation, people's livelihood, green development and security.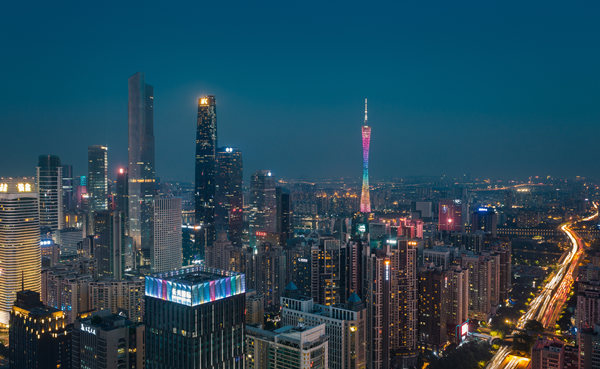 Guangzhou(Photo: Nanfang Daily)
Guangdong sets annual growth target of 5% for 2021-2025
Guangdong is aiming for an annual economic growth rate of 5 percent for 2021-2025 and boosting its GDP to 14 trillion RMB (about 2.16 trillion USD) in 2025.
Guangdong's GDP has topped in China for 32 years in a row. The annual growth rate reached 6 percent from 2016-2020 and its GDP exceeded 11 trillion RMB in 2020, according to the Plan.
When asked: why set a target of 5 percent? Huang Shuming, Deputy Director of Guangdong Development and Reform Commission, elaborated that the goal is determined based on the economic elements such as consumption, investment and export volume as well as the development trends in primary, secondary and tertiary industries.
"Guangdong is an energetic province in terms of economic development with an open and well-developed business environment. It's promising to achieve the goal of 5 percent in the next five years," said Huang, "but in setting this target, we have also taken into account the recovery of economic activity and the future uncertainties of the external environment."
The fundamental reason to set a relatively modest growth rate is to enable us to devote full energy to achieve a more strategic and long-term growth target, according to Chen Hongyu, Professor of Guangdong Institute of Public Administration.
"It's now a critical phase for Guangdong to push forward reform, innovation, industrial upgrade and regional development. Guangdong needs to invest more resources in realizing these strategic goals than a high economic growth target," said Chen.
How will Guangdong realize its strategic goals?
Guangdong is a rapidly-developing province and a pioneer in China's reform and opening-up, which means it's more urgent to transform its economy and realize high-quality development. According to the Plan, Guangdong will be dedicated to improving infrastructure construction, talent attractiveness, industrial chain optimization and other factors that affect its economic growth.
Innovation- Guangdong will push forward the construction of the international technological innovation center of the Guangdong-Hong Kong-Macao Greater Bay Area and the comprehensive national science center.

It will also develop three major Innovation Cooperation Zones (which include Shenzhen-Hong Kong cooperation zone for technology and innovation, Guangdong-Macao Intensive Cooperation Zone in Hengqin and Guangzhou Innovation Cooperation Zone) with high standards.

Industrial development- Guangdong will strike to improve the position of Guangdong-Hong Kong-Macao Greater Bay Area in the global industrial chain, especially in the field of digital industrialization. It will build Guangzhou and Shenzhen into centers for AI technological innovation.

Infrastructure- Guangdong will develop itself into a world-class comprehensive transportation junction. Its operating mileage of railways will reach 3600 kilometers by 2025.

Opening up- Guangdong will join hands with Hong Kong and Macao to develop a high-standard institutional system of market rules. It will contribute to an open and integrated market in the Greater Bay Area.

How are different cities positioned for high-quality development?

The imbalanced development between urban and rural areas is always the biggest challenge that restricst high-quality development in Guangdong. The Five-Year Plan defines five major megalopolises and their different positions for development.

Guangzhou Megalopolis- It includes Guangzhou, Foshan and the urban areas of Zhaoqing, Qingyuan, Yunfu and Shaoguan. It will keep strengthening Guangzhou's innovation ability, cultural soft power, international?competitiveness and its function as a hub city. It will transfer functions and industries that are no longer in line with the city's position to other regions of the Megalopolis so as to drive regional development. It will continue to deepen the integrated development between Guangzhou and Foshan.

Shenzhen Megalopolis- It includes Shenzhen, Dongguan, Huizhou and the urban areas of Heyuan and Shanwei. Shenzhen will be the engine to drive regional development in the megalopolis. It will push forward the integrated development of Shenzhen, Dongguan and Huizhou regarding infrastructure construction and industrial development. It will extend some of the core cities' functions, industries and social services to Heyuan and Shanwei, and build an international, modern and innovative megalopolis.

West Bank Megalopolis- It includes Zhuhai, Zhongshan, Jiangmen and Yangjiang. It will strengthen Zhuhai's position as the core city of the west bank of the Pearl River. It will fasten the coordinated development between Zhuhai, Zhongshan and Jiangmen, and build an advanced industrial cluster in the west bank. It will facilitate the unified demographic, industrial, spacial and infrastructure planning in the region.

Shantou-Chaozhou-Jieyang Megalopolis- It includes Shantou, Chaozhou, Jieyang and the urban area of Meizhou. It will facilitate the integrated development between Shantou, Chaozhou and Jieyang, and coordinated development between three cities and the urban area of Meizhou. It will facilitate unified planning for infrastructure development in the region and make good use of costal resources. The megalopolis will also work to further coordinate development between the Greater Bay Area and Guangdong-Fujian-Zhejiang coastal city cluster.

Zhanjiang-Maoming Megalopolis- It includes Zhanjiang and Maoming. It will facilitate the transport network between two cities and upgrade their pillar industries such as the petrochemical industry and steel manufacturing industry. It will foster emerging industries such as advanced manufacturing and new energy industries.

In addition, the Plan puts forward the "One Core Region, One Belt and One Area", a regional development pattern with clearly defined functions, complementary advantages and high-quality development. It also emphasizes the major tasks to develop a sophisticated transport network and ensure equitable access to basic public services.

The Five-Year Plan also highlights other challenges in areas such as industrial development and infrastructure construction. For example, Guangdong will focus on the development of the?semiconductor industry when it comes to industrial development while the province will improve facility constructions for flood control and drainage when it comes to infrastructure construction.

Author | Jasmine
Editor | Wing, Olivia, Jerry