1.5 million of China's Sinovac COVID-19 vaccines arrive in Cambodia
2021-03-30 10:39:25 Newsgd.com Newsgd.com
A batch of 1.5 million China's Sinovac COVID-19 vaccines, purchased by the Cambodian government, arrived in Phnom Penh, the Cambodia capital, via China Southern Airliners' international charter flight on March 26.

(Provided to Newsgd.com)
A batch of 1.5 million China's Sinovac COVID-19 vaccines, purchased by the Cambodian government, arrived in Phnom Penh, the Cambodia capital, via China Southern Airliners' international charter flight on March 26 . (Provided to Newsgd.com)

This is the first time that China Southern Airlines provided an international vaccine transportation support task at Beijing Daxing International Airport, and also the second cooperation for vaccine charter flight with Sinovac Holding Biotechnology Co Ltd, a vaccine benchmarking enterprise in China.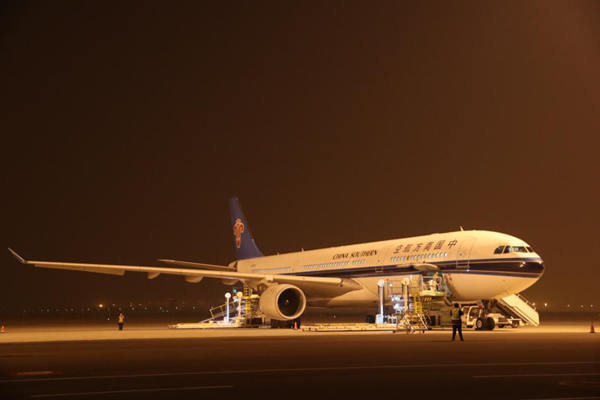 A batch of 1.5 million China's Sinovac COVID-19 vaccines, purchased by the Cambodian government, arrived in Phnom Penh, the Cambodia capital, via China Southern Airliners' international charter flight on March 26 . (Provided to Newsgd.com)
Since March 13, 2020, China Southern's all international flights have been transferred to Beijing Capital International Airport from Beijing Daxing International Airport. So, for now, China Southern only provides international vaccine charter flights in Beijing Daxing Airport.

According to Xinhua News Agency, during the handover of the vaccine in Phnom Penh, Cambodian Economy and Finance Ministry's permanent secretary of state Vongsey Vissoth?expressed his profound gratitude to China for providing vaccines to Cambodia, saying that vaccination, along with other health measures, would protect Cambodian people's lives, prevent the spread of COVID-19 and provide a boost to Cambodia's economic recovery.

The kingdom started its anti-COVID-19 inoculation drive on Feb. 10. As of Thursday, some 354,087 people in priority groups had been vaccinated against the virus, according to a government report.

Source: Newsgd.com & Xinhua