GPHL's expired medication take back program launched
2021-03-15 16:27:10 GPHL GPHL
On the morning of March 12th, 2021, GPHL inaugurated an expired medication return program at the Shennong Caotang Museum. During this year, GPHL will continue to improve the program's mechanism and expand its coverage. While lifting some counties and towns out of poverty, it will collect expired medications in these places and motivate its staff members to participate in take back and education activities.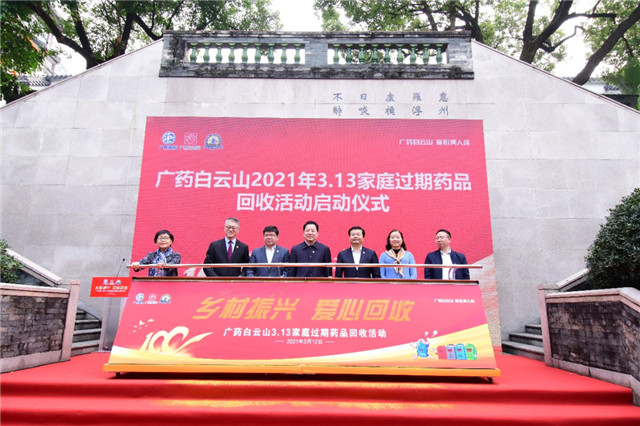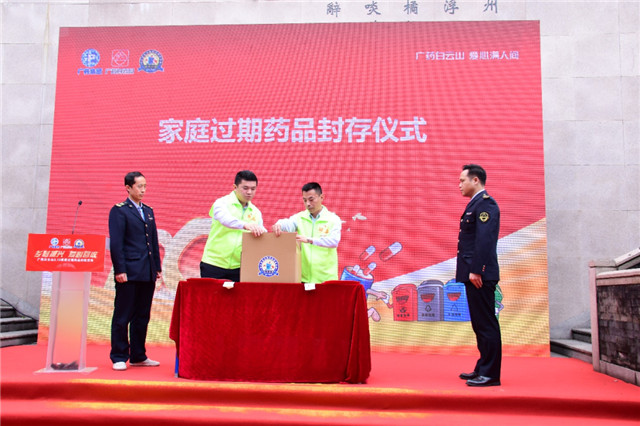 As part of the same program, GPHL also joined hands with World Animal Protection to advance ecological civilization and strengthening the protection of wildlife.
This program began in 2004. After 18 years of effort, GPHL has established the expired medication take back mechanism in many cities, raising awareness of expired medication returns among citizens. However, there has been a lack of concern and mechanism about the disposal of families' expired drugs in rural areas. In response to the implementation of the rural revitalization strategy, the program will reach rural areas this year, which means it will be launched in both urban and rural areas, both online and offline.
From March 13th to 19th the program will be carried out in Guangzhou. Staff members from GPHL will go to community pharmacies to collect expired drugs. Consumers who want to return their expired drugs shall register at take back sites. Each applicant will receive a Lucky Gift Package after expired drugs are successfully collected. In addition, many pharmacies in the city available for take back will launch wildlife education activities. Active participation by all citizens and their signature is highly welcomed.
From March 13th to 31st, consumers in 27 cities across the county can scan the traceability codes on drug packages to log in a designated web page. They can also log in the Tmall.com page via mobile phone or computer and then select the topic, 'GPHL's expired medication return program' (广药白云山过期药回收), to register. Later, Cainiao Express will send deliverymen to collect the expired drugs at consumers' doors and give them vouchers that can be used at GPHL's Tmall flagship store.
For counties and towns where GPHL has conducted poverty reduction campaigns, such as Zhongluotan town and Aotou town in Guangzhou as well as Shaotian town in Meizhou, GPHL will launch targeted expired medication return activities, help local people learn knowledge about safe drug disposal and improve local environments for turning those into more liveable places.
In March, GPHL and its subsidiaries will set up expired medication return sites in villages and give each participating villager a Lucky Gift Package. On site they will hold an exhibition about expired medication returns, rural revitalization and building beautiful villages. After the program is completed, the collected drugs will be sent back to Guangzhou and destroyed.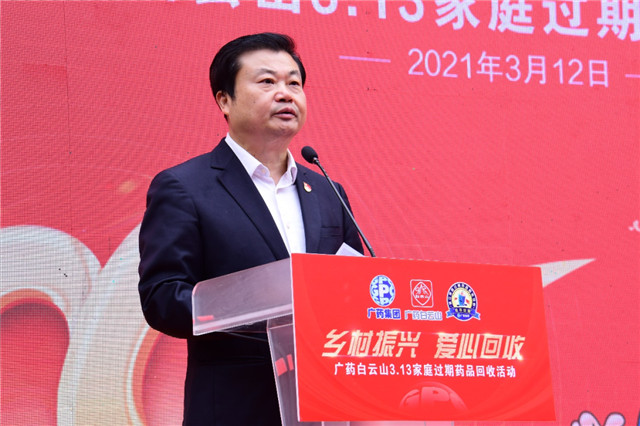 GPHL chairman Li Chuyuan
"Collecting expired drugs from families is a key part of our effort to support rural revitalization," GPHL chairman Li Chuyuan said. In the inauguration ceremony, three GPHL representatives shared their stories about collecting expired drugs.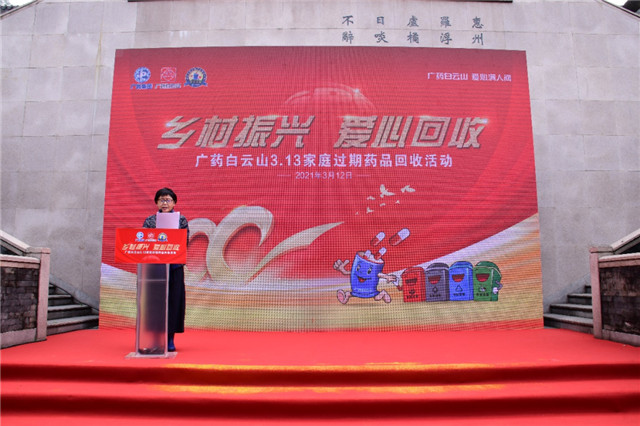 Ms Zhang Dan, a writer on animal protection and senior advisor for business partners of World Animal Protection, delivers a speech.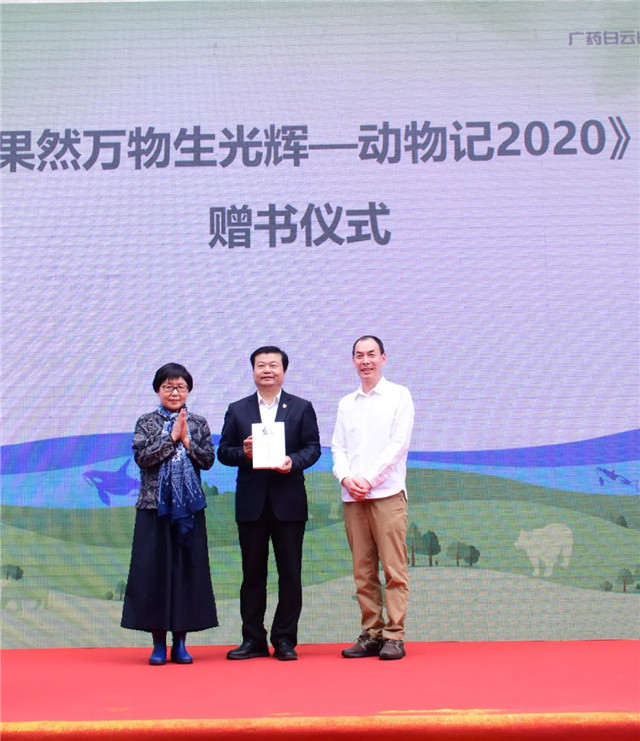 Ms Zhang Dan and Dr Sun Quanhui, a scientist from the World Animal Protection and manager of wildlife projects, give GPHL books.
Yuan Ling, Deputy Director of Guangzhou Market Supervision Administration, makes an address.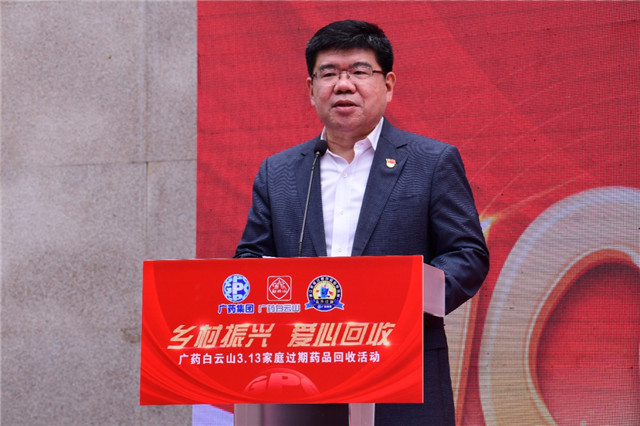 Ma Xianmin, head of Committee of Science, Education, Health and Sports of Guangdong Provincial Committee of the Chinese People's Political Consultative Conference (CPPCC), makes an address.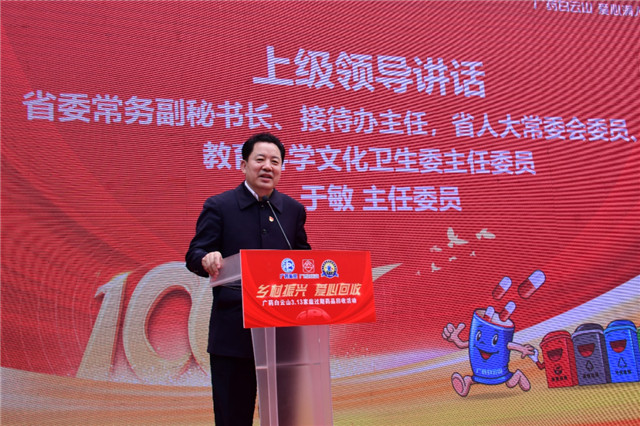 Yu Min, Deputy Secretary General of CPC Provincial Committee of Guangdong Province, gives a speech.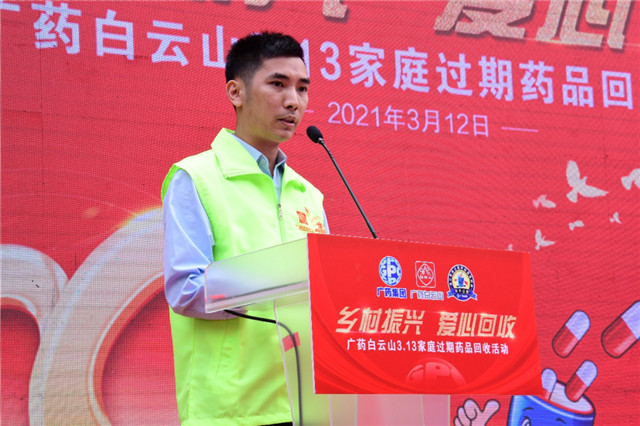 Yang Yuansen from GPHL's Jianmin Pharmacy shares his expired drug take back story.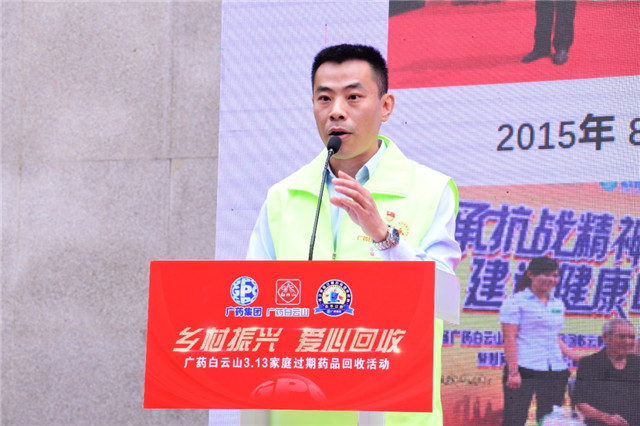 Chen Zhaorong from GPHL's Guangzhou Baiyun Mountain and Hutchison Whampoa Ltd. shares his story.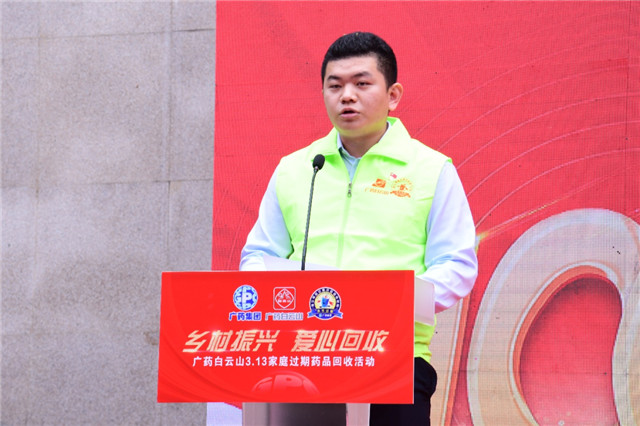 Zheng Lihuang, director general of Guangxi Branch of GPHL Marketing Club, shares his story.
GPHL's expired medication return program has lasted for 18 years and ranged from Guangzhou to more than 200 cities in China. Participating pharmacies have increased from five in the early days to over 6,000 now. The take back network now includes not only cities but also rural areas, where expired drugs can be collected both offline and online. GPHL calls for joint efforts from all walks of life to improve our environment and make contributions to rural revitalization, green development and sustainable development.
Authors: Monica & Michelle
Editors: Olivia & Jerry