GPHL donates COVID-19 response supplies to Kenyan Embassy in China
2021-02-28 14:45:36 GPHL GPHL
On February 26th, the handover ceremony of GPHL donated COVID-19 epidemic prevention materials to the Embassy of the Republic of Kenya in China was held in Guangzhou Baiyunshan Guanghua Pharmaceutical Co. Ltd. (Guanghua).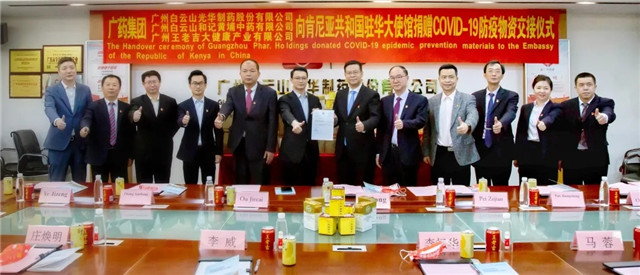 Site of the handover ceremony
Her Excellency Sarah Serem, Kenya's Ambassador to China, and GPHL chairman Li Chuyuan gave a speech via video conference. Ou Jiecai, donation recipient authorised by the ambassador, attended the ceremony. Li Hong, General Manager of GPHL, and Pei Zejian, chairman of Guanghua, were both present at the ceremony and made speeches.
GPHL donated 2,000 packs of Bupleurum Granules, 1,000 packs of Banlangen Granules, 600 cans of Ciningji fruit juice, 600 cans of Wanglaoji herbal tea and 720 packs of small molecular protein powder.
Her Excellency Sarah Serem extended gratitude to GPHL on behalf of the people of Kenya. "GPHL's generous donation plays a vital role in Kenya's post-pandemic recovery," she said. In addition, Her Excellency Sarah Serem joined other attendees for a drink of Ciningji and gave best wishes for the Chinese Lantern Festival. She kindly invited GPHL to visit the Kenyan Embassy to discuss further collaboration and communication within the framework of the Belt and Road Initiative.
Her Excellency Sarah Serem expresses her appreciation via video conference.
GPHL chairman Li Chuyuan also wished Her Excellency happy Chinese New Year and Chinese Lantern Festival. While inviting Kenya's Ambassador to China to visit the company, he looked forward to building well-established trading channels with Kenya for mutual benefit under the Belt and Road Initiative.
Authors: Monica & Michelle
Editors: Olivia & Jerry